NEXT STORY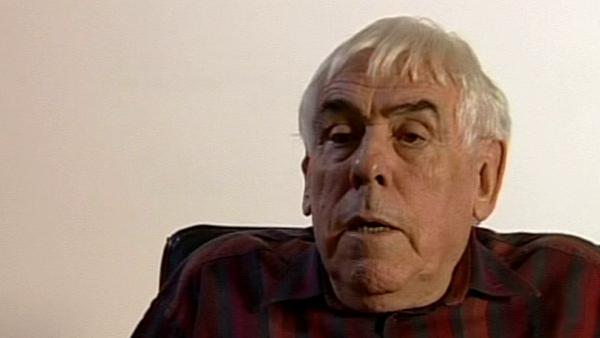 The 317th Platoon
Pour Lucrèce
1
...
7
8
9
10
11
...
18
It was a film called Pour Lucrèce and for which we had done a lot of tests, we had worked for a few days. It was a film we were supposed to film in black-and-white in one week, it was part of... what are they called? Of Jean-Luc's challenges. So... but, on the other hand, he wanted a very particular look, and so we had decided to film it with... filming through silk tights. So we had chosen a certain number of silk tights, black and sepia ones, with slightly different stitches so that depending on the lens we put this one or that one. We did a lot of tests on it. So we had prepared that thing well and for the first day he had set up two meters of rail, well, three meters of rail in a door so that when the actors came in, they had to move back a little bit to let them go through the door and then do a panoramic view to see them sit on the terrace. And so he sets up his machine, he explains how he wants to do it, and then we wait.
There was an actress... I don't remember, I think it was Marie Dubois. I don't remember who the actor was. And so we set up, and it started raining, so we covered the machine and it was still raining, for quite a while. So he tells me, 'Do you think we could film in the rain? Do you mind?' I say, 'I don't mind at all, but... I mean, it'll be quite odd to see... these guys are going to go in, they're going to sit at a table outside under the rain, when they could go in the inn for shelter'. 'Ah, yes'. Well... so he called the production saying, 'At what time are we suppose to eat?' The guy says, 'Not before half one, because it gets busy at noon'. 'Well, ask them if we can come at half eleven'. So the guy calls and says, 'Yes, yes, it's all right'. So he says, 'Well, all right'. And on the way, he says to me, 'What if I said we weren't doing the film?' So I say, 'Listen, everyone's going to burst out laughing'. And so he got there, he tells them, 'Ladies and Gentleman, this is the wrap up meal'.
C'est un film qui s'appelait Pour Lucrèce et... C'est un film pour lequel on avait fait beaucoup d'essais, on avait travaillé plusieurs jours. C'était un film qu'on devait tourner en noir et blanc en une semaine, ça fait partie de ces... Comment est... ce qu'on appelle ça? De ces challenges à la Jean-Luc. Bon mais par contre il voulait une allure très particulière, et on avait donc décidé de tourner ça avec des... Filmé à travers des bas de soie. Alors on avait donc choisi un certain nombre de bas de soie, des noirs et des sépias, avec des maillages un peu différents de manière à ce que suivant les objectifs on mette celui-là ou un autre. On a fait beaucoup d'essais là-dessus. Donc on avait bien préparé ce truc-là et pour le premier jour on avait installé, il avait installé deux mètres de rail, enfin trois mètres de rail dans une porte de manière à quand les comédiens devaient arriver, il devait reculer un petit peu pour les laisser passer la porte et puis panoramiquer pour aller les voir s'asseoir à la terrasse. Et bon alors il installe la machine, il explique comment il veut faire, et puis on attend.
Il y avait une comédienne... Je ne m'en souviens plus, c'était Marie Dubois je crois qui était là. Le comédien, je me souviens plus qui c'était. Et puis on s'est donc installés, et puis il a commencé à pleuvoir, alors on a bâché la machine et puis il pleuvait toujours, depuis un bon moment. Alors il me dit, 'Est-ce que tu penses qu'on pourrait tourner sous la pluie? Ça t'ennuie?' Je lui dis, 'Moi ça m'ennuie pas du tout, mais je veux dire c'est quand même bizarre qu'on va voir... ces mecs-là ils vont rentrer, ils vont s'asseoir à deux tables à l'extérieur sous la flotte, alors qu'ils pourraient rentrer dans l'auberge pour se mettre à l'abri'. 'Ah, oui'. Bon, alors il a appelé la régie en disant, 'A quelle heure on doit manger?' Alors l'autre dit, 'Pas avant une heure et demie, parce qu'ils ont le coup de feu à midi'. 'Bon, demandezleur si on peut venir à onze heures et demie'. Alors le gars téléphone, il dit, 'Oui, oui, c'est d'accord'. Alors il dit, 'Bon, bah d'accord'. Et en allant chez Truc, il me dit, 'Qu'est-ce que tu penses si je dis qu'on fait pas le film?' Alors je dis, 'Ecoute, tous les mecs vont se marrer comme des baleines'. Et alors il est arrivé, il leur a dit, 'Messieurs, mesdames, ceci est le repas de fin de film'.
French cinematographer, Raoul Coutard (1924-2016) was twice nominated for the César Award for best cinematography which he won in 1978 for 'Le Crabe-tambour'. He made over 75 films and documentaries, including 'À Bout de Souffle', Le Mépris' and 'Band à Part'. He was the most acclaimed French cinematographer of his generation and one of the key figures of the New Wave.
Title: "Pour Lucrèce"
Listeners: Bernard Cohn
Benard Cohn is a French filmmaker and writer, who has directed five films as well as numerous documentaries and television series. As an assistant director, he worked with many important filmmakers, including Luis Buñuel, François Jacob, Otto Preminger and Woody Allen. He was a founding member of the Ciné-Qua-Non cinema club and has acted as editor and translator for various publications on the world of cinema.
Bernard Cohn est un réalisateur et écrivain français, ayant réalisé cinq film ainsi que de nombreux reportages et séries télévisées. En tant qu'assistant réalisateur, il a travaillé avec plusieurs grands cinéastes, notamment Luis Buñuel, François Truffaut, Otto Preminger et Woody Allen. Il fut membre fondateur du ciné-club Ciné-Qua-Non et a participé à la rédaction et traduction en anglais, de plusieurs ouvrages sur le cinéma.
Tags: Pour Lucrèce, Jean-Luc Godard, Marie Dubois
Duration: 2 minutes, 30 seconds
Date story recorded: October 2004
Date story went live: 24 January 2008