NEXT STORY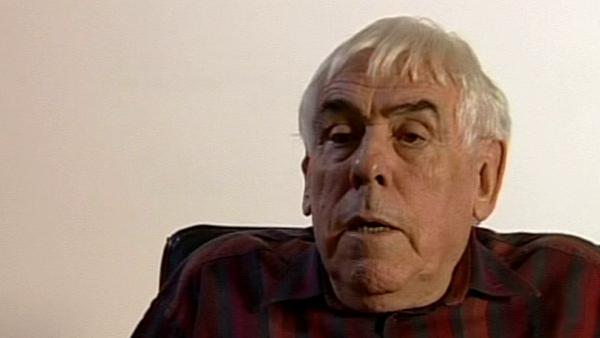 What makes films good
S.A.S. à San Salvador
1
...
8
9
10
11
12
...
18
Alors j'ai tourné trois films dans ma vie. Il y a celui que je devais faire, qui était Hoa Binh, et celui que je pouvais faire qui était La légion saute sur Kolwezi et celui que je n'aurais jamais dû faire qui était SAS à San Salvador. Ça m'a permis d'avoir un éventail complet de ce que souhaitait, de ce que pourrait souhaiter un réalisateur. Bon encore que celui qu'on n'aurait pas dû faire, il aurait mieux valu pas le faire. Alors là, je veux dire on prend un bouquin de Gérard de Villiers, et naturellement lui il voulait pas écrire le scénario. Alors j'ai demandé à un des scénaristes très compétent dans la construction qui s'appelle André Brunelin s'il voulait écrire le scénario. Alors lui Brunelin il a un gros avantage c'est que c'est un mec qui est très très fort sur la construction, et puis avec qui je m'entendais bien, donc on a écrit le scénar assez vite. Et de Villiers l'a lu, naturellement ça ne lui plaisait pas.
[Q] C'était 'SAS' ça?
C'était SAS. De Villiers l'a vu, parce que ça ne lui plaisait pas forcément puisqu'il ne retrouvait pas son style, son language. Enfin son style, pas vraiment son style parce que je pense qu'il doit faire écrire par quelqu'un. Parce que je veux dire par exemple dans SAS, dans la première partie les mecs voyagent dans une voiture rouge, et la deuxième partie la voiture est devenue noire. Donc je pense qu'il y a plusieurs personnes qui ont dû les écrire. Bon, alors là, d'un seul coup, on a refait ensemble, rebricolé le scénario de Brunelin, sans démolir la construction mais en changeant des questions de... Je ne vais pas dire de psychologie parce que ça aurait été un peu trop gros quand même... Mais en changeant un certain nombre de choses. Parce qu'en plus, ça fait partie aussi des gens quand on fait les films, je veux dire les distributeurs étaient venus me voir en me disan, 'Alors attention parce qu'il faut pas qu'il y ait de cul ni de violence'. Alors j'avais dit, 'Ecoutez, s'il n'y a ni cul ni violence dans un film de Gérard de Villiers, alors c'est pas la peine de faire le film parce qu'il n'y a plus rien d'autre derrière, c'est le schéma du...' Donc pas trop... Ça me rappelait, je veux dire à un moment donné un décorateur qui m'avait dit, 'Tiens tu me mets une lumière rouge à cet endroit-là', le metteur en scène passe il dit, 'Pourquoi c'est rouge, non, non, non, faut une lumière verte'. Il repasse le déco, il me dit, 'Mais pourquoi tu as mis une lumière verte, je t'ai dit rouge'. 'Oui, mais le metteur il veut que ce soit vert'. 'Bon, alors tu me mets un vert un peu rouge'.
Alors donc je reviens à mon scénario de Gérard de Villiers. Et à ce moment-là bon on fait le scénar, je le fais minuter et puis on s'aperçoit, il paraissait assez long quand même. Effectivement on s'aperçoit qu'il y a 20 minutes de plus, de trop. Alors nouvelle réunion, avec le producteur et Gérard de Villiers et je lui dis, 'Il y a vingt minutes de trop, il faut couper'. Et il a dit, 'Moi j'en ai rien à foutre, je veux pas qu'on coupe'. Je dis à Danon, je dis, 'Vous, vous, rendez compte qu'on va foutre je ne sais combien de milliers de francs à la poubelle' parce que forcément qu'à un moment donné il va falloir couper. Bon en plus, ce serait bien qu'on sache maintenant ce qu'on coupe parce que vingt minutes, je préfère couper sur un scénario, c'est-à-dire on peut pas rabioter sur des petits bouts de scène, on est obligés d'enlever des scènes complètes et on retombe dans le système qu'on faisait avant, on est trop longs donc faut réécrire, il faut donc réécrire des choses pour qu'il y ait une espèce de compréhension d'un bout à l'autre du film. Il n'a jamais voulu le savoir, donc on a tourné effectivement on a coupé des trucs. Le film qui volait pas très haut déjà était complètement incohérent je veux dire à la fin du tournage. Alors ça ça fait partie si on veut d'un certain nombre de problèmes qu'on rencontre.
So I shot three films in my life. There was the one I had to do, which was Hoa Binh, the one I could do which was Operation Leopard, and the one I should have never done which was S.A.S San Salvador. It enabled me to have a complete range of what a director could hope for. Though the one that shouldn't have been done, it would have been better not to have done it. I mean, we took one of Gérard de Villiers novels, and naturally he didn't want to write the screenplay. So I asked a scriptwriter called André Brunelin, who is very competent at structuring, if he wanted to write the screenplay. So Brunelin's big advantage, is that he's a very very good at structure, and I get on well with him, so we wrote the screenplay quite quickly. And de Villiers read it, and naturally he didn't like it.
[Q] That was 'S.A.S'?
It was S.A.S. De Villiers saw it and he obviously didn't like it because he didn't recognise his style, his tone. Well, his style... not really his style because I think he must get someone to write it for him. Because, for example, in S.A.S, in the first part the guys travel in a red car, and in the second part the car has become black. So I think that a few people must have written them. Well... so then, all of a sudden, we rewrite it together, rework Brunelin's screenplay, without taking the structure apart but changing the questions of... I won't say of psychology because that would have been too much, but by changing a certain amount of things. Because in addition, it's also part of the people who when making a film, the distributors came to see me saying, 'So be careful because there can't be any sex or violence'. So I said, 'Listen, if there's no sex and no violence in a Gérard de Villiers film, well, it's not worth making the film because there's nothing else to it, it's the scheme'. So not too... It reminded me of a time when an art director had told me, 'Here, put a red light there', the director walks past and says, 'Why is it red, no, no, no, we need a green light'. The art director comes back and says, 'But why did you put a green light', I said... 'Red'. 'Yes, but the director wants it to be green'. 'So put green light that's a little red'.
So I'll get back to my Gérard de Villiers screenplay. And so we write the screenplay, I get it timed and it seemed quite long. Actually, we notice that it's 20 minutes too long. So there's another meeting, with the producer and Gérard de Villiers and I say, 'There's an extra 20 minutes, we have to cut'. And he said, 'I don't care, I don't want it to be cut'. I say to Danon, 'Do you realise that we're going to throw away I don't know how many thousands of Francs' because at one point we're obviously going to have to cut it. So in addition, it would be good to know now what we're cutting because 20 minutes... I prefer to cut it on the screenplay, meaning that we can fiddle with little bits of scenes, we have to take out entire scenes and we fall back in the system that we did before, it's too long so we have to rewrite it. We have to rewrite things for there to be a sort of understanding from one end of the film to the next. He never wanted to hear it, so we actually filmed it and then cut out things. The film, which was already of pretty low-level, was left completely incoherent at the end of the shoot. So that's part of the number of problems we encounter.
French cinematographer, Raoul Coutard (1924-2016) was twice nominated for the César Award for best cinematography which he won in 1978 for 'Le Crabe-tambour'. He made over 75 films and documentaries, including 'À Bout de Souffle', Le Mépris' and 'Band à Part'. He was the most acclaimed French cinematographer of his generation and one of the key figures of the New Wave.
Title: "S.A.S. à San Salvador"
Listeners: Bernard Cohn
Benard Cohn is a French filmmaker and writer, who has directed five films as well as numerous documentaries and television series. As an assistant director, he worked with many important filmmakers, including Luis Buñuel, François Jacob, Otto Preminger and Woody Allen. He was a founding member of the Ciné-Qua-Non cinema club and has acted as editor and translator for various publications on the world of cinema.
Bernard Cohn est un réalisateur et écrivain français, ayant réalisé cinq film ainsi que de nombreux reportages et séries télévisées. En tant qu'assistant réalisateur, il a travaillé avec plusieurs grands cinéastes, notamment Luis Buñuel, François Truffaut, Otto Preminger et Woody Allen. Il fut membre fondateur du ciné-club Ciné-Qua-Non et a participé à la rédaction et traduction en anglais, de plusieurs ouvrages sur le cinéma.
Tags: S.A.S San Salvador, Operation Leopard, Hoa Binh, Gérard de Villiers, André Brunelin
Duration: 3 minutes, 56 seconds
Date story recorded: October 2004
Date story went live: 24 January 2008