NEXT STORY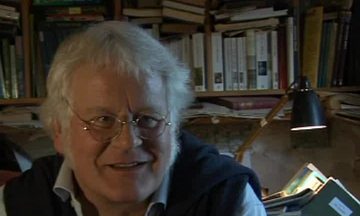 My imaginary childhood friends
My older brother must have been damaged too
1
2
3
4
5
...
9
The older brother's six years older than me, and I suppose he's as damaged as I am, because he doesn't want to... he didn't want anything from his parents' house, you know? Just no.
But he's lovely. I mean, six years is quite a gap, and I remember him yelling, 'Please, please, please mum, don't beat him'. I mean, you're going to love a brother who yells that. And then he'd run off in case he got beaten too. But she'd never beat him. The classic... I mean, the only interesting thing about it is that it's spot in the... it's a classic Victorian upbringing. And my father, he thought that he was really liberal. He was brought up... yeah they were, multimillionaires in the velvet trade, and despite having a thoroughly Catholic name like O'Hanlon, he was... they were all unbelievably Protestant. Taliban. The Taliban of the Protestants. They were all Wee Frees. That's what he broke away from.
So my aunts, these horrible... no wonder they didn't marry. Of course not. They all had legs that sort of began under their armpits. Very long-legged aunties. I used to dream about them. I still do now and then, that they roost upside down on the curtain rail, and you hear them in the morning preparing to go walkies, going 'Quack, quack' these batwing aunties. They were just Lewis, Harris... you must never read a novel. A play is just... don't even mention it. No watching television on a Sunday, but then no watching television at all. The only programme they would watch was Basil Brush. That's fine. And absolutely no culture, which you still find in Lewis and Harris. If you're out on a Sunday and you're driving around and you're not wearing a suit and tie, people actually stop and wave their fist at you.
The Council tried to build them a cinema. You know, you need to do something in Stornoway. Buggers, they... they burned the cinema down, once it was almost ready to open. Now all the pubs there have revetments, have... have a defensive screen of concrete at head height, and you have to go in and... because otherwise, you get ram-raided by an auntie in... in a jeep. And it's very, very strange. Everyone should go there just for a couple of days to have a look.
[Q] Hang on a minute, I'm not quite sure...
This is the Protestant Taliban, in Stornoway, Lewis and Harris, the Outer Hebrides. But there are also some of them who are Wee Frees. But there are also some in Glasgow.
[Q] Because you come from... you grew up where? In Dorset? No...
Yes, I was born in Dorset and then grew up in Wiltshire.
British author Redmond O'Hanlon writes about his journeys into some of the wildest places in the world. His travels have taken him into the jungles of the Congo and the Amazon, he has faced some of the toughest tribes alive today, and has sailed in the hurricane season on a trawler in the North Atlantic. In all of this, he explores the extremes of human existence with passion, wit and erudition.
Title: My older brother must have been damaged too
Listeners: Christopher Sykes
Christopher Sykes is a London-based television producer and director who has made a number of documentary films for BBC TV, Channel 4 and PBS.
Tags: Lewis and Harris, Outer Hebrides, Dorset
Duration: 3 minutes, 20 seconds
Date story recorded: July - September 2008
Date story went live: 11 August 2009