NEXT STORY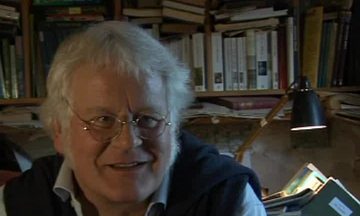 Howler monkey soup
1
2
3
4
5
6
...
9
I'd fallen in love with jungles in Borneo. They're just extraordinary, the diversity and the richness of it all, and how you don't know what's happening in the next hundred yards. So obviously, the next one was South America, the bird continent. And eventually was always going to be Congo, but I wanted to leave that till last, having written about [Joseph] Conrad and quite rightly, as it turned out, frightened of the Congo. Anyhow, so, just with an address of someone called Charlie Brewer Carias and the Sunday Times stringer, set off to Caracas with the only person, the only friend, who would go with me, called Simon Stockton, and he was a night club casino manager. Now the most unsuitable person in the world to go to a jungle, was the joke, but of course, became less of a joke as the month went past. But wonderful, the story.
So I called on Brewer Carias, this wonderful macho, well, typical white South American politician. He, personally, with eight servants, as he called them, had invaded Guyana, because Venezuela has a claim to it. And they mobilised their air force and Charlie had to retreat. And he lost his job. Now he's the inventor of this, you see. This will just... you can get a feel of the Venezuelan army, and he was their main trainer, jungle training. Big moustache, enormous biceps. The Charlie Brewer Explorer Knife. And as Simon said, 'This is a knife... oh Slim, that's a knife that'd give Hitler the screaming ab-dabs.' So a big, tough guy, and he took me to the gym, the very first time I've ever been to a gym, because, you know, he was such a busy man, he couldn't discuss these projects anywhere, unless he was on the move. So there we are in this steam room, and I'm stark naked and feeling pretty bad about the size of these guys, the size of their penises. Just the quite extraordinary macho atmosphere in this place. And then, out of this room, there's some man lifting a bus on one side and half a train on the other, going 'hoo.' And I thought, well, if this is what it takes, we're sadly lacking.
Anyhow, and he got very excited, because his men in the far south of Venezuela, in a little place called San Carlos de Rio Negra had no job for that year, and I would employ them, really happy to do so. Because the original plan was to go right from the north of the Amazon and to the south, but on these huge rivers, which don't really look that big on a map, but as he said, it's almost like the sea, you can't see one bank from the other, whereas this project, to go through a 17th century route, to try and rediscover the link between the Orinoco and the Amazon, which [Alexander von] Humboldt had written about. I mean, it's huge, the Casiquiare canal.
But the thing about it, the wonderful thing about it, is that it crosses a watershed, and it does that simply because, and you have to go there to understand why, this vast area is a so-called dendritic delta. So all the rivers are like this, interlocking. And they are 40-feet deep, and the trees meet overhead all the way, and there's no obvious direction to take, and it's all very well with a compass, but are you really going to cut through that massive hardwood and try and follow the route to the east? It can't be done. And the Border Commission, I was very pleased to learn afterwards, they were in there, trying to set the border. And they were lost for four months.
And this shows you what's it like. This is a NASA map that I bought from Charlie. How can I do this? Hold this up here. Now this little white map... the red... it's an infrared. So that's all trees, vegetation. Massive, tight canopy. And here's this little place, San Carlos de Rio Negra, Casiquiare, and then down here, the idea was to get to Neblina. Can you see this massive mountain here? Now, to give you an idea of how wild this area is, how immensely exciting it was, this... the highest, biggest mountain outside the Andes, in South America, not discovered until 1953, by the Phelpses who came in from the north. Well, as you see, on an ordinary map, there are lot of hypothetical little rivers marked here. Well, they're not there. There are thousands of tiny rivers here, and the trees meet right overhead. As you see, you can't see it, you can't map. So that in itself is wonderful.
British author Redmond O'Hanlon writes about his journeys into some of the wildest places in the world. His travels have taken him into the jungles of the Congo and the Amazon, he has faced some of the toughest tribes alive today, and has sailed in the hurricane season on a trawler in the North Atlantic. In all of this, he explores the extremes of human existence with passion, wit and erudition.
Title: My foray into Venezuela
Listeners: Christopher Sykes
Christopher Sykes is a London-based television producer and director who has made a number of documentary films for BBC TV, Channel 4 and PBS.
Tags: Borneo, South America, Congo, In Trouble Again, Sunday Times, Caracas, Venezuela, Guyana, San Carlos de Río Negro, Amazon, Orinoco, Casiquiare canal, Pico da Neblina, The Andes, 1953, Joseph Conrad, Charles Brewer-Carias, Chris Stringer, Simon Stockton, Alexander von Humboldt, William H Phelps Jr
Duration: 6 minutes, 10 seconds
Date story recorded: July - September 2008
Date story went live: 11 August 2009