NEXT STORY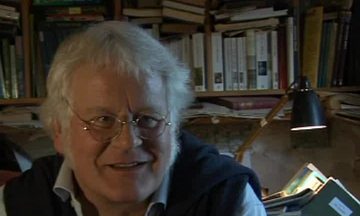 An ingenious invention to prevent the Candiru
Things to be scared of...
1
2
3
4
5
6
...
9
I was scared of... same as everybody is, the two myths, except they're not really myths at all, it turns out. And the one, the obvious one, is: don't go for a swim in the river because of piranhas. Now it turns out that Caribe, these big piranhas, they're actually what you eat. But for them, you'd starve. I mean, you put in any bit of blood or gunge or... and you just pull them in. But they're big and delicious. And wonderful. But don't go for a swim in the rivers. And certainly not if you've been bitten or... or there's any trace of blood on you, yours or something else's.
And to illustrate this, there was a Royal Geographical Society expedition run by Hemming, my friend. And everybody bathed in the river and thought it was just silly, you know. It's full of piranhas, that's fine. Until... one theory is, you know, it depends on the season and what prey is in the water and so on. Anyway, one of these young scientists, just bitten on the back of his ankle. Took out a perfect triangle, like an absolute surgical incision. So he thought, well, he better go see the nurse. I mean, they had a nurse. A posh operation. And when he was halfway there, the artery went, and the blood spurted absolutely everywhere. Now, he'd be dead in... he really would be dead in seconds. That's how that happens. So that's not a myth.
And the other thing that I talked about before these scientists went out on this big expedition, well, in fact I talked about it on Wogan, thought it was a joke. I really wasn't enjoying the thought of... you know, mustn't pee in the river, because this... a good beer and you dive in and take a pee. And there's a little tiny catfish, and it locks onto your stream of urine and it goes straight up the urethra, and it puts out six spines on either side, and does a half-turn and hangs in there. There's nothing you can do. You have to get to hospital, which in my case is about 600 miles away, and in your best Portuguese, you must ask the surgeon to cut off your penis.
So I now know that in one month of the year, the Yanomami know a particular fruit which you have to eat green, and this is so acidic that not even the candiru can take it. You can piss it out. But then, I mean, you're badly damaged. So I thought all this, of course, was a myth. But these guys were... they called it the Wogan fish, and put tiny nets across the river they were studying, and sent me... this was the first one to reach Europe, and I had it rebottled by the Natural History Museum just now. That's actually a pregnant female. It's far too big for me, but it'll probably fit you fine. It's not a joke. And a lot of work being done on these now. And yes, indeed, that will happen. It doesn't want to be in your penis. It's looking for the cloaca or the gills of big, big catfish. And it has energy stored up. It's got this once chance in life to go wham, and then that's it, like a battery. And it can indeed swim up a stream of urine. Not only that, but in the lab, they've swum, right up, a stream of uric acid into a tank. So if you are peeing into the river, it is possible. And then the story gets less interesting, because there are hundreds of different species that don't bother with any of that classy stuff, they just go and bore straight into your leg.
British author Redmond O'Hanlon writes about his journeys into some of the wildest places in the world. His travels have taken him into the jungles of the Congo and the Amazon, he has faced some of the toughest tribes alive today, and has sailed in the hurricane season on a trawler in the North Atlantic. In all of this, he explores the extremes of human existence with passion, wit and erudition.
Title: Things to be scared of...
Listeners: Christopher Sykes
Christopher Sykes is a London-based television producer and director who has made a number of documentary films for BBC TV, Channel 4 and PBS.
Tags: Royal Geographic Society, Terry Wogan
Duration: 4 minutes, 35 seconds
Date story recorded: July - September 2008
Date story went live: 11 August 2009