NEXT STORY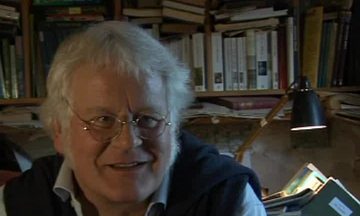 The Dance of Death
Babinga life consists of hunting and dancing
1
...
4
5
6
7
8
9
Now this is way upriver, beyond Impfondo, we're going up little tiny tributaries now, when life always gets exciting. And this is two days' walk from a little village. And here they are. Here are, I think, the most wonderful people on Earth, really. Pygmies. These people call themselves the Babinga, and here you see... Larry, for some reason, really admired their engineering. They don't own anything, they can just relocate whenever they want to.
So that's it, the little beehive hut, and I made the mistake, which I always do, but you have to really, of giving away all my nineteenth century trade goods, so these are the jubilee necklaces that I got in London. Anyhow, they're very beautiful, and humorous. And I love that, of course, wonderful ethno-porn. She's very beautiful. And tiny, 4'2". Now he's about eight-years-old, and I tried... this is a hunting net, and I tried to pick it up and couldn't. They may be small, but immensely strong. And here are these spears. And the hunting net is interesting, because it probably goes back at least 60,000 years and it's fairly probably that fishing nets were derived from hunting nets. Now the great thing about a net is it takes about three, four years to make one of these things. They're really special heirlooms. And each family has one net. And I think that's probably just social. So everybody, everybody in your little group of, at most, 40 people, or probably 20 or 30, has to bring a net along when you go hunting. And you can stretch these nets, put together... they're not very high, about that high off the ground, and you peg them down into the... with these pegs, into the mud, and sling them around trees to hold them up. But everybody has to cooperate, so you can't have people who're not speaking to each other. Can't be done. And also, I think, why, as we'll see in a minute, wonderful dancing and laughter. And the punishment for somebody who's really done something outrageous is to swing his hut around, block up the entrance which faces everybody else, and he has an entrance into the forest. And no one will talk to him. And apparently it never lasts more than two days. That's it. He's a broken man. He's received back into... but what a wonderful child he was. And you wait behind these nets, very carefully, well, hidden in the bush. And the water chevrotain and the duiker, the antelopes, whop into it and you spear them. And they have lots of little hunting dogs. Odd things, they don't bark.
British author Redmond O'Hanlon writes about his journeys into some of the wildest places in the world. His travels have taken him into the jungles of the Congo and the Amazon, he has faced some of the toughest tribes alive today, and has sailed in the hurricane season on a trawler in the North Atlantic. In all of this, he explores the extremes of human existence with passion, wit and erudition.
Title: Babinga life consists of hunting and dancing
Listeners: Christopher Sykes
Christopher Sykes is a London-based television producer and director who has made a number of documentary films for BBC TV, Channel 4 and PBS.
Tags: Impfondo, Congo, London
Duration: 3 minutes, 25 seconds
Date story recorded: July - September 2008
Date story went live: 11 August 2009