NEXT STORY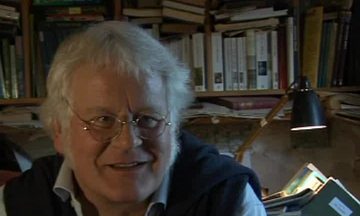 'In my dreams the Babingas are always tall'
How the Babingas treat back pain
1
...
4
5
6
7
8
9
Now look at this. I'm afraid you've guessed, of course, Lary took this picture, and the one of the hunting with the hunting net. And this is the old healer. Now one of my companions, or bearers, except he wouldn't carry anything because he had a bad back, little Manou. There's Marcellin, who was the real guide, you'll see in a minute, who was his cousin. Now he had a... he was complaining of this terrible bad back all the time. So I told... there was about three language barriers, but got the idea I had somebody who had a really bad back. So they got little Manou and hit him 15 times across the top of the shoulder blades with the only little bit of iron they'd got, and then rubbed soot and salt into it. I mean, that must have hurt. And then 18 slits, I think it was, at the bottom of the back. Now to keep his mind off the pain of the incisions, they whopped him on the back with a long pole. You'd be amazed. It worked. He never, ever complained about back pain ever again. And I'd also tried it on. I said to Emze, who was the other one, a wonderful guy with eyes that went in different directions, which meant that he definitely was spiritually powerful and could see into other worlds. But I knew he'd got syphilis and had been trying to cure him. So I told them he had a disease in his penis. And Emze, having seen what had happened to Manou, ran off. We didn't see him again for two days. He was out in the forest. And he said, 'Well, Doctor, I didn't want them to cut me up down there', he said.
And you hear a lot of laughter, quite odd in a pygmy camp, and it seems friendly, happy laughter. And again, I think because you all have to cooperate.
Oh, I just like this picture, because I look so thin and macho, and, as you can see, I'm neither. This is Marcellin, who is in charge of the protection, conservation of waters and forest in the People's Republic of the Congo, the Marxist-Leninist. And his uncle – the first thing he did was take us to his uncle, and I have some pictures of the uncle sitting there between two enormous tusks. He's the number one poacher for elephants. His ivory goes straight to the president's wife and floating off to Japan. You know, that's his uncle. And the maternal uncle, the maternal uncle is absolutely the boss of the entire extended family. So you can see there are problems that you don't really hear about in conservation plans.
British author Redmond O'Hanlon writes about his journeys into some of the wildest places in the world. His travels have taken him into the jungles of the Congo and the Amazon, he has faced some of the toughest tribes alive today, and has sailed in the hurricane season on a trawler in the North Atlantic. In all of this, he explores the extremes of human existence with passion, wit and erudition.
Title: How the Babingas treat back pain
Listeners: Christopher Sykes
Christopher Sykes is a London-based television producer and director who has made a number of documentary films for BBC TV, Channel 4 and PBS.
Tags: Democratic People's Republic of Congo, Lake Tele, The Boa, Russia, Soviet Union, Congo, Impfondo, Lary Shaffer
Duration: 3 minutes, 28 seconds
Date story recorded: July - September 2008
Date story went live: 11 August 2009