NEXT STORY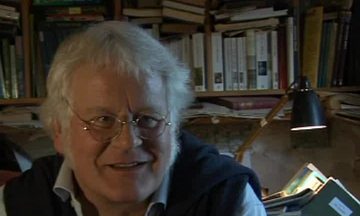 The fish caught in the Northeast Atlantic
Trawler fishing in treacherous weather
1
...
5
6
7
8
9
The skipper of this, Jason, owed £2 million to the bank. So the bank doesn't care what the weather is. He had to go out, no matter what. And when we got to Scrabster, the entire fleet was in, the Scottish fishing fleet, north of Scotland. And we left. And I'd never seen clouds like that. They were purple, white underneath. Anyhow, I was quite right to be slightly worried.
This is for the girls. Here's the first mate, incredibly handsome. Robertson. Viking. And interesting, because everybody said 'He cannot dock, he's near river, he's near river. Brian ashore, forget it. Brian at sea, oh do you want him. You want him. You want him. You want him on the rail when you pitched your bung overboard. All you'll be wanting to see is Brian O'Reilly, he'll save your life.' Big, strong, silent man.
Now here we are. This is the first, up in the fishing grounds, and Jason said he'd drown me in a wee bucket if I ever told anybody where his fishing grounds were. All I'd say is we're way, way north. But actually, he's fine, because I've no idea how you found out what your fishing grounds were.
Now look, this is the...
[Q] This is the North Atlantic?
Northeast Atlantic, yes. So we're way up beyond Greenland now. Anyway, so this coming board and this is the Scottish system. You swing it around and it comes in on the beam. But it's much, much safer than the rear system. You need more crew for this, but it's safer. You couldn't be out in these rough seas if everything was done on the rear ramp, because if you get a following sea suddenly, boom, you had to stop the engines. And everybody drowns.
[Q] So that's a net full of fish dragged up from...?
Yes, a mile down. And it's swing over the hopper.
British author Redmond O'Hanlon writes about his journeys into some of the wildest places in the world. His travels have taken him into the jungles of the Congo and the Amazon, he has faced some of the toughest tribes alive today, and has sailed in the hurricane season on a trawler in the North Atlantic. In all of this, he explores the extremes of human existence with passion, wit and erudition.
Title: Trawler fishing in treacherous weather
Listeners: Christopher Sykes
Christopher Sykes is a London-based television producer and director who has made a number of documentary films for BBC TV, Channel 4 and PBS.
Tags: Scrabster, Scotland, Greenland, Wyville-Thomson Ridge, Northeast Atlantic
Duration: 2 minutes, 40 seconds
Date story recorded: July - September 2008
Date story went live: 11 August 2009