NEXT STORY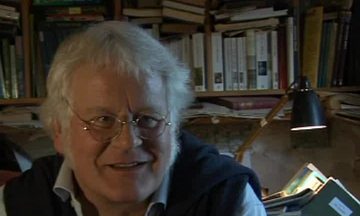 Show and Tell: Rattails
The fish caught in the Northeast Atlantic
1
...
5
6
7
8
9
Now this was an extraordinary... you can tell I took these pictures. You can't see much here. But this is the... only the second specimen of a sea bat, which is a deep sea octopus, caught in Scottish waters. And the two of us, we could hardly lift it. Immensely heavy and transparent, and a great big beak in the middle. And rather wonderful. It just tells you, only the second specimen. This is a new fishery, full of the most exciting fish coming up. Things that, if you took all the LSD there was and tried to draw your imaginary fish, you wouldn't come anywhere near the reality down there.
We think this thing just drifts along the bottom, eating Crustacea. And as it's absolutely vast, it must have quite a lot to prey on, and be very successful. But the real answer is that the second specimen ever recorded, is that, of course, all these things are just bunged overboard. They go down the chute. For all we know, trawler men are catching them all the time.
Oh, now, this is really fascinating. This is the black butt, Greenland halibut, and the fish that now, and only now, you can find in fishmongers in this country. Now look, you see, I don't know if you can see, but it's weird. It was a proper flatfish once, but now the eye is making its way back over. We think it swims on its ventral edge, like most fishes do, so it's evolved one way, and living at up to a mile down, it's decided that it doesn't want to be a flatfish anymore. And you'd say, well, that's crazy, how could it possibly prey on things with wonky eyes? It can see alright that side.
But it must do, because it's the main commercial fish south of this magnificent undersea mountain, called the Wyville Thomson Ridge. And it's very, very successful.
But again, it's exciting or sad, depending on how you look at it. We've no idea where they go to breed. You don't find young ones. It's a mystery fish. And when you eat it in your fishmonger, like all these deep sea fish, the flesh is very, very watery. Well, it has to be, because water is the only thing that can withstand the vast pressures of living beneath a mile of seawater. So of course it's watery. So the main market for all these fish is Paris, Madrid and Berlin. It's fish soup and paella. It doesn't matter how watery it is. So our housewives, just fish and chips. You know, they've ruined the fisheries.
British author Redmond O'Hanlon writes about his journeys into some of the wildest places in the world. His travels have taken him into the jungles of the Congo and the Amazon, he has faced some of the toughest tribes alive today, and has sailed in the hurricane season on a trawler in the North Atlantic. In all of this, he explores the extremes of human existence with passion, wit and erudition.
Title: The fish caught in the Northeast Atlantic
Listeners: Christopher Sykes
Christopher Sykes is a London-based television producer and director who has made a number of documentary films for BBC TV, Channel 4 and PBS.
Tags: Shetland and Orkney, Northeast Atlantic, Wyville-Thomson Ridge
Duration: 3 minutes, 41 seconds
Date story recorded: July - September 2008
Date story went live: 11 August 2009