NEXT STORY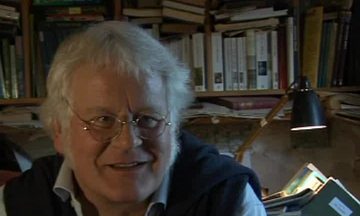 Only the sparrows knew I cheated in exams
1
2
3
4
5
...
9
So it was meant to be... well, it was. I read a book about all of the extreme north, and I wanted to work at the creels, the lobster pots and inshore fishing, and salmon farms and herding Shetland ponies, that sort of thing. Well, I did all that for a very long time, but the only thing that really engaged me was the trawler, because look, it was... happened to be the most beautiful summer the Hebrides had ever had, on record. Beautiful, flat seas with an old man as we got crawfish and Wee Davie. And the landladies were lovely. Nobody stuck a Kalashnikov in my stomach. At no point was I suffering or in pain. I just became guiltier and guiltier until I finally got on this trawler and we left in January. Straight into a hurricane, a force 12, that's a very junior hurricane, but tell me...
Then I was throwing up, incredibly seasick, think I'm going to die and I'm really happy. We've got a story here. And just standing on deck and the scuppers are so big. And these guys, you know, you need, to stand at all on the deck of a trawler washed by the sea, great huge waves coming over, you think, 'Well, my thighs just aren't up to it, frankly'. You need thighs of a different order altogether. You need thighs like Tyrannosaurus Rex. You look around, these guys, they've got trousers ten times... well, okay, five times too big. And they've got their belts... it's really lashed in with a belt. But to get the thighs in the trousers, they have to get real fat men's, top man, fat man, trousers. And I was astonished. You get no sleep. This is happening, this is just commercial life. You go out for two weeks and you get one... one hour's sleep in 36, no health and safety, no nothing. And a good thing, I discovered afterwards, or actually it would have excited me, but in 1998, the only figures I could get: 388 accidents, 26 vessels lost, 26 trawler men drowned, or fishermen. Now I now understand what an accident is, because since leaving the trawler, the youngest... the youngest took his thumb off. Now, that's not reported as an accident. It doesn't count. Bad luck. And the next one up lost his hand on a hawser. They just bound the hand up, got to sea. You can't stop fishing just because somebody's lost a hand. That's not reported.
God, I mean, you've presumably got to come ashore, come on board, I mean... holding your head under your arm or at least lose a leg. Three hundred and eighty-eight accidents. It's not surprising. I mean, nobody has had any sleep, everybody is just tired beyond belief, the skin is peeling off. You don't know who you are. You come ashore, you've no idea who you are. You think, 'A drink might restore me to myself', but of course, far too late for any of that. And then you think, well, I need to sleep. You can't sleep. You seem to have no past at all, no future. You don't exist as you. You've lost all sense of identity. It's the strangest, strangest feeling.
And to think that these young men do that, you know, all their working life.
[Q] I still don't understand what on Earth you were doing in this terrifying situation. I mean, what...?
I wanted to write about it. So I was so pleased that here is something that, right in our own country, that no one... well, i.e. me, knows about. This extraordinary danger, this ghastly, constant onslaught of this violence and noise and steel and gutting bloody fish, and oh, it's just... as good as the Congo. As good as the worst times in South America.
[Q] As bad as the Congo?
Yes, but it's all perverted if you're going to write about it. I mean, you really do want to genuinely be about to die, but then survive. I mean, the reader can really sniff it if it's... you can't possibly make a drama out of wonderful days spent hauling out lobster pots. I mean, maybe one could... maybe as an old man, I might be able to, but I don't think I'll ever be able to write about happiness. It just doesn't... nothing happens, when I think about it.
British author Redmond O'Hanlon writes about his journeys into some of the wildest places in the world. His travels have taken him into the jungles of the Congo and the Amazon, he has faced some of the toughest tribes alive today, and has sailed in the hurricane season on a trawler in the North Atlantic. In all of this, he explores the extremes of human existence with passion, wit and erudition.
Title: The harshness of the sea
Listeners: Christopher Sykes
Christopher Sykes is a London-based television producer and director who has made a number of documentary films for BBC TV, Channel 4 and PBS.
Tags: hurricane, trawler, lack of sleep, sea, travelling
Duration: 5 minutes, 26 seconds
Date story recorded: July - September 2008
Date story went live: 01 November 2017