NEXT STORY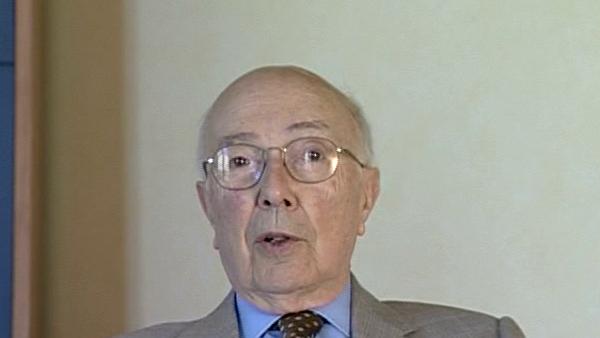 Animal virology
Renato Dulbecco
Scientist
1
2
3
4
5
...
7
And so everything was going well up to this point, I was there two years and the reason that I then left was because a geneticist at Caltech, Max Delbrück, who was a German physicist, who became a biologist. At that time there were many of these physicists who became biologists. And he was at Caltech. He had seen this work and was shocked, it seemed very interesting to him, very pleasing, so he invited me to come and work at Caltech for a few years. I remember that, in this period, in Luria's laboratory, Jim Watson also came as a student and so I spoke to him a lot, about what he would do, etc. And Jim Watson already then had clear ideas about what he wanted to do, yes, yes.
[Q] But he was not yet with Crick.
No, no. Just his idea. And then I remember, speaking with Jim Watson, I told him about this offer from Max, Max Delbrück, whether to go or not and he said, 'Yes, yes, you definitely must go, this is the best university in the United States for biology work, so you must go, without a doubt'. So I said, 'OK, I'll go'. And so I went, we left... my wife and children were there by this time, they had arrived in the meantime. We had a car that was very old, but it worked, a Pontiac.
[Q] Suitable for your needs.
Yes. And we arrived... we drove across the United States from New York to Pasadena, in California and it was a marvellous journey. So, before anything else, I rented a small trailer where I had everything you needed for camping, including a little tent that I built on the trailer and all that was needed to be able to eat, etc. Also for the children.
[Q] Were they small then, the children?
They could manage, they weren't that small.
[Q] Did they have lots of fun?
They slept in the car and we slept on this... where there were two little beds that I had made. Everything went well, travelling across Mississippi, to the region where Mississippi starts, the Itasca lake and then travelling down. Everything was fine. I remember one morning, one night that we were camped close to a campsite, that there was a bar and it had poured down with rain all night and in the morning, when I got up, I saw that the wheels of the car had sunk into the mud so I went to the bar to ask if someone could help. Four men came straightaway, they got into position and lifted the thing, shifted it and we were able to leave again. The United States at this time was a wonderful country, where you felt like friends, part of the same goal, life, everyone worked, wanted to work-it was a fantastic thing. And then from there, we went down towards California, the last stop I made was in a campsite above San Francisco, on the mountain there and I remember talking to the ranger there, chatting and he said to me, 'Where have you come from, where are you going?' You know, the usual stuff. 'Oh', I said, 'I'm going to Caltech'. And he said, 'Oh, where they split the atom'. That was its reputation, yes. And so we arrived at Caltech.
E lì, insomma, tutto è andato fino a quel punto, sono stato lì due anni e la ragione che poi sono partito da lì è perché un genetista al Caltech, Max Delbrück, che era un fisico tedesco, che era diventato biologo. A quell'epoca ce n'era molti di questi fisici diventati biologi. E che era al Caltech. Lui aveva visto questi lavori ed è rimasto colpito, gli sembravano molto interessanti, molto piacevoli, per cui mi aveva offerto di andare a stare alcuni anni a Caltech. Mi ricordo che, in quel periodo, nel laboratorio di Luria, era anche venuto Jim Watson come studente e perciò si parlava molto con lui, di quello che si farà, ecc. ecc. E Jim Watson già allora aveva le idee chiare su quello che voleva fare, sì, sì.
[Q] Ma non era ancora con Crick.
No, no, quello no. L'idea e' sua sai. E allora mi ricordo, parlando con Jim Watson, gli dicevo di questa offerta di Max, Max Delbrück, se andare o no e lui dice, 'Ah, sì, sì, devi andare assolutamente, perché quella è la migliore università degli Stati Uniti per lavori di biologia, perciò devi andare, senza esitazione'. Allora ho detto... Vado. E così siamo andati, partiti... c'erano appunto mia moglie e i figli erano arrivati lì nel frattempo e avevamo una macchina più antica ma che funzionava, una Pontiac.
[Q] Adatta alle tue possibilità.
Sì, sai. E siamo arrivati... siamo andati, attraversando tutti gli Stati Uniti, da New York a Pasadena, in California, che è stato un viaggio meraviglioso proprio. Però, prima di tutto, avevo un rimorchietto dove avevo tutto il necessario per campeggiare... perciò una piccola tenda che costruivo sul rimorchio e tutto il necessario per poter mangiare, ecc. Anche per i bambini...
[Q] Che erano piccoli poi i bambini?
Se la cavavano, non erano così piccoli.
[Q] Si divertivano molto?
Loro dormivano nella macchina e noi dormivamo su questo... dove c'erano due lettini, che avevo fatto. È andato tutto molto bene, andando attraverso il Mississippi, alla regione dell'origine del Mississippi, il lago Itasca, e poi scendendo giù, insomma. Tutto molto bello. Mi ricordo una mattina, una notte che eravamo accampati nelle vicinanze di questo accampamento, del campeggio che era una trattoria, un bar insomma e lì... tutta la notte ha piovuto a dirotto e al mattino, quando mi sono alzato, ho visto che le ruote della macchina erano affondate, nel fango... allora sono andato lì nel bar a chiedere se c'era un po' di aiuto. Quattro uomini sono venuti immediatamente, si sono messi lì e hanno sollevato il coso, spostato e siamo potuti partire di nuovo. Gli Stati Uniti a quell'epoca era un paese meraviglioso, dove tutti si sentivano amici, parte dello stesso scopo, della vita, tutti lavoravano, volevano lavorare... insomma, era una cosa veramente fantastica. E poi da lì, scendendo giù verso la California, l'ultima fermata l'ho fatta in un posto di campeggio sopra San Francisco, sul monte lì e mi ricordo che c'era l'individuo che controlla e mi diceva, 'Di dove viene, dove va?', sai le solite cose. Ah, dico, 'Vado al Caltech'. Ah, dice, 'E lì dove rompono l'atomo', mi ha detto. Questa era l'immagine che si... E così siamo arrivati al Caltech.
The Italian biologist Renato Dulbecco (1914-2012) had early success isolating a mutant of the polio virus which was used to create a life-saving vaccine. Later in his career, he initiated the Human Genome Project and was jointly awarded the Nobel Prize in Physiology or Medicine in 1975 for furthering our understanding of cancer caused by viruses.
Title: Travelling to Caltech
Listeners: Paola De Paoli Marchetti
Paola De Paoli Marchetti is a science journalist who graduated with an honours degree in foreign languages and literature from the University Ca'Foscari, Venice. She has been a science journalist since the 1960s and has been on the staff of the newspaper Il Sole 24 Ore since 1970. She was elected president of UGIS (Italian Association of Science Journalists) in 1984. She has been a Member of the Board of EUSJA (European Union of Science Journalists' Associations, Strasbourg), and was its president in 1987-1988 and 1998-2000. In May 2000 she was unanimously elected president emeritus. She was a member of the National Council of Italian Journalists (1992-1998). From 2002 to 2004 she was member of the working group for scientific communication of the National Committee for Biotechnology. She has also been a consultant at the Italian Ministry of Research and Technology and editor-in-chief of the publication MRST, policy of science and technology. She has co-authored many publications in the field of scientific information, including Le biotecnologie in Italia, Le piste della ricerca and Luna vent'anni dopo.
Tags: Caltech, Max Delbrück, Jim Watson
Duration: 4 minutes, 34 seconds
Date story recorded: May 2005
Date story went live: 24 January 2008