NEXT STORY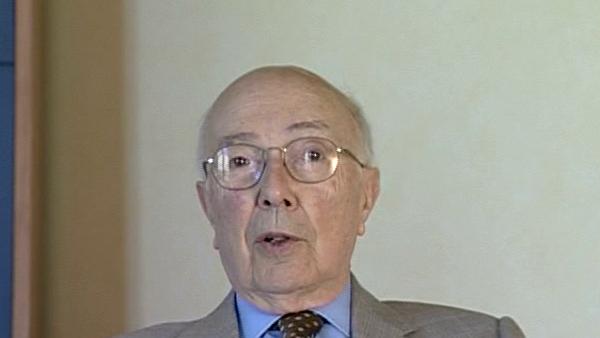 Birth in the family
Working with Paul Berg and the birth of genetic engineering
Renato Dulbecco
Scientist
1
2
3
4
5
...
7
So we succeeded, I was alone, you understand, and so the question was what to work on next. But naturally I always had people that came and therefore we worked together. For example, Paul Berg came and Paul Berg was very interested in viral DNA and when he came to my laboratory... it was he who wanted to come because he knew of this perfect knowledge of DNA, these things... and he wanted to study structurally, because he is a chemist. And so we started to work with him, we provided the cell DNA, the cells are for extracting the DNA. Therefore, he realised that it was difficult for him to take the DNA in sufficient quantities to be able to carry out the structural studies that he wanted to conduct. And then he started to work, thinking of other methods and one of those things that he thought of – very original, this – was to take the DNA of the virus and to put it in a bacteria, in such a way that when the bacteria reproduced, the virus DNA could also reproduce and in the end populations of bacteria were obtained all with the virus DNA inside. And, in fact, this is what he managed to achieve. And he therefore managed to obtain significant quantities of the virus, of viral DNA which allowed him to carry out the structural work that he wanted to do. But the important result was not the structural work, but the technique used to increase the number of particles of the virus, of the viral DNA. Because this was the basis of genetic engineering, which was developed... so, in fact, genetic engineering was born in my laboratory only with our help. But this was the work of Paul Berg, you see?
Per cui siamo riusciti, ero solo, capisci, e lì la questione era cosa mettersi a fare. Ma naturalmente avevo sempre gente che veniva e perciò si lavorava insieme. Per esempio, è venuto Paul Berg e Paul Berg si interessava molto al DNA dei virus e quando è venuto nel mio laboratorio... lui è appunto voluto venire perché sapeva di questa conoscenza perfetta del DNA, queste cose... e lui voleva studiarlo strutturalmente, perché lui e' un chimico eh. E così ci siamo messi a lavorare con lui, abbiamo provveduto il DNA delle cellule, le cellule sono per estrarre il DNA. Però lui si è accorto che era difficile per lui tenere il DNA in sufficiente quantità per poter fare gli studi strutturali che lui voleva fare. E allora si è messo a lavorare pensando ad altri modi e una delle cose che ha pensato – molto originale, questo – è di prendere il DNA del virus e metterlo in un batterio, in maniera che quando il batterio si riproduce, il DNA del virus si potesse anche riprodurre e alla fine che si ottenessero popolazioni di batteri tutti col DNA del virus dentro. E infatti questo è riuscito a farlo. E con questo è riuscito perciò a ottenere delle quantità molto notevoli del virus, del DNA del virus e questo gli ha permesso di fare questi lavori strutturali che voleva fare. Ma il risultato importante non è stato il lavoro strutturale che voleva fare, ma la tecnica usata per aumentare il numero delle particelle di virus, del DNA virale. E perché questa è stata la base dell'ingegneria genetica, che si è sviluppata... perciò, insomma l'ingegneria genetica è nata nel mio laboratorio solo col nostro aiuto. Ma questo è il lavoro di Paul Berg, capisci?
The Italian biologist Renato Dulbecco (1914-2012) had early success isolating a mutant of the polio virus which was used to create a life-saving vaccine. Later in his career, he initiated the Human Genome Project and was jointly awarded the Nobel Prize in Physiology or Medicine in 1975 for furthering our understanding of cancer caused by viruses.
Title: Working with Paul Berg and the birth of genetic engineering
Listeners: Paola De Paoli Marchetti
Paola De Paoli Marchetti is a science journalist who graduated with an honours degree in foreign languages and literature from the University Ca'Foscari, Venice. She has been a science journalist since the 1960s and has been on the staff of the newspaper Il Sole 24 Ore since 1970. She was elected president of UGIS (Italian Association of Science Journalists) in 1984. She has been a Member of the Board of EUSJA (European Union of Science Journalists' Associations, Strasbourg), and was its president in 1987-1988 and 1998-2000. In May 2000 she was unanimously elected president emeritus. She was a member of the National Council of Italian Journalists (1992-1998). From 2002 to 2004 she was member of the working group for scientific communication of the National Committee for Biotechnology. She has also been a consultant at the Italian Ministry of Research and Technology and editor-in-chief of the publication MRST, policy of science and technology. She has co-authored many publications in the field of scientific information, including Le biotecnologie in Italia, Le piste della ricerca and Luna vent'anni dopo.
Tags: Paul Berg
Duration: 2 minutes, 18 seconds
Date story recorded: May 2005
Date story went live: 24 January 2008