NEXT STORY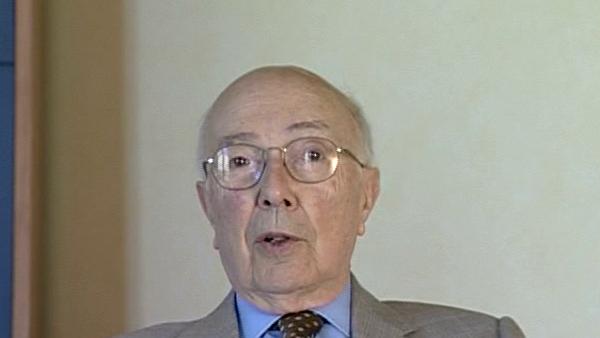 Science problems and foundations
Renato Dulbecco
Scientist
1
...
3
4
5
6
7
[Q] Però tu per sollecitare, certe volte, hai fatto tante cose. Pensiamo, per esempio, ti sei anche fatto vedere su una scena per fare vedere quello che bisogna fare per la ricerca... sei andato a Sanremo e hai fatto anche quella passeggiata con quel bambino... non sarei qui... te lo ricordi il nome del bambino?
Certo, certo. Sì, queste cose le ho fatte... purtroppo non è facile avere l'occasione di fare cose di questo tipo, ma quando c'è stata l'occasione, l'ho sempre fatto. In fondo, tu hai portato due esempi che penso siano i due migliori esempi di tutto quello. È strano appunto di nuovo che per poter ottenere dei risultati in questo campo, io devo andare sul palcoscenico di Sanremo. E appunto, questo perché? Perché, se sono lì sul palcoscenico, ci saranno... non so Fazio mi ha detto, 17 milioni di persone che sentivano, che ascoltavano, che vedevano, perciò il mio messaggio si poteva diffondere, capito? Se, invece, avessi semplicemente mandato un messaggio, parlato con un giornalista, ecc., anche che il giornalista scrivesse qualche cosa, non avrebbe avuto essenzialmente niente effetto.
[Q] Non avrebbe avuto quella ricaduta, perché lì lo capiscono. Anche se tu vai a chiedere alla gente dopo i fondi... un fondo per la ricerca è un'offerta, un sostegno. Con persone come te, tu hai lanciato un messaggio e perciò quello... ma poi certo la ricerca non può vivere di quello, d'accordo però ti sei hai capito che dovevi fare anche quello. Io penso che questo sia uno degli aspetti per i quali la tua vita è cambiata dopo il Nobel, no?
E può essere, certo! No, la questione di Sanremo è stata una cosa interessante, perché quando Fazio è venuto a chiedermi se volevo aiutarlo, così, io ci ho pensato un po', ma poi molto rapidamente ho pensato che era una cosa interessante, non l'avevo mai fatta, perciò ero pronto a farla e sono andato, capisci? Io ho sempre avuto questa tendenza. Quando c'è una cosa nuova, che mi sembra interessante, mi ci getto.
[Q] So you have done a lot of things to appeal to the public at times. Let's think, for example, you appeared on stage to promote what needed to be done for research... you went to San Remo and you also appeared with that child... I wouldn't be here... do you remember the name of the child?
Of course. Yes, I did these things... unfortunately it is not always easy to find opportunities to do this type of thing, but when there is an opportunity, I always take it. You mentioned two examples that I think are the two best examples out of everything. It is strange that in order to be able to achieve results in this field, I have to get onto a stage in San Remo. And why is this? Because, if I am up on the stage, there will be... I don't know, Fazio told me 17 million people hearing, listening and watching because my message will be broadcast, you understand? If, however, I were simply to send a message by speaking to a journalist, etc., even if the journalist wrote something, it wouldn't necessarily have any effect.
[Q] It wouldn't have had this effect, because there they understand. Even if you go and ask people for funds... a fund for research is an offer, support... with people like you, you put across a message and so... but then certainly research cannot survive from this, so you... you understand that you must do also these things. I think that this is one of the aspects in which your life changed after the Nobel, isn't that right?
It could be, for sure! No, the San Remo event was interesting, because when Fazio came and asked me if I wanted to help him, I thought about it for a little, but then very quickly I thought that it would be interesting, I had never done something like that before, so I was ready to do this and I went. I always had this tendency. When there is something new, that seems interesting to me, I leap at the chance.
The Italian biologist Renato Dulbecco (1914-2012) had early success isolating a mutant of the polio virus which was used to create a life-saving vaccine. Later in his career, he initiated the Human Genome Project and was jointly awarded the Nobel Prize in Physiology or Medicine in 1975 for furthering our understanding of cancer caused by viruses.
Title: Appealing to the public
Listeners: Paola De Paoli Marchetti
Paola De Paoli Marchetti is a science journalist who graduated with an honours degree in foreign languages and literature from the University Ca'Foscari, Venice. She has been a science journalist since the 1960s and has been on the staff of the newspaper Il Sole 24 Ore since 1970. She was elected president of UGIS (Italian Association of Science Journalists) in 1984. She has been a Member of the Board of EUSJA (European Union of Science Journalists' Associations, Strasbourg), and was its president in 1987-1988 and 1998-2000. In May 2000 she was unanimously elected president emeritus. She was a member of the National Council of Italian Journalists (1992-1998). From 2002 to 2004 she was member of the working group for scientific communication of the National Committee for Biotechnology. She has also been a consultant at the Italian Ministry of Research and Technology and editor-in-chief of the publication MRST, policy of science and technology. She has co-authored many publications in the field of scientific information, including Le biotecnologie in Italia, Le piste della ricerca and Luna vent'anni dopo.
Tags: journalism, public speaking, research, publicity
Duration: 2 minutes, 28 seconds
Date story recorded: May 2005
Date story went live: 24 January 2008