NEXT STORY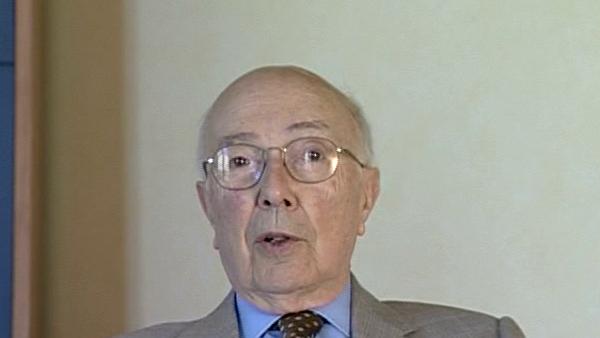 The future
Renato Dulbecco
Scientist
1
...
3
4
5
6
7
With regard to the people who influenced me during my career, there are several. The first, the most important I'd say, was Prof. Giuseppe Levi when I was a university student. I spoke about him previously, about how he would take a few promising students into his laboratory and who was... he was a professor of anatomy, but the laboratory was a biology lab at the time, so, for example, they were producing tissue cultures, which, at that time, were truly advanced, and this is where I learned to make cultures, which subsequently helped me a lot. But it wasn't this aspect particularly, the most important thing about the laboratory was Prof. Levi's personality... he was a man who acknowledged merit above all, so if you did well, he would praise you, but if you didn't do well, he wouldn't encourage you to continue, instead he would tell you that you had to change, etc. In short, this was crucial for me. And I think the most important influence of my career was this.
Then there are other influences... many influences came unexpectedly, I don't know. For example, I think that a person who had a lot of influence for different reasons, is Rita Levi Montalcini, because when we were together in Italy, when we worked in the same laboratory, when I was wondering what to do in relation to genes, etc. she said to me, 'Don't you think that it would be good for you to study other fields, so you won't only have studied biology, because you know about this already, why don't you take chemistry or physics, for example?' So I thought about it and this is why I enrolled on a physics course in Turin and I attended this course for two years – or no, perhaps a year and a half – before leaving for the United States. And this was of considerable importance, because it provided me with a new way of thinking that was injected into biology and, during this period actually, many physicists were becoming biologists and, without doubt, they contributed a lot. I don't know, another important influence was that of Salvador Luria, particularly when I went to Bloomington to work with him, because he and his wife treated me as if I was one of their children, because being new, I didn't know anything and they really were like my parents during this period. Also, he was a very intelligent man and helped me to stay on the right track.
Per quello che riguarda le influenze che hanno agito su di me durante la mia carriera, ce ne sono parecchie. La prima, la più importante io direi, quando ero studente universitario, è stata quella del Prof. Giuseppe Levi di cui ho già parlato che accoglieva alcuni studenti promettenti nel suo laboratorio, che era... lui era professore di anatomia, ma invece il laboratorio era un laboratorio di biologia del tempo, perciò per esempio si facevano culture di tessuti, che, a quel tempo, erano veramente all'avanguardia delle cose, dove io ho imparato a fare le culture, che mi è servito poi molto. Ma non era quello specialmente, la cosa più importante del laboratorio era la personalità del Prof. Levi, che manteneva... era l'uomo che riconosceva il merito prima di tutto, per cui se tu facevi bene, ti elogiava, ma se non facevi bene, non ti incoraggiava a continuare, te lo diceva, ti diceva che dovevi cambiare, ecc. Insomma, questo perciò è una cosa per me essenziale. E credo l'influenza più importante della mia carriera è stata quella.
Poi ci sono anche altre influenze... molte influenze vengono, diciamo, così, in modo inaspettato, non so. Per esempio, io penso che una persona che ha avuto molta influenza, per ragioni impensabili, è la Rita Levi Montalcini, perché quando eravamo assieme in Italia, che lavoravamo nello stesso laboratorio, quando io mi chiedevo come fare per i geni ecc. e lei mi dice, 'Non credi che sarebbe bene che tu prendessi conoscenze in altri campi, che non sian solo nei campi della biologia, perché quello lo conosci, prendere, per esempio la chimica, la fisica?' Allora ci ho pensato ed è per quello che mi sono iscritto al corso di fisica a Torino e l'ho seguito il corso di fisica per due anni... o no, forse un anno e mezzo... prima di partire per gli Stati Uniti. E quello ha avuto una notevole importanza, perché era un nuovo modo di pensare iniettato nella biologia e, quel periodo difatti, c'erano molti fisici che erano diventati biologi e, senza dubbio, hanno contribuito molto, insomma. Non so, un'altra influenza importante è quella di Salvador Luria, per quando sono andato a Bloomington a lavorare con lui, perché lui e sua moglie mi hanno trattato proprio come se fossi il loro figlio, diciamo così, perché essendo nuovo, non conoscendo niente e loro veramente sono stati i miei genitori durante quel periodo. Lui poi anche era molto bravo e, insomma, mi ha aiutato certo a mantenermi sulla buona strada.
The Italian biologist Renato Dulbecco (1914-2012) had early success isolating a mutant of the polio virus which was used to create a life-saving vaccine. Later in his career, he initiated the Human Genome Project and was jointly awarded the Nobel Prize in Physiology or Medicine in 1975 for furthering our understanding of cancer caused by viruses.
Title: Influences on life
Listeners: Paola De Paoli Marchetti
Paola De Paoli Marchetti is a science journalist who graduated with an honours degree in foreign languages and literature from the University Ca'Foscari, Venice. She has been a science journalist since the 1960s and has been on the staff of the newspaper Il Sole 24 Ore since 1970. She was elected president of UGIS (Italian Association of Science Journalists) in 1984. She has been a Member of the Board of EUSJA (European Union of Science Journalists' Associations, Strasbourg), and was its president in 1987-1988 and 1998-2000. In May 2000 she was unanimously elected president emeritus. She was a member of the National Council of Italian Journalists (1992-1998). From 2002 to 2004 she was member of the working group for scientific communication of the National Committee for Biotechnology. She has also been a consultant at the Italian Ministry of Research and Technology and editor-in-chief of the publication MRST, policy of science and technology. She has co-authored many publications in the field of scientific information, including Le biotecnologie in Italia, Le piste della ricerca and Luna vent'anni dopo.
Tags: Salvador Luria, Giuseppe Levi, Rita Levi Montalcini
Duration: 3 minutes, 14 seconds
Date story recorded: May 2005
Date story went live: 24 January 2008