NEXT STORY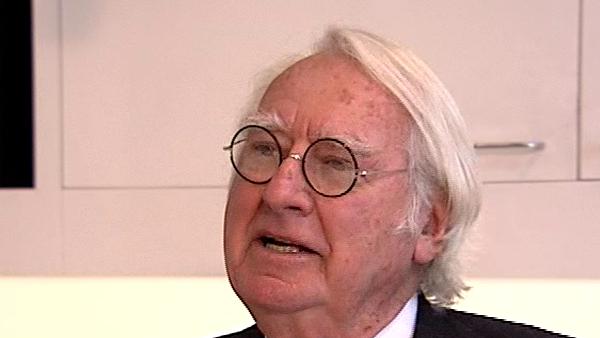 The importance of the public spaces within a building
The pleasure of creating public spaces
1
2
3
4
No matter what I say, the Getty probably will always be considered, you know, one of the most important projects that I've been involved with. And my sense of why it is important is that it creates a place, a place that didn't exist in Los Angeles. A public place, a place where people can come, they can experience the entire city in terms of the way in which they view it from that site. They can take part in the cultural activities which go on there, or they can just come to it, not as an amusement park but as a special environment in which to have lunch, to have dinner, to be with their kids, to sit in the gardens.
[Q] The Acropolis.
Yeah but, but, at... but it's a creation of a place and it's a creation of a public place and for me, the public spaces are, you know, are really the spaces which are important. People who work there would not agree, of course but... but it's that aspect of the work, that is the most important to me. And then when I think about other projects, the... the Stadthaus in Ulm. You know, it's a very nice building but it's really the creation of that public square in the heart of the city, which the Stadthaus, in a sense, gives activity to. To the restaurant, to the exhibitions but... and encloses the square, is important. So it's really the public... and in Barcelona, you know we've cleared out that whole area. The Plaza in the front of the building never, since it wasn't part of the building, you know, we never really got to do much there but it's become a Mecca. Every teenage kid in Barcelona with a skateboard comes to that place. And on the little ramps that lead up to the building, you know, becomes a place for all the skateboarders and all the older people come to sit there and watch the skateboarders, so it has a life that goes far beyond the life of the building. And it's really the creation of those public spaces that are important to me. More important than the objects are the spaces that they make as a result of their being there and so when I think, you know, the various buildings, they were all great but what gives me pleasure about the Perry Street and Charles Street buildings is it's three buildings in one place. It makes a statement about that place far greater than any one big building could do. It becomes a gateway from the Greenwich Village to the Park and people say, oh, I like to walk along Charles Street or like Perry Street because they really feel they're coming to some... something special. And for the skateboarders and the bicyclists along the park, they stop and they say, hey look at this you know, it becomes a kind of landmark and they're moving up and down the Hudson River. And it's those things that I think are really what makes architecture so exciting... is that, you know, you're dealing with things outside of what you're making but that you can change other things as a result. I always like to think that our project for the World Trade Center, which I did with Steven Holl, Charles Gwarthmey and Peter Eisenman, you know, it's not just... it's not about making a building... it's not about making a monument. It's about making a place and that memorial square that we created, by the way in which the buildings hugged two sides of the square. And the way in which the square has, like arms reaching out into the water, as shadows of the fallen towers, you know, that was making a place and making a statement about a place. It wasn't about putting up an iconic building. So when I think of, you know, lots of things that are happening, you know the things which seem to get attention in the newspaper are, oh, you know, the funny shapes that people make today which the computer, you know, enables us to do things much more differently than when we sat and just drew them and with a computer, you can manipulate forms much more quickly and much more easily. It doesn't mean that it's any better, it just means it's different and it's, you know, but it's about making the place, that is what it's all about.
The prominent American architect Richard Meier (b. 1934) is best known for the Getty Centre in Los Angeles, one of his many public projects which broke from his usual style of sleek, white buildings. In all his work – carried out with characteristic refined style – he refuses to bend to the trends of modern architecture. He has won many awards including the Pritzker Prize for Architecture, considered the field's highest honour.
Title: The pleasure of creating public spaces
Listeners: Massimo Vignelli
Massimo Vignelli was born in Milan and studied architecture in Milan and Venice. He is the co-founder and President of Vignelli Associates and Chief Executive Officer of Vignelli Designs in New York. His work includes graphic and corporate identity programs, publication designs, architectural graphics, interiors, furniture, and consumer product designs. His work has been published and exhibited throughout the world and entered in the permanent collections of several museums. He has taught and lectured on design in the major cities and universities in the United States and abroad. Included among Massimo Vignelli's awards are the Gran Premio Triennale di Milano, 1964, the Compasso d'Oro, awarded by the Italian Association for Industrial Design (ADI), 1964 and 1998, the 1982 Art Directors Club Hall of Fame, the 1983 AIGA Gold Medal, the 1992 Interior Product Designers Fellowship of Excellence, The 1995 Brooklyn Museum Design Award for Lifetime Achievement and The 2001 Russel Wright Award for Design Excellence.
Tags: Steven Holl, Charles Gwarthmey, Peter Eisenman
Duration: 5 minutes, 30 seconds
Date story recorded: March 2007
Date story went live: 23 December 2008