NEXT STORY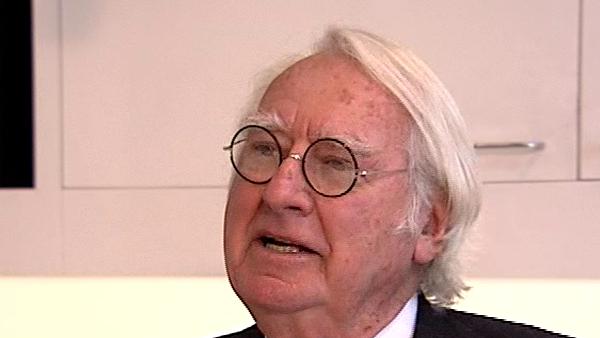 A global playing field for architects
Changes in the architectural community
1
2
3
4
What we've just been talking about, in terms of the exchange of ideas, the kinds of events that took place in New York among architects. It took place in the schools and teaching, but we're, you know, as we look back, we think what was unique. It was unique because there was a respect, I think, for one another's work, for what people were doing. There was appreciation. There wasn't a sense of competition. It was really, it was almost a support system rather than a competition. And I think, you know, maybe today since the times are different, the situation is different but there isn't the same communication. There isn't the same closeness. There isn't the same kind of, interchange, not only among our generation. I don't see it in the younger generations. It doesn't exist there. There are a lot of good architects who've worked in this office and in a sense graduated and gone on in terms of their own practice. They seem isolated to me. They don't seem to be connected formally or informally with others, either through teaching or through practice. And I think that's a shame because I think that it's an enrichment that one gets from this experience, which I know we've had together that I think these younger people are missing.
[Q] So is it a by-product of the media situation?
It could be. I honestly don't know whether it's the media. The media is trying to make stars out of any number of people and it's sort of, the media's star of the week, as it were, that we see. It could be the media's attention on architecture. The media didn't even write about architecture and Ada Louise Huxtable didn't exist, writing about architecture in those days. She was perhaps pivotal in terms of architectural criticism and the most brilliant and prolific and sensitive critic around. And after Ada Louise, I think it became more a reporting on architecture than a cultural criticism in the way in which she approached it. And so it sort of, you know, what's the headline today? We just saw it.
[Q] However, it was true that forty years ago, the "New York Times" would have never talked about this, but today they do.
Yeah, that's true. No, I'm not saying it's necessarily negative. It's just different. No, I mean in the "Times" today you have two articles on architecture.
[Q] They're not always right but at least it's there.
At least it's there and the... and the public's interested. I mean, the public interest otherwise, it wouldn't be there. The public wants to know. They want to know what's happening and where is it happening.
The prominent American architect Richard Meier (b. 1934) is best known for the Getty Centre in Los Angeles, one of his many public projects which broke from his usual style of sleek, white buildings. In all his work – carried out with characteristic refined style – he refuses to bend to the trends of modern architecture. He has won many awards including the Pritzker Prize for Architecture, considered the field's highest honour.
Title: Changes in the architectural community
Listeners: Massimo Vignelli
Massimo Vignelli was born in Milan and studied architecture in Milan and Venice. He is the co-founder and President of Vignelli Associates and Chief Executive Officer of Vignelli Designs in New York. His work includes graphic and corporate identity programs, publication designs, architectural graphics, interiors, furniture, and consumer product designs. His work has been published and exhibited throughout the world and entered in the permanent collections of several museums. He has taught and lectured on design in the major cities and universities in the United States and abroad. Included among Massimo Vignelli's awards are the Gran Premio Triennale di Milano, 1964, the Compasso d'Oro, awarded by the Italian Association for Industrial Design (ADI), 1964 and 1998, the 1982 Art Directors Club Hall of Fame, the 1983 AIGA Gold Medal, the 1992 Interior Product Designers Fellowship of Excellence, The 1995 Brooklyn Museum Design Award for Lifetime Achievement and The 2001 Russel Wright Award for Design Excellence.
Tags: Ada Louise Huxtable
Duration: 3 minutes, 29 seconds
Date story recorded: March 2007
Date story went live: 23 December 2008