NEXT STORY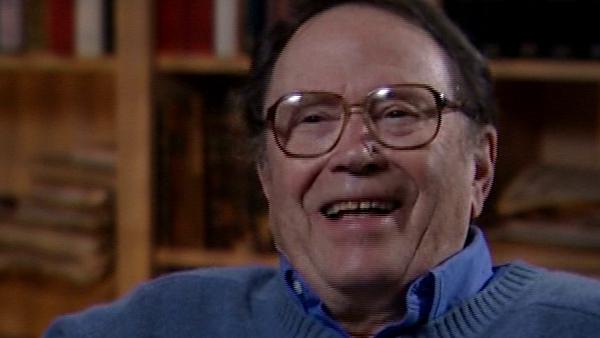 America creates its own poet laureate
1
2
3
4
5
6
...
9
My friend Sam Green, the painter, said, 'Why don't you stop flying to far away Caribbean islands, using all your money on airfare and having to stay a very short time and come back? Why don't you go to our American tropics?' he said. He recommended Key West and we said, 'What's it like?' and he said, 'Well, did you like the movie Bonnie and Clyde with its mixture of beauty and tawdriness?' And we said, 'Yes, we liked it pretty well. We thought it was morally dubious but delightful'. And he said, 'Well then you'll like Key West'.
[Q] So that's the late 60s, I would think.
Yes, I think so, and we did find that it was a place where one could afford to stay for a longer and longer time. It was not then an expensive place. Indeed, it was very much a depression town. In 40 years it's now become a rich man's town, but then I think the only winter visitors tended to be good, plain people from Indiana who wanted to have a week or two in one of the two or three motels that the island had to offer.
But you met all kinds of people there, right, over the years.
Yes. The great thing about Key West... well, there were many great things about Key West, but the thing we loved most was that it was an island full of an extraordinary variety of people. It was about 45% Cuban, about 8% island blacks, the kind of people who say 'mon', and retired navy people and active navy people as well, people devoted to fishing, people devoted to sailing, lots of gay people, there had always been a large gay population there. All these very different people, and I haven't begun to exhaust the categories, all these people were tolerant of each other. That gave the island an extraordinary charm. What people did about difference was to laugh at it, or laugh with it, laugh in a not unkind manner, and Charlee and I thought we have found our way to Isaiah's holy mountain. This is where the lion lies down with the lamb. And so it seemed for a long time, until the forces of gentrification arrived and until the island was advertised by various interested parties, developers and so on, to the nation and began to attract a great tourist population.
One thing the island was advertised for of course was its history as a winter residence for some writers. Wallace Stevens had forever gone down there to one of the hotels of the 20s, Elizabeth Bishop was resident there from time to time in the 30s and 40s, and when we went down there, Tennessee Williams was there and had been there for a good while.
We went back to New York after we decided to buy a little apartment in Key West and told some friends of ours at a largish cocktail party that Key West was the place to be and that you could buy a little pad for almost nothing, and a number of people we knew, some of them very good friends, suddenly felt the need for a Southern pad, and we were not responsible for the influx of writers, but we were responsible for part of that, and pretty soon there was an enormous number of rather good writers wintering down there, Peter Taylor for example, James Merrill, his friend David and Alison Lurie. It's a long list, I'd better not get going on it.
[Q] Bob Stone?
Yes, Robert Stone, and this in itself was very pleasant, but the developers of Key West, the people who wanted to popularise it, began to glamorise it as a haven for writers, as a place where Hemingway had worked and where all sorts of lesser writers were still to be seen in the flesh, and that had a lot to do with what's become of the island now.
Acclaimed US poet Richard Wilbur (1921-2017) published many books and was twice awarded the Pulitzer Prize. He was less well known for creating a musical version of Voltaire's "Candide" with Bernstein and Hellman which is still produced throughout the world today.
Title: Discovering Key West
Listeners: David Sofield
David Sofield is the Samuel Williston Professor of English at Amherst College, where he has taught the reading and writing of poetry since 1965. He is the co-editor and a contributor to Under Criticism (1998) and the author of a book of poems, Light Disguise (2003).
Tags: Caribbean, Key West, Bonnie and Clyde, Indiana, New York, Sam Green, Elizabeth Bishop, Wallace Stevens, Tennessee Williams, Peter Taylor, James Merrill, Alison Lurie, Robert Stone, Ernest Hemingway
Duration: 5 minutes, 52 seconds
Date story recorded: April 2005
Date story went live: 24 January 2008