NEXT STORY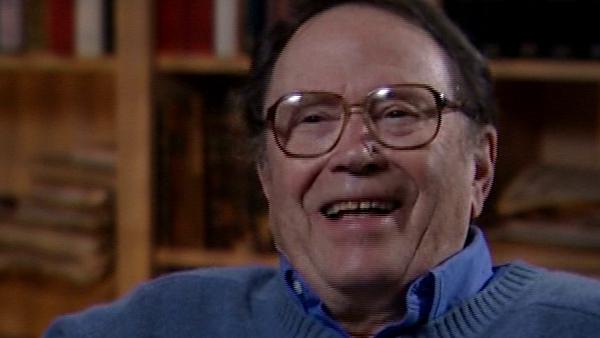 Poetry readings: opposites poems and playful poems
Poetry readings: A Late Aubade
1
...
4
5
6
7
8
9
This poem, A Late Aubade, derives of course from my marriage. An aubade as we know is an early morning amorous poem or song. This is a late aubade because a man is speaking to his wife in bed at about 11:45 in the morning. A Late Aubade.
You could be sitting now in a carrel
Turning some liver-spotted page,
Or rising in an elevator-cage
Towards Ladies' Apparel.
You could be planting a raucous bed
of salvia, in rubber gloves,
Or lunching through a screed of someone's loves
With pitying head,
Or making some unhappy setter
Heel, or listening to a bleak
Lecture on Schoenberg's serial technique.
Isn't this better?
Think of all the time you were not
Wasting, and would not care to waste,
Such things, thank God, not being to your taste.
Think what a lot
Of time, by woman's reckoning,
You've saved, and so may spend on this,
You, who would rather lie in bed and kiss
Than anything.
It's almost noon, you say? If so,
Time flies, and I need not rehearse
The rosebuds-theme of centuries of verse.
If you must go,
Wait for a while, then slip downstairs
And bring us up some chilled white wine,
And some blue cheese and crackers, and some fine
Ruddy-skinned pears.
That's been approved of by quite a number of people, but I remember its being disapproved of by feminists a few years back. They felt that the man in the poem ought to get out of bed and go downstairs and bring up the cheese and the rest.
Acclaimed US poet Richard Wilbur (1921-2017) published many books and was twice awarded the Pulitzer Prize. He was less well known for creating a musical version of Voltaire's "Candide" with Bernstein and Hellman which is still produced throughout the world today.
Title: Poetry readings: "A Late Aubade"
Listeners: David Sofield
David Sofield is the Samuel Williston Professor of English at Amherst College, where he has taught the reading and writing of poetry since 1965. He is the co-editor and a contributor to Under Criticism (1998) and the author of a book of poems, Light Disguise (2003).
Tags: A Late Aubade
Duration: 2 minutes, 15 seconds
Date story recorded: April 2005
Date story went live: 24 January 2008