NEXT STORY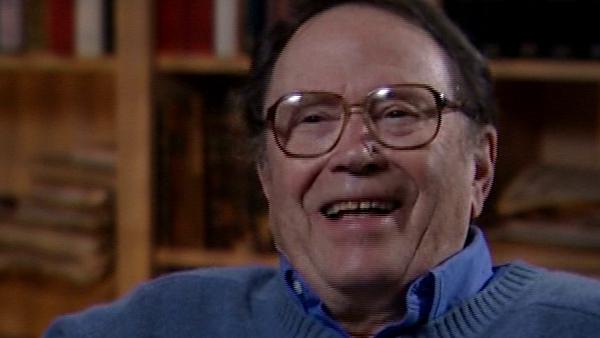 Introduction to Cottage Street, 1953
Poetry readings: Beasts
1
...
5
6
7
8
9
I'm trying to think of who said it. It was perhaps someone like Pascal who said, 'Man is neither angel not beast, when he tries to play the angel he becomes the beast'. That's, that's one clue I think to what I was thinking of when I wrote this poem, Beasts.

Beasts in their major freedom
Slumber in peace tonight. The gull on his ledge
Dreams in the guts of himself the moon-plucked waves below
And the sunfish leans on a stone, slept
By the lyric water
In which the spotless feet
Of deer make dulcet splashes, and to which
The ripped mouse, safe in the owl's talon, cries
Concordance. Here there is no such harm
And no such darkness
As the self-same moon observes
Where, warped in window-glass, it sponsors now
The werewolf's painful change. Turning his head away
On the sweaty bolster, he tries to remember
The mood of manhood,
But lies at last as always,
Letting it happen, the fierce fur soft to his face,
Hearing with sharper ears the wind's exciting minors,
The leaves' panic, and the degradation
Of the heavy streams.
Meantime, at high windows
Far from thicket and pad-fall, suitors of excellence
Sigh and turn from their work to construe again the painful
Beauty of heaven, the lucid moon
And the risen hunter,
Making such dreams for men
As told will break their hearts as always, bringing
Monsters into the city, crows on the public statues,
Navies fed to the fish in the dark
Unbridled waters.

Any pictures one paints of natural order probably should contain something like a ripped mouse in them to be true and honest.
Acclaimed US poet Richard Wilbur (1921-2017) published many books and was twice awarded the Pulitzer Prize. He was less well known for creating a musical version of Voltaire's "Candide" with Bernstein and Hellman which is still produced throughout the world today.
Title: Poetry readings: "Beasts"
Listeners: David Sofield
David Sofield is the Samuel Williston Professor of English at Amherst College, where he has taught the reading and writing of poetry since 1965. He is the co-editor and a contributor to Under Criticism (1998) and the author of a book of poems, Light Disguise (2003).
Tags: Beasts
Duration: 2 minutes, 32 seconds
Date story recorded: April 2005
Date story went live: 29 September 2010