NEXT STORY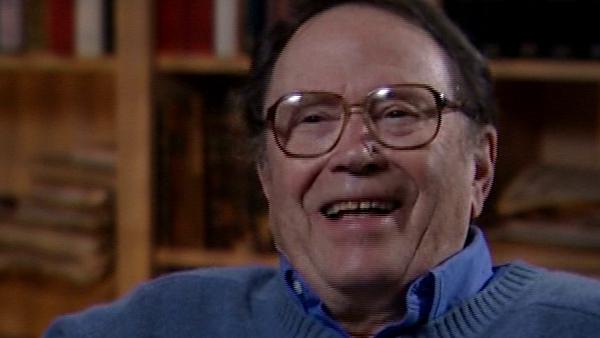 Poetry readings: Seed Leaves
Buying property in Cummington inspires 'Fern-Beds in Hampshire County'
1
...
5
6
7
8
9
Years ago we went down to Yale to take part in a memorial observance for Randall Jarrell who had just died, and on that occasion I talked a bit with Robert Penn Warren, his wife, Eleanor Clark and they warned me that New England was about to be taken over by real estate rascals and that I should, if I possibly could, buy a few acres of it and protect them, and Charlee and I in fact did that. We... we had, we had caught sight of Cummington during our undergraduate days when we were driving through on our way to a football game at Williams. We knew that it was a beautiful place and when another friend of ours gave us the name of an honest real estate woman, we headed for this town of Cummington, and almost at once fell in love with it, even though... even though it was the middle of the winter and there were high drifts everywhere, the real estate woman said, 'There are beautiful timber trails to walk out there and I believe one of them leads to a pond', and she said, 'In summer you could see that there's a ruined tennis court down there and a ruined swimming pool'. So, we believed her and it was all true and we bought a little cabin, which had access to the trails and the pool and the ruined facilities. After a while we restored the swimming pool and the tennis court, and we've now been living here for a very long time and I think are regarded as among the early settlers. We have - depending on how you read our deeds - we have somewhere between 80 and 100 acres of woods, and I love to... love to wander in them, and I know the names of most things to be seen in our... in our woods and in the fields roundabout, and one... one specialty of these woods in North Western Massachusetts is that there are great strews of... of ferns, not a fern here and a fern there, but great beds of ferns running along the forest floor. So, here's a poem called Fern-Beds in Hampshire County.

Although from them 
Steep stands of beech and sugar-maple stem, 
Varied with birch, or ash, or basswood trees 
Which spring will throng with bees, 
While intervening thickets grow complex 
With flower, seed, and variants of sex, 
And the whole wood conspires, by change of kind, 
To break the purchase of the gathering mind, 
The ferns are as they were. 
Let but a trifling stir 
Of air traverse their pools or touchy beds
And some will dip their heads, 
Some switch a moment like a scribbling quill 
And then be still, 
Sporadic as in guarded bays 
The rockweed slaps a bit or sways. 
Then, let the wind grow bluff, and though 
The sea lies far to eastward, far below, 
These fluent spines, with whipped pale underside, 
Will climb through timber as a smoking tide 
Through pier-stakes, beat their sprays about the base 
Of every boulder, scale its creviced face 
And, wave on wave, like some green infantry, 
Storm all the slope as high as I can see. 
Whatever at the heart 
Of creatures makes them branch and burst apart, 
Or at the core of star or tree may burn 
At last to turn 
And make an end of time, 
These airy plants, tenacious of their prime, 
Dwell in the swept recurrence of 
An ancient conquest, shaken by first love 
As when they answered to the boomed command 
That the seas green rise up and take the land.

I think that actually is fairly solid natural history, and... and I do try to be satisfactorily factual in writing about such matters. The form of this poem is one that I have never used in any other place. It's... the lines are rhymed, but they are of all sorts of different lengths. I don't think anything is longer than a pentameter, but as... as one can hear, there are many short lines and many long lines, and I think probably my excuse for that is that the poem was about swellings and developments, and that happens about three times in the poem that the lines grow longer and then shorter. That's probably the logic behind it, at least, it sounds right to my ear.
Acclaimed US poet Richard Wilbur (1921-2017) published many books and was twice awarded the Pulitzer Prize. He was less well known for creating a musical version of Voltaire's "Candide" with Bernstein and Hellman which is still produced throughout the world today.
Title: Buying property in Cummington inspires 'Fern-Beds in Hampshire County'
Listeners: David Sofield
David Sofield is the Samuel Williston Professor of English at Amherst College, where he has taught the reading and writing of poetry since 1965. He is the co-editor and a contributor to Under Criticism (1998) and the author of a book of poems, Light Disguise (2003).
Tags: Yale University, New England, Fern-Beds in Hampshire County, Randall Jarrell, Robert Penn Warren, Eleanor Clark
Duration: 6 minutes, 9 seconds
Date story recorded: April 2005
Date story went live: 29 September 2010