NEXT STORY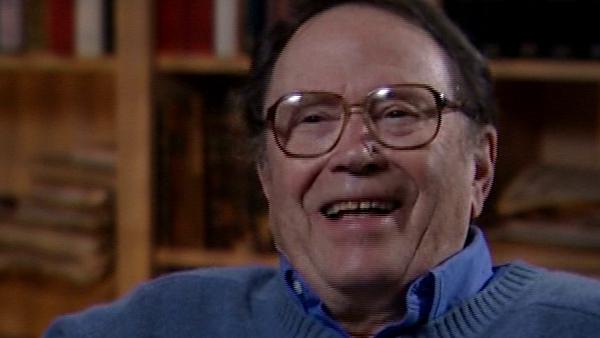 Poetry readings: Green
Poetry readings: A tanka and In Trackless Woods
1
...
5
6
7
8
9
Downhill from our house there are a couple of pastures which are used by our neighbour across the road for the pasturage of his Holstein heifers. And the behaviour of those heifers one day came to suggest to me something that could be turned into the tanka form. I guess the tanka form is in... is roughly analogous, very roughly analogous to the English sonnet and its closing couplet. In the tanka what you have is an initial haiku followed by two lines of seven syllables which have something summary to say about what the first lines have said. Well, this is the behaviour of some of my neighbour's heifers.

Black-and-white Holsteins
Crowd downfield at feeding time,
Mingling their blotches.
It is like ice breaking up
In a dark, swollen river.

And here's one called In Trackless Woods. Once again I... I am out fooling around in the woods and stumbling on a poem.

In trackless woods it puzzled me to find
Four great rock maples, seemingly aligned,
As if they had been set out in a row
Before some house, a Century ago,
To edge the property and lend some shade.
I look to see if ancient wheels had made
Old ruts to which the trees ran parallel,
But there were none, so far as I could tell-
There'd been no roadway, nor could I find the square
Depression of a cellar anywhere,
And so I tramped on further, to survey
Amazing patterns in a hornbeam spray
Or spirals in a pine-cone, under trees
Not subject to our stiff geometries.

Did I say 'hornbeam' too horribly then? Should I read it again? It was okay?

[Q] No, it was fine.

That... that poem is I suppose describable as a kind of sonnet, although its... its rhymes are... although it's actually a pile of couplets, but one does have a progression of thought and description for about eight and-a-half lines after which a kind of sextet begins and sums up and counters what's preceded it.
Acclaimed US poet Richard Wilbur (1921-2017) published many books and was twice awarded the Pulitzer Prize. He was less well known for creating a musical version of Voltaire's "Candide" with Bernstein and Hellman which is still produced throughout the world today.
Title: Poetry readings: A tanka and "In Trackless Woods"
Listeners: David Sofield
David Sofield is the Samuel Williston Professor of English at Amherst College, where he has taught the reading and writing of poetry since 1965. He is the co-editor and a contributor to Under Criticism (1998) and the author of a book of poems, Light Disguise (2003).
Tags: In Trackless woods
Duration: 3 minutes, 24 seconds
Date story recorded: April 2005
Date story went live: 29 September 2010