NEXT STORY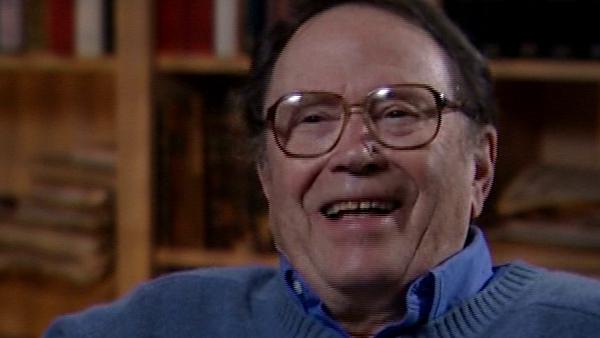 Poetry readings: The Ride
Poetry readings: In Limbo
1
...
5
6
7
8
9
This poem, In Limbo, I read not long ago at a Key West celebration of Elizabeth Bishop. There were a number of us, Tony Hecht, James Merrill and others who met to honour her and perform in her honour, and were... we were each asked to pick a poem of ours that seemed to be in the key of Elizabeth, and I think probably this is. She was terribly interested in dreams, as I always have been. This poem, In Limbo, is a poem which tries to evoke that state in the... when we are in the marchland between sleep and waking, that state in which we are not sure where we are, when we are, which one of ourselves we are. You have to be a certain age, I think, to experience this kind of limbo.

What rattles in the dark? The blinds at Brewster?
I am a boy then, sleeping by the sea,
Unless that clank and chittering proceed
From a bent fan-blade somewhere in the room,
The air conditioner of some hotel
To which I came too dead-beat to remember.
Let me, in any case, forget and sleep.
But listen: under my billet window, grinding
Through the shocked night of France, I surely hear
A convoy moving up, whose treads and wheels
Trouble the planking of a wooden bridge.
For a half-kindled mind that flares and sinks,
Damped by a slumber which may be a child's,
How to know when one is, or where? just now
The hinged roof of the Cinema Vascello
Smokily opens, beaming to the stars
Crashed majors of a final panorama,
Or else that spume of music, wafted back
like a girl's scarf or laughter, reaches me
In adolescence and the Jersey night,
Where a late car, tuned into wild casinos,
Guns past the quiet house towards my desire.
Now I could dream that all my selves and ages,
Pretenders to the shadowed face I wear,
Might, in this clearing of the wits, forgetting
Deaths and successions, parley and atone.
It is my voice which prays it; mine replies
With stammered passion or the speaker's pause,
Rough banter, slogans, timid questionings-
Oh, all my broken dialects together.
And that slow tongue which mumbles to invent
The language of the mended soul, is breathless,
Hearing an infant howl, demand the world.
Someone is breathing. Is it I? or is it
Darkness conspiring in the nursery corner?
Is there another lying here beside me?
Have I cherished wife of thirty years?
Far overhead a long sussurus, twisting
Clockwise or counter clockwise, plunges east,
Twin floods of air in which our flagellate cries,
Rising from love-bed, childbed, bed of death,
Swim toward recurrent day. And farther still,
Couched in the void, I hear what I have heard of,
The god who dreams us, breathing out and in.
Out of all that I fumble for the lamp-chain.
A room condenses and at once is true-
Curtains, a clock, a mirror, which will frame
This blinking mask, the light has clapped upon me.
How quickly, when we choose to live again,
As Er once told, the cloudier knowledge passes!
I am a true and portion of the all
Misshaped by time, incorrigible desire
And dear attachment to a sleeping hand,
Who lie here on a certain day and listen
To the first birdsong, homelessly at home.

My friend John Cheever once wrote me a little note, which made me very proud. He said he had read this poem and it... and had turned immediately to the novel he was working on and finished it.
Acclaimed US poet Richard Wilbur (1921-2017) published many books and was twice awarded the Pulitzer Prize. He was less well known for creating a musical version of Voltaire's "Candide" with Bernstein and Hellman which is still produced throughout the world today.
Title: Poetry readings: "In Limbo"
Listeners: David Sofield
David Sofield is the Samuel Williston Professor of English at Amherst College, where he has taught the reading and writing of poetry since 1965. He is the co-editor and a contributor to Under Criticism (1998) and the author of a book of poems, Light Disguise (2003).
Tags: Key West, In Limbo, Elizabeth Bishop, Tony Hecht, James Merrill, John Cheever
Duration: 5 minutes, 23 seconds
Date story recorded: April 2005
Date story went live: 29 September 2010