NEXT STORY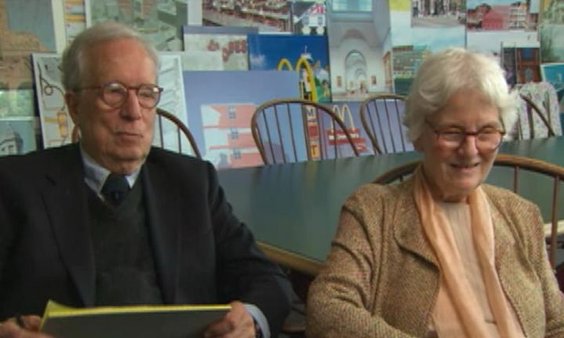 The future
Chinese scholars gardens and lilong housing
Robert Venturi and Denise Scott Brown
Architect
1
...
8
9
10
11
12
[DSB] I loved the Chinese gardens and in 1982 we received a visit from a Professor Luo, a woman architectural historian from Shanghai. And she spoke American as much as we did. She was a lovely early middle aged woman and she had an understanding of our work. Her fields… her field was American post World War Two architecture in China. And she understood us, in a way that I haven't found other critics anywhere to understand us – American or English or anyone. She just was on our wavelength and saw what we were doing, and we really, really liked her. She happened to be there on Bob's birthday and there was a birthday cake in the office, to Bob's consternation, and she joined in the fun and then she had dinner with us.
[RV] I hate birthday parties.
[DSB] And so, she became a good friend there then. There are some people… there's an urgency because they're going away. You'll see them once, you become good friends immediately and it stays. So, when we went back to China, we went to visit her. Now, she was a much older lady.
Her other field of scholarship was Chinese scholars' gardens. She took us to one in Shanghai and she showed us how, on these small town sites in Shanghai, they made a garden that felt infinite by various clever tricks. And she showed us the tricks. And I looked at these… this garden… and it had little paths and it went by pools and then it stopped at a wall but it looked as if the water went under – one of the tricks – and so on. And there were vistas carefully organised.
[RV] Miniature, miniature mountains.
[DSB] Yes and then at the top of a little mountain was a little summer house. And there it was, with its seats around it and a place for sitting at the front and you could look out. And I thought, well, this is this scholar's place. I want to come here and bring my work and sit there and do my work.
[RV] It's supreme.
[DSB] And then I began to fantasize. I said, 'I want a scholar's garden attached to a hotel spa. And I will come and live here for two weeks and I will do fitness in the spa and have my sauna, and I'll bring my books and just sit the rest of the afternoon and look out. And do my writing and edit and the things that I do in my old age', and it would be for me the perfect vacation.
Just two weeks?
[DSB] Well, because you can't spend more than two weeks in that kind of idle – not idle because you're doing good work – but sort of un-oppressed splendour, it would be too much. You might never go back.
[RV] The wonderful thing is…
[DSB] And then also, after that she took us to see some housing which are called lilong and she'd showed us round parts of Shanghai. You know, Shanghai had this amazing history of the foreign powers that were all spread out around the river and on what's called the Bund. And the story of all the groups that moved through there, including Jewish refugees during World War Two, is an amazing story. But the lilong were constructed on the basis of an English model, the mews cottage. And a mews cottage often has a ceremonial archway. And it's behind the main houses and it's where the servants lived, and where the chauffeur kept the automobile and before that the carriage for the horses. And then, there were small mews cottages along the mews, having gone under this archway. And the cottages might be above the parking garage, or there might not be any parking left any more – converted into living spaces.
So, that relationship of mews and mews cottages was taken to China, made much smaller and much longer and much more complex, and it's a whole warren of housing off major commercial streets. So, the stores go along the street, you go under the arcade and there you are – in the middle of this busy commercial life, private housing on the ground, in enclaves. And so, recently, I had to write something about Shanghai for a book that's coming out. I don't know how people contacted us and asked us, but it seemed the right thing to write about. And somehow along the way I also wrote it for a newspaper, I wrote it for the Washington Post. I forget why they wanted me to write something – I thought the thing to write about would be these lilong. Well, it netted me a letter from a Chinese professor at an American university, who said, 'I grew up in a lilong and never in American have I found a place where I want to live. I've tried the New Urbanism, I've tried apartments, I've tried… I've tried suburbia and there's nowhere that will give me what I had in my lilong by way of social contact and yet privacy. And when my family come to visit they suffer anomie and depression after one month of living in housing environments here'. It was an amazing story.
Internationally renowned architects Robert Venturi (1925-2018) and Denise Scott Brown (b.1931) have helped transform contemporary design through their innovative architecture and planning. Winners of numerous prestigious awards, their designs have championed multiculturalism, social activism, symbolism, pop culture, history and evolving technologies.
Title: Chinese scholars gardens and lilong housing
Listeners: Thomas Hughes
Thomas Hughes is Mellon Professor Emeritus of the History of Science at the University of Pennsylvania and Distinguished Visiting Professor at the Massachusetts Institute of Technology. His most recent books include Human Built World, Rescuing Prometheus and American Genesis. He is a member of the American Philosophical Society, US National Academy of Engineering, Royal Swedish Academy of Engineering Sciences and the American Academy of Arts and Sciences.
Duration: 5 minutes, 45 seconds
Date story recorded: 22nd to 23rd September 2006
Date story went live: 27 May 2010