NEXT STORY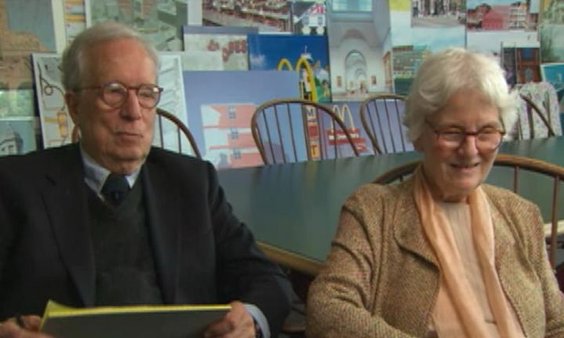 Designing medical centers (Part 1)
Robert Venturi and Denise Scott Brown
Architect
1
...
8
9
10
11
12
[DSB] What do we think of the future of our field? We've spent quite a lot of time saying you shouldn't predict the future. You should evolve a system for reacting to what future comes. And also that goes along with the question of what you do with things you can't measure, because you certainly can't measure the future. I remember a certain scientist that I was on a jury with once for a competition and I said, 'Something is good for your soul', in this garden that had been designed. And he said, 'If you… if you would tell me how to measure it, I will consider it. If you don't, don't bring it up'. And I said to him…
Sounds like an engineer.
[DSB] Yes, he was. And I said to him, 'You may have the luxury of doing that in your field, I certainly don't. Because the expressway that I'm talking about, that I'll be designing and I thought you were too, that expressway will be there a thousand years. And for a thousand years there's no way of measuring the future. So, then, what do you do then? You can't say, well, I'm just not going to design the expressway, it's needed now and it will be there a thousand years from now, probably. So, what do you do, refuse to do it because you can't measure it, because you can't measure its future?' So, these are the issues that come up for us that we produce things of enormously long standing and yet, we want to deal with it in the here and now. We don't want to have the vision for the year 2020, which is a… an avoidance – the perfect vision year, it was called with great scorn in planning. That's an avoidance of dealing with here and now problems. So, that's our take on the future. We don't find it too very interesting to talk about the future of our field. What do we think architects will be doing a hundred years from now? That's hard to say and is it really worth thinking about?
[RV] My response is… parallels that… it is… has two parts, I guess. One is that it is very difficult to… to predict as Denise points out and I think, trying to predict is really not worth the energy or not terribly relevant. I think, what you want to do is work for now and you want to hope… we want to hope that what we think is right for now, but is not happening now, will in the near future be happening appropriately, i.e. an architecture of iconography that can be accommodated by architecture that is flexible. And the second part is, we hope in the future that this architecture that accommodates flexibility via the loft idea, will… will then be able to accommodate the future in almost any direction it goes. Or in many directions. In other words, many different things can happen within the mitten. So, we… we hope that the future will be varied and rich and therefore the architecture will accommodate that. It is true also that it will involve evolution and revolution. Modern architecture emphasise the value of revolution being new, being original, being whamo in that way. But an awful lot of great art involves evolution rather than revolution. Both are appropriate and you have to… you have to do what is appropriate – evolutionary or revolutionary. So, we think that the glove loft can accommodate different kinds of revolution and evolution. And we also hope and expect that symbolism will come back as a… and signage… as a valid and appropriate element for architecture. Not only in American commercial architecture as it exists now, but in all kinds of architecture.
Internationally renowned architects Robert Venturi (1925-2018) and Denise Scott Brown (b.1931) have helped transform contemporary design through their innovative architecture and planning. Winners of numerous prestigious awards, their designs have championed multiculturalism, social activism, symbolism, pop culture, history and evolving technologies.
Title: The future
Listeners: Thomas Hughes
Thomas Hughes is Mellon Professor Emeritus of the History of Science at the University of Pennsylvania and Distinguished Visiting Professor at the Massachusetts Institute of Technology. His most recent books include Human Built World, Rescuing Prometheus and American Genesis. He is a member of the American Philosophical Society, US National Academy of Engineering, Royal Swedish Academy of Engineering Sciences and the American Academy of Arts and Sciences.
Duration: 4 minutes, 23 seconds
Date story recorded: 22nd to 23rd September 2006
Date story went live: 27 May 2010