NEXT STORY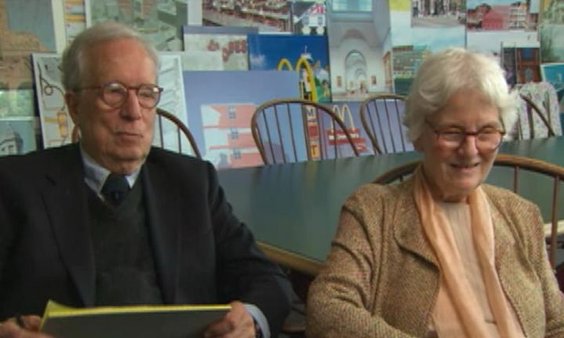 My mother and father
My choice of colour for the Vanna Venturi House
Robert Venturi and Denise Scott Brown
Architect
1
2
3
4
5
...
12
[RV] Well, originally, the exterior of the house which was, and is stucco, you apply a colour to it then, it's not the natural colour of the material, and originally it was not white, which it probably would have been if I'd been a normal or typical architect of the time, in that Modernist, purist Modernist period. And it was a kind of analogous, it wasn't buff, it was kind of an analogous, warm grey, with maybe a touch of mauve in it, and I liked the colour and my mother liked it. I should get back to the part where my mother is client. But I liked it, and then a couple of years later I was sitting in the library at Yale where I was teaching, and reading a magazine, and in it I saw a quote from the architect…
[DSB] Marcel Breuer.
[RV] Marcel Breuer, a proper Modernist who was then Head of the Department at Yale, who said, you never use green as a colour on the outside of the house. And my immediate reaction was, I'm going to change the house to green.
[DSB] So you see, Bob's a contrarian from the get go.
[RV] You learn a lot from, sort of, these rules that tell you what you should not do. Sometimes the rules are right, of course. And so I went back and then over the years this green has varied as it gets repainted. There was one period where I didn't like the green very much, but anyhow it's back to a green, which I do like, although even now, you know, architects are never… they're never completely satisfied with what they do. Even now, I would say, I like the green the way it is, but maybe it should be just a little lighter and a little more buffy; a little less explicitly green. But that's all right, I'm happy. And I think in a way it was nice, because the house was relatively bold as you see it as form, and it's rather nice to make it kind of analogous to its green-like setting, which is a lawn and trees in a suburb.
Internationally renowned architects Robert Venturi (1925-2018) and Denise Scott Brown (b.1931) have helped transform contemporary design through their innovative architecture and planning. Winners of numerous prestigious awards, their designs have championed multiculturalism, social activism, symbolism, pop culture, history and evolving technologies.
Title: My choice of colour for the Vanna Venturi House
Listeners: Thomas Hughes
Thomas Hughes is Mellon Professor Emeritus of the History of Science at the University of Pennsylvania and Distinguished Visiting Professor at the Massachusetts Institute of Technology. His most recent books include Human Built World, Rescuing Prometheus and American Genesis. He is a member of the American Philosophical Society, US National Academy of Engineering, Royal Swedish Academy of Engineering Sciences and the American Academy of Arts and Sciences.
Duration: 2 minutes, 14 seconds
Date story recorded: 22nd to 23rd September 2006
Date story went live: 27 May 2010