NEXT STORY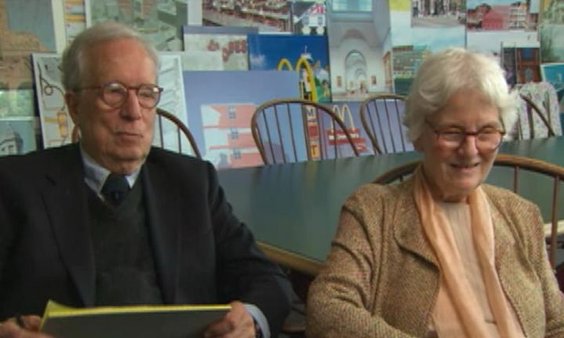 Shared interests and histories
The Guild House and New York University
Robert Venturi and Denise Scott Brown
Architect
1
2
3
4
5
...
12
[RV] Right after the Mother house or during the end of it, I did get a partner, at that time… was the firm of Cope and Lippincot who were also Quakers, going way back. We got a Quaker institution called Guild House, which is housing for the elderly, which is now considered a famous building. It's now very nicely being restored, getting new windows that are appropriate for the environmental issues of today and things like that. Anyhow, that building was unusual… in that one… it was not a… in terms of how we designed it, and this was accepted by the wonderful client. And any other architect at that time would have done a kind of Le Corbusier slab, would've put it back from the street, sort of on a park. We made it not a slab; we… we said we want to give it a plan where a lot of the rooms inside could have double exposure, not just looking out one way, could have…
[DSB] Corner windows.
[RV] Corner windows. And that gave it an unusual shape, with corner windows. On the other hand it was ordinary in that it was brick, which was related to the neighbourhood – analagous to it – and it went right up to the street. It had a big sign on it saying Guild House which was unheard of. It had a column right in the middle as you entered, which made for a duality which was unheard of, and maybe the most unheard of thing was that it had sculpture at the top, in the form of a TV antenna. And I said something that I wish I hadn't said, it was a little – I feel a little like the Pope right now – was a little… not mistaken, not taken, it was tactless, I said that the TV antenna is kind of a symbol of old people who spend their time looking at TV.
[DSB] Not only old people look at TV.
[RV] But, anyhow, it was a lovely piece of sculpture and now it's in… and it was taken down because people didn't like it after a few months. Okay, so it's now going back up again, it's now understood and it's going back up again and it's sculpture, it isn't a real TV antenna. And it's so good that the building is being appreciated and being restored and being brought up to date in terms of this – of the needs of today. It's mostly the work of a Quaker organisation that I forget the name of, but it's something like the Friend something, something, something; and they are paying for it and doing it and I am very grateful and I should know their name.
[DSB] Not the Friends Neighbourhood Guild?
[RV] No, not the Friends Neighbourhood Guild itself. And so, that was a terrific opportunity that was appreciated at the time, more or less, and it is now very much appreciated. At the same time also, we were working at New York University where we were restoring the famous mansion by the architect Horace Trumbauer, in the… it was built around 1912 for the Duke family, the tobacco family. And Doris Duke gave this building to NY University, to the Institute of Fine Arts, which is the Art History Department. And we got this job through a dear friend of mine whom I'd known at the American Academy in Rome; he was an art historian on the staff. And that building was not very spectacular in terms of what we did. We very carefully accommodated the existing architecture, changed it as little as possible, did apply appropriate Modernist things, such as book shelving that is… that is generic book shelving, book shelving for institutions but it is floating out from the panelling on the walls. And that was… they were nice clients and that was a help and that helped us to have… that was our first institutional client, back then. So, those were important to mention, especially the Guild House. I also did the FDR Memorial Competition, which I did not win, but it's so much like the… the… what is the war memorial?
[DSB] The Maya Lin?
[RV] The Maya Lin.
[DSB] The Vietnam…
[RV] The Vietnam War Memorial. Hers was like what I did earlier, but mine was bigger in scale and had a lot of iconography, but unfortunately it did not win. Anyhow, then I was teaching, teaching, teaching, to help me, you know, keep the practice going. And then at a certain point – Denise might have pointed out, but skipped over it – that around 1970 we decided to give up teaching, because we decided it was hard to do both at the same time, it was getting too complex. You either be a teacher or an architect, we decided to get into architecture, so we resigned from Yale, already had resigned from Penn.
Internationally renowned architects Robert Venturi (1925-2018) and Denise Scott Brown (b.1931) have helped transform contemporary design through their innovative architecture and planning. Winners of numerous prestigious awards, their designs have championed multiculturalism, social activism, symbolism, pop culture, history and evolving technologies.
Title: The Guild House and New York University
Listeners: Thomas Hughes
Thomas Hughes is Mellon Professor Emeritus of the History of Science at the University of Pennsylvania and Distinguished Visiting Professor at the Massachusetts Institute of Technology. His most recent books include Human Built World, Rescuing Prometheus and American Genesis. He is a member of the American Philosophical Society, US National Academy of Engineering, Royal Swedish Academy of Engineering Sciences and the American Academy of Arts and Sciences.
Duration: 5 minutes, 1 second
Date story recorded: 22nd to 23rd September 2006
Date story went live: 27 May 2010