NEXT STORY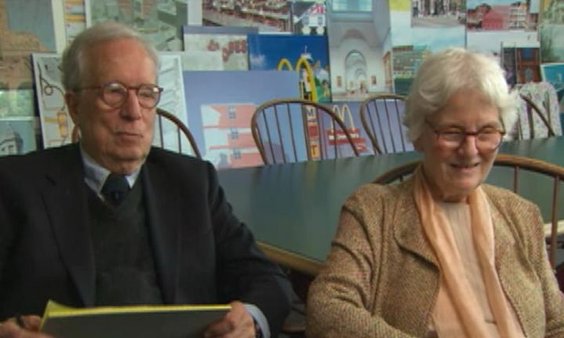 My love of the South African landscape (Part 1)
Denise Scott Brown; family history (Part 2)
Robert Venturi and Denise Scott Brown
Architect
1
2
3
4
5
...
12
[DSB] My father's two… his father and his uncle left and went to what was called the… you see, in Yiddish the word was Medina, for the kind of place you were going from Eastern Europe… well, they went to the wilderness one in Africa, and his two other brothers went to the golden one in America. So we have brothers and second cousins in America from that divergence of the two. And they would arrive on the docks in Cape Town with a few shillings in their hands, having worked to earn the fine… so that their family, when they left and didn't… didn't have to be pressed into the Russian army for 15 years – conscription was 15 years and more. So they escaped that, and they left the money to pay the fine. My grandfather had already been a timber merchant at the age of 12 in Eastern Europe. This was normal, and one uncle arrived at the age of nine, in Africa. He was met by an English lady in… wherever, at Liverpool, they went via Hamburg to Liverpool, and then Liverpool to Africa or America, depending what you could afford sometimes. So he was… because he was so young, someone met him and put him on the boat, and then he arrived and he travelled through lion country, apparently alone, till he got to Johannesburg, and my grandfather arrived with a few shillings in his pocket. They lived, they went steerage and they got food from some first class passengers, and sometimes not so much, and then they… he worked on the docks to get enough money to go inland, and he got to Johannesburg just as the Boer War was starting. And he seems to have lived in a boarding house there, run by Jews who'd got there earlier, and the daughter in the boarding house was the woman he married. And there's a beautiful photograph, he had a pretty nice wedding in Johannesburg at that point. He was, by that time, doing rather well, my grandfather. There's even a building in Johannesburg that I saw in the Indian market area, it was called Lakofski's Building, that's my grandfather's building.
Internationally renowned architects Robert Venturi (1925-2018) and Denise Scott Brown (b.1931) have helped transform contemporary design through their innovative architecture and planning. Winners of numerous prestigious awards, their designs have championed multiculturalism, social activism, symbolism, pop culture, history and evolving technologies.
Title: Denise Scott Brown; family history (Part 2)
Listeners: Thomas Hughes
Thomas Hughes is Mellon Professor Emeritus of the History of Science at the University of Pennsylvania and Distinguished Visiting Professor at the Massachusetts Institute of Technology. His most recent books include Human Built World, Rescuing Prometheus and American Genesis. He is a member of the American Philosophical Society, US National Academy of Engineering, Royal Swedish Academy of Engineering Sciences and the American Academy of Arts and Sciences.
Duration: 2 minutes, 25 seconds
Date story recorded: 22nd to 23rd September 2006
Date story went live: 27 May 2010