NEXT STORY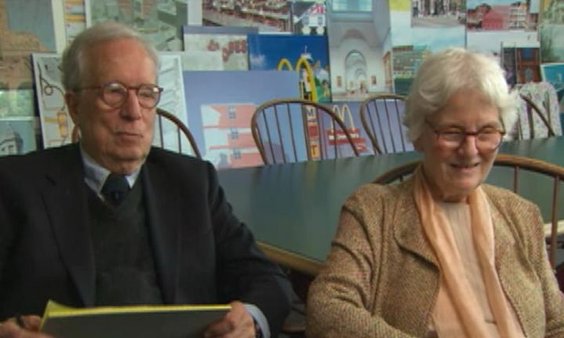 Living with my mother in the Vanna Venturi house (Part 1)
My love of the South African landscape (Part 2)
Robert Venturi and Denise Scott Brown
Architect
1
2
3
4
5
...
12
[DSB] So as an African xenophobe, I say that my view of Las Vegas is an African view. I take that same outlook that I developed as a child. I was really eight or nine years old and I was fighting my grandmother you see, amongst other things. Oh, I should add one other point, we had a… growing up in Johannesburg in the '40s there were lots of German refugees and these were fascinating people. I had music lessons from three different refugees – we had an art teacher who was a Jewish refugee and many others. They brought a fascinating cosmopolitan sophistication to artistic life in Johannesburg and their paintings are interesting as painters and architecture was interesting; some of them who were there as well. But this Rosa Van Gelderen, I later saw her name, or a Van Gelderen listed in the lists of people who had Swiss bank accounts that were appropriated by the Swiss banks, when they published the names there was a Van Gelderen… obviously that same family. Well Rosa Van Gelderen used to say… she used to run a painting class outside of school where you could paint anything you wanted. And she gave poster paints and big thick brushes and large pieces of paper and little kids were just told paint what you want, express yourself. But of course she did direct you inconspicuously so you painted sort of socialist themes and things about Africans. And she said, you won't be creative artists if you don't paint what's around you. And that was the theme, a really important theme for me. And so for her, painting what's around you, was street life of Africans in Johannesburg looking very picturesque, selling flowers and things like that. For me it became… I have a marvellous slide of a store in Zululand in Natal and it's a country store and it's made of wood and iron and it has a big English sign on its roof, 'Five Roses Tea', a big American sign on its roof 'Coca-Cola' and then a big Zulu sign telling you here you will get these things and these other things. And then it has blankets from Manchester and bicycles all around it and there's a real mixed message, mixed metaphor, multicultural communication system going right on there in this bedraggled old store. Redolent of African way of life. Well that was my thing I wanted to paint. In fact, I photographed it.
Internationally renowned architects Robert Venturi (1925-2018) and Denise Scott Brown (b.1931) have helped transform contemporary design through their innovative architecture and planning. Winners of numerous prestigious awards, their designs have championed multiculturalism, social activism, symbolism, pop culture, history and evolving technologies.
Title: My love of the South African landscape (Part 2)
Listeners: Thomas Hughes
Thomas Hughes is Mellon Professor Emeritus of the History of Science at the University of Pennsylvania and Distinguished Visiting Professor at the Massachusetts Institute of Technology. His most recent books include Human Built World, Rescuing Prometheus and American Genesis. He is a member of the American Philosophical Society, US National Academy of Engineering, Royal Swedish Academy of Engineering Sciences and the American Academy of Arts and Sciences.
Duration: 2 minutes, 58 seconds
Date story recorded: 22nd to 23rd September 2006
Date story went live: 27 May 2010