NEXT STORY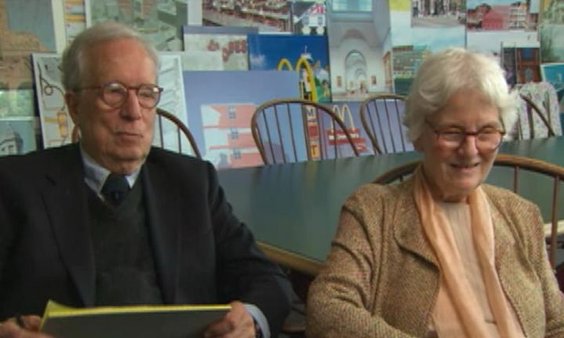 The Vanna Venturi house and the Philadelphia school
Living with my mother in the Vanna Venturi house (Part 2)
Robert Venturi and Denise Scott Brown
Architect
1
2
3
4
5
...
12
[RV] When I moved in with my mother at that age of 39, I had been living not with my parents or my mother, off and on for a long time. I lived for two and a half years in Detroit when I was working for Eero Saarinen. I lived in two years in Rome. I was in Princeton when I was teaching for a while. So, I wasn't totally living with my parents all that time. But when it made sense to do so for the sake of economy and otherwise, I did it.
But did you choose to live with your mother or did you choose to live with the house? It must have been both.
[RV] It was both I think, you're right.
[DSB] And in fact, when we were first married, we had an apartment but it took us a time to get it fixed and we lived up in that room above the…
That's what, in the studio room.
[DSB] Yes. And for me, of course, it was very strange because I'd been living away from home since I was 20. And having someone to send us off in the morning and say, 'Have a good day at work, dear', was a strange sensation for me. But living under that roof was like living under a tent. I'd go out on the back porch in the morning and comb my hair. That was just a wonderful experience.
And how long did… how long did you live in the house? I never quite… I never quite understood how long you were in the house.
[RV] Well if I moved in, in the year '60… '64, I moved out…
[DSB] '68.
[RV] '68. I guess I lived there four years.
[DSB] And then your mother left in '73.
[RV] She left in '73, yeah.
[DSB] And did you welcome many visitors to the house, people coming to see the house? Architects?
[RV] Yes, there were… there were from the beginning lots of architects that came to visit the house. As Denise pointed out, my mother loved to show them through and give them lectures on architecture, and me and all that. I remember once when we were in Europe visiting the Villa Savoye. This was around, I don't know when it was.
[DSB] About three years ago.
[RV] No, it was many more years. It was about 10 years ago. But the Villa Savoye and we were walking around. It was in a kind of public building, like a museum and we… there were some architects who happened to be Japanese who were also visiting the Villa Savoye and they came up and said, 'Are you Robert Venturi?' And I said, 'Yes'. And they said, 'Oh, well we were visiting your mother's house last week'. That made me happy. They go from my mother's house to the Villa Savoye.
Internationally renowned architects Robert Venturi (1925-2018) and Denise Scott Brown (b.1931) have helped transform contemporary design through their innovative architecture and planning. Winners of numerous prestigious awards, their designs have championed multiculturalism, social activism, symbolism, pop culture, history and evolving technologies.
Title: Living with my mother in the Vanna Venturi house (Part 2)
Listeners: Thomas Hughes
Thomas Hughes is Mellon Professor Emeritus of the History of Science at the University of Pennsylvania and Distinguished Visiting Professor at the Massachusetts Institute of Technology. His most recent books include Human Built World, Rescuing Prometheus and American Genesis. He is a member of the American Philosophical Society, US National Academy of Engineering, Royal Swedish Academy of Engineering Sciences and the American Academy of Arts and Sciences.
Duration: 2 minutes, 51 seconds
Date story recorded: 22nd to 23rd September 2006
Date story went live: 27 May 2010