NEXT STORY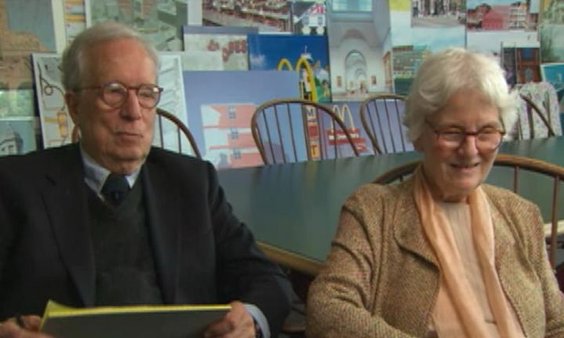 Discovering Louis Kahn
Differences in our backgrounds
Robert Venturi and Denise Scott Brown
Architect
1
2
3
4
5
6
...
12
[RV] To compare with you, my background involved and has always involved very little if not at all, movements and schools. I've always been just, sort of, an individual whose kind of connected with the past and the present. But I've never been kind of ah, I'm a member of a movement or a school. Which I think is very different from the English stuff that was going on at that time that you were describing Denise. It was, kind of, individuals who influenced me in my education. And the fact that I was at Princeton, where again there was no school. There was just an approach. The main and most famous architectural critic there on the Faculty was Frenchman Jean Labatut, who had gone to the École des Beaux-Arts but he was not an École des Beaux-Arts person. We studied… we studied and designed modern architecture. But probably for that reason he was a guy who had a wider historical range than the other people in the Modern movement. There were two other people and all… none of these is famous. There were two other people, Donald Drew Egbert, who was a historian of modern architecture, who liked me and I liked him very much. And I took his course I think five times. I sat in on it, then I worked the slides for it, then I took it and then I became a… what do you call the young instructors?
[DSB] TA.
[RV] Yeah, kind of helps with the…
[DSB] Teaching assistant.
[RV] Teaching assistant in that. And he had a wonderful view point concerning I think Modernism where he went all the way back to the 18th century where Modernism started perhaps in English landscape architecture and the Picturesque movement and all that stuff. So it was… he was just absolutely wonderful and every… anytime I'd ever go back to Princeton, I would go visit Donald Drew Egbert in his office. Then there was another person who was really not famous, who was the head of the department, named Sherley W Morgan – S-H-E-R-L-E-Y – who was completely… who was the head of the department. It didn't have a Dean; it had a head of the department, who kind of let Labatut and other people take over completely. He just sort of ran it. But it was years later that I began to realize, and often this happens you kind of look back on things. And I began to realise that he from the very beginning, I think, particularly liked me and had confidence in me as a potential good architect and as a good student at the time. And he was… Labatut was kind of mean to me and a few other people. And this guy was always there behind me. Not, not in an obvious way but now that I look back he was there. And I had a wonderful time about five years ago sending… he, of course, he'd died quite a few years earlier than that… sending a letter to his sons who were younger than I and telling them how important he was in my life and how much I appreciated and they wrote me back letters and I wrote a second letter and thought of other things. I just realised that this guy, looking back on it, was tremendously important to me and not in terms of steering me in an aesthetic direction but just sort of encouraging me and backing me. And he got me my first job as an architect, and things like that. But it's interesting that none of these people was famous. They were individuals, I was really not part of a school or a movement and I think that is significant and really very different from what you were talking about.
Internationally renowned architects Robert Venturi (1925-2018) and Denise Scott Brown (b.1931) have helped transform contemporary design through their innovative architecture and planning. Winners of numerous prestigious awards, their designs have championed multiculturalism, social activism, symbolism, pop culture, history and evolving technologies.
Title: Differences in our backgrounds
Listeners: Thomas Hughes
Thomas Hughes is Mellon Professor Emeritus of the History of Science at the University of Pennsylvania and Distinguished Visiting Professor at the Massachusetts Institute of Technology. His most recent books include Human Built World, Rescuing Prometheus and American Genesis. He is a member of the American Philosophical Society, US National Academy of Engineering, Royal Swedish Academy of Engineering Sciences and the American Academy of Arts and Sciences.
Duration: 4 minutes, 13 seconds
Date story recorded: 22nd to 23rd September 2006
Date story went live: 27 May 2010