NEXT STORY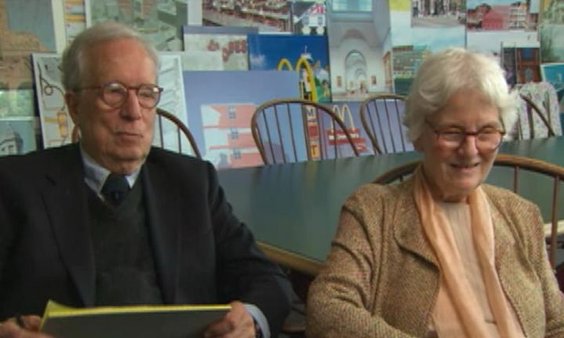 The National Football Foundation Hall of Fame (Part 1)
Two buildings for the State University of New York in Purchase
Robert Venturi and Denise Scott Brown
Architect
1
2
3
4
5
6
...
12
[DSB] The two buildings for State University of New York and I can't remember where it is, I can't remember the name of the…
Purchase?
[DSB] Purchase, New York, yes. That's the first time we really did a street through a building. I maintain there's a street through your mother's house, a fascinating street that's public and private. The public part is in marble and it winds all the way up the nowhere stair – that's a street going right through. But the next really noticeable street was the two buildings at Purchase, New York and in particular the second one.
The street goes all the way through, it makes eddies and flurries of movement and stopping at places along the way. It gets wider to take the large crowds coming from big lecture halls and then gets narrower and it ends up with a coffee machine at the end. And you can open a door and go out into an outdoor amphitheatre, which can be just a sitting out place and there someone stands at a certain point which becomes… in case it becomes a performance place. And that pattern of a movement system, that allows the telephones and the coffee machines and places to sit out on the steps and rails and things rather than benches. And goes from outdoors and indoors and ties in with the public outdoor pathways and links them to the interior spaces, became a theme with the rest of our work from the rest of the time on. And it was also much influenced by our analysis of transportation, by our thinking about the role of the street outdoors and indoors, and by our learning from Las Vegas and by the Nolli maps of Rome. That plan of this public processional, which is- which doesn't have the shape of rooms, which allows informal congregation without cutting you off from the public sector, has been a theme with us whenever we can do it.
Internationally renowned architects Robert Venturi (1925-2018) and Denise Scott Brown (b.1931) have helped transform contemporary design through their innovative architecture and planning. Winners of numerous prestigious awards, their designs have championed multiculturalism, social activism, symbolism, pop culture, history and evolving technologies.
Title: Two buildings for the State University of New York in Purchase
Listeners: Thomas Hughes
Thomas Hughes is Mellon Professor Emeritus of the History of Science at the University of Pennsylvania and Distinguished Visiting Professor at the Massachusetts Institute of Technology. His most recent books include Human Built World, Rescuing Prometheus and American Genesis. He is a member of the American Philosophical Society, US National Academy of Engineering, Royal Swedish Academy of Engineering Sciences and the American Academy of Arts and Sciences.
Duration: 2 minutes, 4 seconds
Date story recorded: 22nd to 23rd September 2006
Date story went live: 27 May 2010