NEXT STORY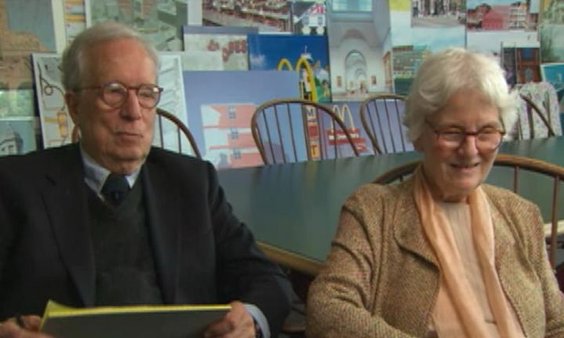 The difficulties of competitions
Threatening to resign over a tug-of-war design process
Robert Venturi and Denise Scott Brown
Architect
1
...
3
4
5
6
7
...
12
[RV] At one point we acquired lawyers. What are lawyers called?
[DSB] Advocates? Solicitors?
[RV] Solicitors. And the solicitors were very good solicitors and we spent, I think, three months with them arranging how we could do it so that it would be legal within the contract. And then when we said, 'Look we cannot have the design changed in so many ways with our name on it – we are professionals'. And then they… 'And so we will resign', and then they said, 'Okay, you can do it'.
What was the process that led you to the point where you would call in a solicitor?
[DSB] I can explain that process. They had a great many trustees and the whole lot of them were on the design committee, if they wanted to be, and they would vote. Do you want the window in, do you want the window out? I vote for in, I vote for out. Nine want out, it's out. Well, you really patently can't design like that. And there were also too many people and all these meetings became tug-of-wars with agendas of self-promotion and all the things that happen with big committees. And also curators in museums are a natural enemy to architects and… I'm not saying this to denigrate either side… curators, probably correctly, feel oppressed by the people over them; they feel their opportunities are limited; they feel they're the experts and no-one listens to them and things like that. And so they're having a difficult time and if they have a difficult boss and the boss gives them a difficult time, the temptation is to dump on the architect. We are, after all, the running dogs of their imperialists. If the client is the imperialist, we are the client's agent, ally, representative in this. And so they then say to us the things they would like to say to the client, but don't dare. And so there's a collision course between the architect and the curator very often in a museum project. And that's something of what happened in the National Gallery and the curators' were tamped down in some of their less desirable aims until a new director came on board. And then everyone listened to him and he listened to the curators. Later, when he was replaced, some of the… a curator was removed and he said, 'It had to be one boss in this place not two, and I'm the boss'. That is, the new director said that and we could… we knew very well why.
Internationally renowned architects Robert Venturi (1925-2018) and Denise Scott Brown (b.1931) have helped transform contemporary design through their innovative architecture and planning. Winners of numerous prestigious awards, their designs have championed multiculturalism, social activism, symbolism, pop culture, history and evolving technologies.
Title: Threatening to resign over a tug-of-war design process
Listeners: Thomas Hughes
Thomas Hughes is Mellon Professor Emeritus of the History of Science at the University of Pennsylvania and Distinguished Visiting Professor at the Massachusetts Institute of Technology. His most recent books include Human Built World, Rescuing Prometheus and American Genesis. He is a member of the American Philosophical Society, US National Academy of Engineering, Royal Swedish Academy of Engineering Sciences and the American Academy of Arts and Sciences.
Duration: 2 minutes, 49 seconds
Date story recorded: 22nd to 23rd September 2006
Date story went live: 27 May 2010