NEXT STORY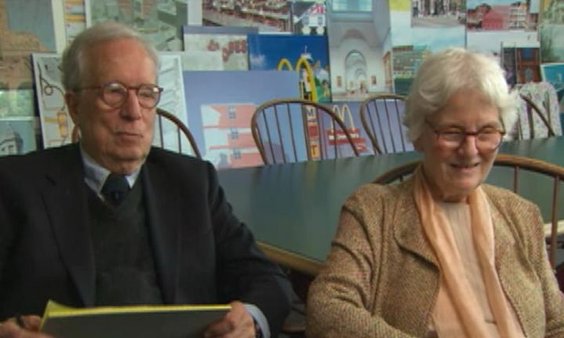 My disillusionment with Louis Kahn
Quotes and the standing of architects in England
Robert Venturi and Denise Scott Brown
Architect
1
...
4
5
6
7
8
...
12
I remember, Bob, you had a… I think it may have been a sign on your desk that you phrased… paraphrase… 'Thank God we won the revolutionary war'. Were there sort of… and you also had a phrase of the UK and America are two cultures separated by a common language.
[DSB] That's George Bernard Shaw, that one.
[RV] That's a quote from George Bernard Shaw. No, the other one is… the other…the other is sad, because I love… I love… I love English architecture, I love English culture. I love London and other cities there and so the difficulties that are raised from the enormous complexities of the program and the makeup of the way the work proceeded made it difficult but, on the other hand, I was loving England as a whole. And, as I say, and that's why we… I went back 55 times to work on this job.
Did you feel treated as a tradesperson versus a professional?
[RV] It was a little bit of that. I think in America there is, I think, more of an approach where the architect is a professional.
[DSB] And a colleague.
[RV] And a colleague. It's like when you go to the doctor, you don't tell the doctor what to do exactly… normally. And I think that the architect has a less of a professional standing. And it is true that it's a relatively new profession in England – architecture.
[DSB] But they thought we were treating them like tradespeople, so it went both ways in a sense. And, of course, we were all grocers – that's the other funny thing. Mrs Thatcher's father, the Sainsbury's family and Bob's father – all grocers, which wasn't lost on any of us; we used to talk about that. Not with Mrs Thatcher, but…
[RV] Yeah, that's fun.
[DSB] We were good friends with Simon Sainsbury and we still are.
Internationally renowned architects Robert Venturi (1925-2018) and Denise Scott Brown (b.1931) have helped transform contemporary design through their innovative architecture and planning. Winners of numerous prestigious awards, their designs have championed multiculturalism, social activism, symbolism, pop culture, history and evolving technologies.
Title: Quotes and the standing of architects in England
Listeners: Thomas Hughes
Thomas Hughes is Mellon Professor Emeritus of the History of Science at the University of Pennsylvania and Distinguished Visiting Professor at the Massachusetts Institute of Technology. His most recent books include Human Built World, Rescuing Prometheus and American Genesis. He is a member of the American Philosophical Society, US National Academy of Engineering, Royal Swedish Academy of Engineering Sciences and the American Academy of Arts and Sciences.
Duration: 2 minutes, 10 seconds
Date story recorded: 22nd to 23rd September 2006
Date story went live: 27 May 2010