NEXT STORY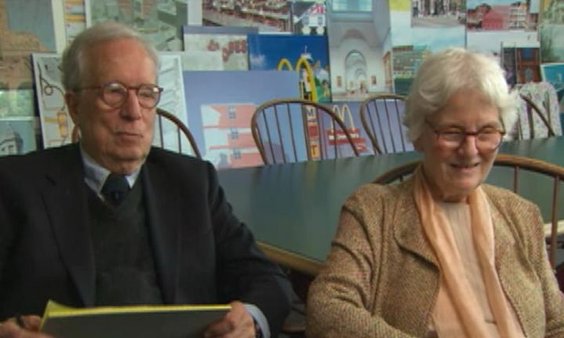 Designing laboratory buildings (Part 1)
The effect of the automobile and the flexible loft
Robert Venturi and Denise Scott Brown
Architect
1
...
5
6
7
8
9
...
12
[RV] The automobile has had the effect of making for signage which is much bigger and much bolder, as in the billboard and as in the sign that has to attract, has be effective as you are driving at 40 miles an hour. And you're going past it much quicker than if you're walking along a medieval or, let's just say, Colonial Georgian street. There the detail can be much more small in scale and you can take it in, and the detail of either the architectural elements or of the symbolic elements. And you can make the example of Main Street, where the signs are relatively small because you're walking at four miles an hour, as opposed to the… to the strip where they're… where they're greater.
[DSB] It's an interesting thought, whether the introduction of the carriage, the horse and carriage, relates to the increasing size and scale of Baroque detail.
[RV] That is interesting. There is also then, of course, the decorated, well, there is the shed, which not only accommodates that quality on the outside but on the inside allows for flexibility, and there is no question that the tradition of the flexible loft which was in America, to a great extent in America, was very important because the industry… industrial uses inside could change. The machinery layout could change, and things of that sort, over time. And the different uses of the decorated shed like at Nassau Hall in Princeton, which originally contained classrooms and dormitory rooms and a chapel and lots of other things, and then could evolve over time. So, the important thing of the evolving uses can be accommodated in the decorated shed, in the loft and that we consider extremely significant, where the building is a shelter for accommodating evolving uses.
Internationally renowned architects Robert Venturi (1925-2018) and Denise Scott Brown (b.1931) have helped transform contemporary design through their innovative architecture and planning. Winners of numerous prestigious awards, their designs have championed multiculturalism, social activism, symbolism, pop culture, history and evolving technologies.
Title: The effect of the automobile and the flexible loft
Listeners: Thomas Hughes
Thomas Hughes is Mellon Professor Emeritus of the History of Science at the University of Pennsylvania and Distinguished Visiting Professor at the Massachusetts Institute of Technology. His most recent books include Human Built World, Rescuing Prometheus and American Genesis. He is a member of the American Philosophical Society, US National Academy of Engineering, Royal Swedish Academy of Engineering Sciences and the American Academy of Arts and Sciences.
Duration: 2 minutes, 37 seconds
Date story recorded: 22nd to 23rd September 2006
Date story went live: 27 May 2010