NEXT STORY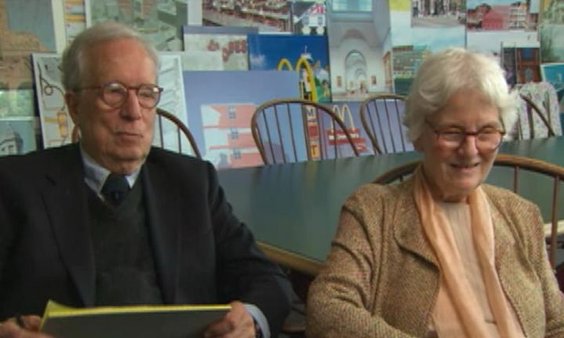 Learning the difference between 'is' and 'ought'
Robert Venturi and Denise Scott Brown
Architect
1
2
3
4
5
...
12
[RV] I think another element that's important to mention is that of symbol, and it's hard to recognise this now, but just a few decades ago, symbolism was completely out and, at least as a conscious element, was out in architecture. As I mentioned, there was abstract expressionism in the other arts and in architecture. And there really was an employment of symbolism when architecture adapted the vocabulary of the factory, of the steel frame, of the… of the… what are those little dot things on the steel frame we're talking about?
[DSB] Rivets.
[RV] Rivets and all that stuff, but a… but a symbol was officially out. And it was somewhat a reaction against… to the early reaction… it was related to the early reaction of Modernism… as a reaction against eclecticism of architecture… adapting styles that existed in the 19th century Gothic versus Classical and all that. They called it Beaux Arts classical.
Symbolism was out, and it was form. And I think we got involved in symbolism again, and it was unusual at that time, and it was essentially when we went and, i.e. thought of iconography as significant within the loft context. But also when we looked at the ordinary everyday architecture – which might be another element that we should emphasise, the pop, ordinary, generic architecture – I learned a lot about this from Denise Scott Brown. She introduced me to this idea of the significance of the pop and the ordinary, she corrupted me by taking me to Las Vegas. And our looking at there. And at Las Vegas is where I kind of learned about ah, signage is there, signage is relevant, and therefore symbol is part of the architectural and urban vocabulary, that that must be brought back into the vocabulary, the idea of form and symbol – not just form, and form and symbol, and that led to iconography. I wrote a book called Iconography and Electronics Upon a Generic Architecture, that hardly anyone has read or has – it was about 10 years ago – or reviewed, but anyhow… So the idea of the symbolism and the idea of the pop symbolism, the pop culture, is something that we have found very, very stimulating, and that's why we went to Las Vegas.
You know – by the way, we should mention, and remind people when we say Las Vegas, we are talking of the Las Vegas of 19… of let's say, circa 1970, when we went there, circa 1970, and it's not the Las Vegas of today. The Las Vegas of the Strip, when we were there essentially to learn the Urbanism that connected with strip architecture – again, a reaction against the Urbanism of the time, which was based on the Le Corbusier idea, to put it overly simply, of the Ville Radieuse, of the city, made up of a park with plops of high-rise slabs in them. We said, ah, let's look at the wonderful stimulating city of Los Angeles. We go to Las Vegas to get a purer example of that time, of the strip and the form. So all of this comes into it, and there we were, at the same time connecting with the importance of the pop, of the ordinary, of the generic.
Internationally renowned architects Robert Venturi (1925-2018) and Denise Scott Brown (b.1931) have helped transform contemporary design through their innovative architecture and planning. Winners of numerous prestigious awards, their designs have championed multiculturalism, social activism, symbolism, pop culture, history and evolving technologies.
Title: Symbolism and signs
Listeners: Thomas Hughes
Thomas Hughes is Mellon Professor Emeritus of the History of Science at the University of Pennsylvania and Distinguished Visiting Professor at the Massachusetts Institute of Technology. His most recent books include Human Built World, Rescuing Prometheus and American Genesis. He is a member of the American Philosophical Society, US National Academy of Engineering, Royal Swedish Academy of Engineering Sciences and the American Academy of Arts and Sciences.
Duration: 4 minutes, 10 seconds
Date story recorded: 22nd to 23rd September 2006
Date story went live: 27 May 2010