NEXT STORY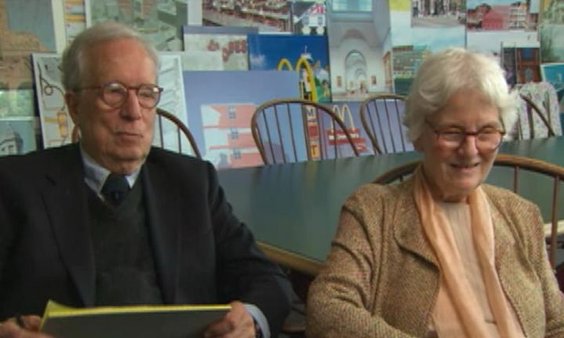 History of Philadelphia and its architecture (Part 2)
History of Philadelphia and its architecture (Part 1)
Robert Venturi and Denise Scott Brown
Architect
1
...
6
7
8
9
10
...
12
[DSB] I feel that I would as a… as an Urbanist love to have done a research studio of the kinds we did for Las Vegas and Levittown, on industrial Philadelphia. And see it again as a system. This was, as you say, the biggest heavy industry center in the world at that point and it made for… it had many ripple effects. For example, it made workers some of the richest workers in the world. That's why we get row house Philadelphia. They could all afford single family houses.
[RV] City of homes, as you know.
[DSB] Yes and so, there're many ways. And now, that heritage is here, it's given us an infrastructure that we can hardly afford anymore, of parks and mainly roads. We have redundancies. This morning when Shurs Lane didn't work there were certainly other places, other ways to come down to Manayunk, for example. And we have the redundancy of two River Drives and there's many ways in which we live on that heritage – but we have difficulty maintaining it because we've lost our heavy industry base. It's gone to the Pacific Rim. So, here sits a set of relationships in Manayunk in particular; it started with a canal, so we could bring coal from Carbon County right here to Manayunk, and this was the first industrial area. And then it died because it was flatted factories and eventually trucks took over, but before that happened, the rail came and this was a very important area. And then, all the other rail based industry. Once you had that there was a Main Street associated and residential around it and as long as the employment opportunities remained, the whole thing was very stable. Once employment went, obviously the factories became vacant and unused and vandalised.
And I have often thought about the fact that we have workers' housing around an amenity, which could be a canal or the river. Particularly there… there were houses along both rivers, and then the rail. And now we have work places there, which are empty, with ample parking and what should you do with that whole heritage? It's interesting what happened to Manayunk but that was fortuitous. At the end of Main Street there's a bridge and the bridge goes across the river and to the Main Line – an area of very high disposable income – which is what retail people talk about – high disposable income. Well, that meant that maybe 500,000 of such people across the river saw Main Street as a pretty place and as a safer place than Center City and nearer. So, it became classically the intervening opportunity between people going from the Main Line to the city.
So, if you are canny, you can reuse as a planner this heritage of pretty, old buildings and capacious old buildings for retail. And what you have to find is a retail economist who loves old buildings, doesn't want to destroy the whole thing, but wants to reuse them. And then you find a pattern where the collectables stores move in first – ask the beer distributors – move into the empty stores. They also dealt with… you know, when there was only one eating place that sold basically beer and Kielbasa, because it's a Polish area around here. And also there's a small black community, an Italian community. And so, eventually we moved in… in 1980 and it was still empty stores and beer distributors and very little eating opportunity, and a few thrift shop type places or very small collectable stores.
Then they had their heyday and it was then the best. Main Street when it was full of trying… old clothing stores and old jewellery stores, and things like that was for us lovely. And then slowly they couldn't afford the rents anymore and restaurants moved in big time, giving the local residents a huge problem because they took all the parking. And we've worked as planners for these areas, so, we know them well. And then, what happened was, as the rents grew higher, the few jewellery stores couldn't remain and the nice little dress shops moved on. And just at that point, the interest rates were very low and the McMansions were being built out in the suburbs and suddenly what appeared on Main Street were big box furniture shops, boring, at least as far as I'm concerned. But there's many of them here, now, those and restaurants. And really not very much else, and a few – like a nice little shoe shop – but not too many, kind of, pretty goods places anymore. And quite recently, the next wave seems to be children's clothing, because people moved into the big… into the McMansions and started having babies, I would presume. So, you can see an economic pattern playing itself out on the street in relation to these buildings. But this doesn't help the rest of the industrial infrastructure very much. You can't do too many Main Streets in that system.
Internationally renowned architects Robert Venturi (1925-2018) and Denise Scott Brown (b.1931) have helped transform contemporary design through their innovative architecture and planning. Winners of numerous prestigious awards, their designs have championed multiculturalism, social activism, symbolism, pop culture, history and evolving technologies.
Title: History of Philadelphia and its architecture (Part 1)
Listeners: Thomas Hughes
Thomas Hughes is Mellon Professor Emeritus of the History of Science at the University of Pennsylvania and Distinguished Visiting Professor at the Massachusetts Institute of Technology. His most recent books include Human Built World, Rescuing Prometheus and American Genesis. He is a member of the American Philosophical Society, US National Academy of Engineering, Royal Swedish Academy of Engineering Sciences and the American Academy of Arts and Sciences.
Duration: 5 minutes, 56 seconds
Date story recorded: 22nd to 23rd September 2006
Date story went live: 27 May 2010