NEXT STORY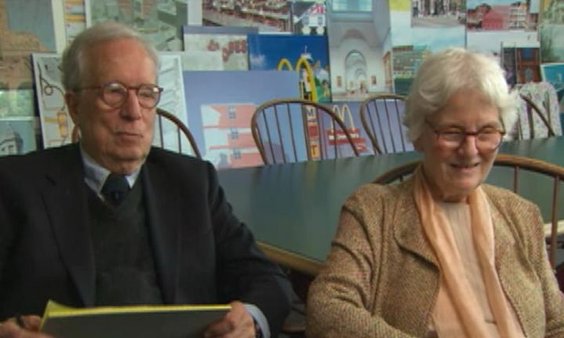 Tsinghua University in Beijing (Part 1)
Palmer Drive Life Sciences Complex
Robert Venturi and Denise Scott Brown
Architect
1
...
6
7
8
9
10
...
12
[DSB] We've done, since then, plans at Penn and at Michigan, and at University of Kentucky using these same principles, and later on at Tsinghua, in Beijing, China. And always, we have mapped the city and the campus together and we put down all the activities in the different buildings on the campus, and we give them land use colours. So, the retail uses in the town are shown in red and then the student center uses we'll show in an orangey red, so that they're visibly related. And then the same with the cinema and museum uses in town, and museum uses and auditoria, maybe, in… on the campus. And the sciences, at Michigan, we mapped academic sciences, medical sciences, engineering and then beyond that the commercial sciences, pharmaceutical research firms that were on the border, showing them all as part of the same pattern. And then, see what that pattern is and how you should add to it. And out of that, grew this Palmer Drive Life Sciences Complex that I explained. And so, we can take…
Is that in Michigan?
[DSB] In Michigan, yes and that's, I think, altogether it's over 800,000 square feet of building. And it's a… you know, it's a huge important complex that ties into the diag on the main campus, produces another diag right through the Life Sciences Complex and then goes on with the Medical Center. And we made plans for the Medical Center and also for the main campus and the other six campuses there – tried to help them with their problem of having the North Campus very much denuded of facilities and a very dull place to be. And a difficult place to be after 5 pm, where people do major research in the digital library that they have there. And they can't even get a coffee.
Where, in the North Campus… what type of study goes on in the North Campus?
[DSB] Engineering, architecture to their great distress, music. Music doesn't mind being set in the woods and separate from everyone, but everyone else minds mightily.
Engineering is quite separate from the rest?
[DSB] Yes, yes and we tried to help them think of ways to get rid of the feeling of oppression people have, because it's so denuded of anything that makes life worth living. And then these big buses. I call them the big smelly buses, which bring students all day long on to the campus. And get… the medical people told me when we first started, we take our lives in our hands crossing Washtenaw Street, because of all those big buses coming in, in the morning, bringing students into the campus. That's why we produced the bridge system, to let them get across safely. And then, bringing this project out of that and then taking the same philosophies of encouraging serendipitous meetings.
It will probably interest you that, not only is the coffee shop at that meeting of minds position on the pathways, but just under it is Bioinformatics, because that's looked upon the place where everyone goes to get their digital help. As the place where they begin to realise that all their formulae are the same, they just use different alphabet letters and the variables. And that the hope is that they'll meet trying to do that kind of work, as well as having coffee.
Internationally renowned architects Robert Venturi (1925-2018) and Denise Scott Brown (b.1931) have helped transform contemporary design through their innovative architecture and planning. Winners of numerous prestigious awards, their designs have championed multiculturalism, social activism, symbolism, pop culture, history and evolving technologies.
Title: Palmer Drive Life Sciences Complex
Listeners: Thomas Hughes
Thomas Hughes is Mellon Professor Emeritus of the History of Science at the University of Pennsylvania and Distinguished Visiting Professor at the Massachusetts Institute of Technology. His most recent books include Human Built World, Rescuing Prometheus and American Genesis. He is a member of the American Philosophical Society, US National Academy of Engineering, Royal Swedish Academy of Engineering Sciences and the American Academy of Arts and Sciences.
Duration: 3 minutes, 49 seconds
Date story recorded: 22nd to 23rd September 2006
Date story went live: 27 May 2010