NEXT STORY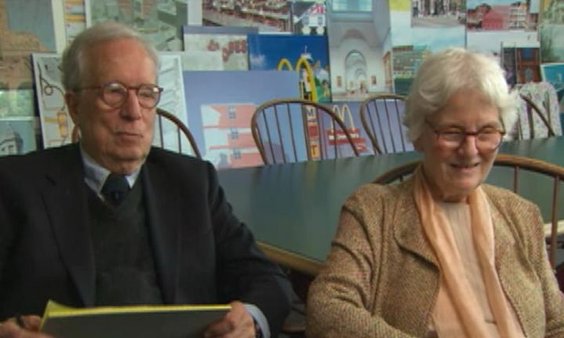 Our clientele
Robert Venturi and Denise Scott Brown
Architect
1
...
7
8
9
10
11
12
[DSB] Invited by the American Embassy to talk to a group of students they had subsidised at the International Union of Architects Conference in Istanbul. I tried to think of myself in their position, because indeed I had been – I was an outsider. I came from out of town as they had and I'd had many opportunities, but if I hadn't had a certain outlook I might not have spotted and used the opportunities. And it seemed that was what I should be telling them because they too need to not let the opportunities pass because they hadn't noticed them and have a kind of outlook, which said I can use these opportunities.
So, I thought about the sociological definitions of power structures in cities. These things come in useful in lots of different ways and the notion that in any city there are the local power structure people. In Philadelphia they largely live in Chestnut Hill or on the Main Line, and they are involved in local events, local institutions, local support. Then, there are the cosmopolitans – in Philadelphia these people live in Center City, on Washington Square. I could even think of two different kinds of lawyers I know, the ones who are cosmopolitans and the others who are locals. And the cosmopolitans have their connections with London and Jerusalem and Los Angeles – they bring certain benefits to a city as do the locals and the two are needed. And there's connections between them – very often lawyers are connections between everything. Well, that's what I was trying to tell them, that if they would think of themselves in terms of those definitions, they might very well want to be cosmopolitans as Bob and I obviously are. Our power locally is facetiously little, as our experience has demonstrated of almost never having a building to design outside of the University of Pennsylvania.
How would you categorize academics in Philadelphia? I mean we have 95 universities and colleges here, so that's a large population.
[DSB] They're a very basic part of the urban economy here, they… then…
So, would you call them cosmopolitans?
[DSB] Some will be cosmopolitans and some will be locals. I think the great professors are usually like you, Tom, ardently cosmopolitan. Look at all the places you lecture and all the connections you make, all the pathways you… you open up for your own students. The network around Tom Hughes would be an amazing thing to look at, as to where it goes and as to how it's involved other people. Well, Jews of course see themselves as part of a Diaspora and so like it or not, you probably think that way if you're Jewish because you might have to leave and go somewhere else. American Jews probably less than anyone else, but it's always at the back of your mind – get a good education, you might have to take it somewhere else. The capital you'll need will be in your head. And that makes you a cosmopolitan.
Yeah, definitely.
[DSB] Yes.
And if you read the New York Times instead of the Philadelphia Enquirer, you're a cosmopolitan, I think.
[DSB] Maybe, but no one is more parochial than New York.
Internationally renowned architects Robert Venturi (1925-2018) and Denise Scott Brown (b.1931) have helped transform contemporary design through their innovative architecture and planning. Winners of numerous prestigious awards, their designs have championed multiculturalism, social activism, symbolism, pop culture, history and evolving technologies.
Title: Cosmopolitan and local
Listeners: Thomas Hughes
Thomas Hughes is Mellon Professor Emeritus of the History of Science at the University of Pennsylvania and Distinguished Visiting Professor at the Massachusetts Institute of Technology. His most recent books include Human Built World, Rescuing Prometheus and American Genesis. He is a member of the American Philosophical Society, US National Academy of Engineering, Royal Swedish Academy of Engineering Sciences and the American Academy of Arts and Sciences.
Duration: 3 minutes, 51 seconds
Date story recorded: 22nd to 23rd September 2006
Date story went live: 27 May 2010