NEXT STORY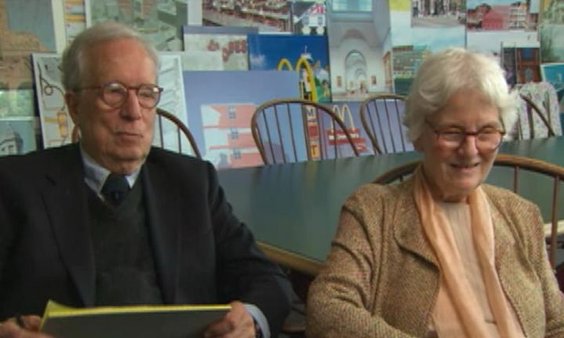 Basurama and using waste (Part 1)
Robert Venturi and Denise Scott Brown
Architect
1
...
7
8
9
10
11
12
[DSB] From our point of view, just about the whole of New England you can write off for us except Harvard and MIT maybe because they… they don't self select us. They have another view of… so, we can't just say the colleges are automatically our clientele. Who is automatically our clientele? Well, over most of our career was our clientele are those tea and sympathy clients, I described.
You mentioned, yes.
[DSB] And the very, very high culture clients who're involved in making the art with the artist, and those sustained us in amazing ways. I remember once Sydney and Frances Lewis, who were the epitome of that high culture client.
What did he own?
[DSB] Best Products and they supported many artists. They bought their work. They sometimes swapped a refrigerator for a painting, then they found it was better to buy the work – they did not have to buy a refrigerator at Best Products if they didn't want one. And they took us for dinner one night in New York and to a show, which is a nice thing they used to do and we had much of our office… it was 1973 and like many architects, much of our office was on unemployment. They were still coming into the office, because they were allowed to, doing their own work there and also once a week doing some work for us, which in the terms of unemployment they could do. And I told Frances and Sydney this story.
Lewis?
Lewis, yes, and I… it was not totally without… I was not totally innocent in telling them. I… I hustle almost all my life. I've had to, to help support this place. So, I was telling them knowing that they hired architects, but the next day they called us and they said we have a building for you. And it was just kindness, just pure kindness we loved them eternally and think of them with great gratefulness.
[RV] We're seeing Frances next week, she's coming to the opening of the… Sydney has died… to the opening of the exhibition at… of your house.
[DSB] Yes. Of course the Basco… the building that they gave us, rather, was Best Products that we did in Montgomery County, the one with the flowers all over it.
Part of that wall decoration is in MOMA, isn't it?
[DSB] Yes, that's right.
[RV] And a lot of other museums… lot of other museums throughout the country.
Internationally renowned architects Robert Venturi (1925-2018) and Denise Scott Brown (b.1931) have helped transform contemporary design through their innovative architecture and planning. Winners of numerous prestigious awards, their designs have championed multiculturalism, social activism, symbolism, pop culture, history and evolving technologies.
Title: Our clientele
Listeners: Thomas Hughes
Thomas Hughes is Mellon Professor Emeritus of the History of Science at the University of Pennsylvania and Distinguished Visiting Professor at the Massachusetts Institute of Technology. His most recent books include Human Built World, Rescuing Prometheus and American Genesis. He is a member of the American Philosophical Society, US National Academy of Engineering, Royal Swedish Academy of Engineering Sciences and the American Academy of Arts and Sciences.
Duration: 2 minutes, 51 seconds
Date story recorded: 22nd to 23rd September 2006
Date story went live: 27 May 2010