NEXT STORY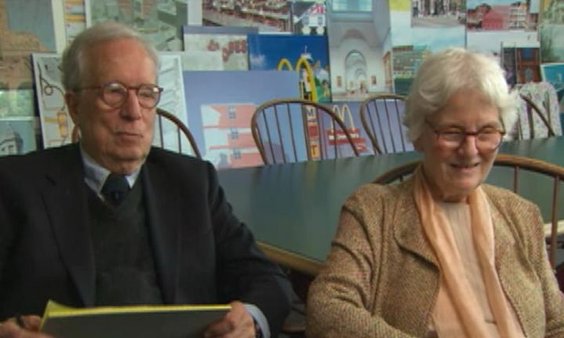 Life as a woman in architecture (Part 1)
Robert Venturi and Denise Scott Brown
Architect
1
...
7
8
9
10
11
12
[RV] Well, I did enjoy writing an essay on… which was anti-visionary, which emphasized… which analysed my lack of… a lack of interest in or admiration for people who were being explicitly visionary. And in that article I emphasize that being visionary is something that is accidental, that is incidental. You don't try to be visionary. The name of the title… the name of the article was The Vision Thing – Why It Sucks. And, I think, I had great fun analysing how being visionary is incidental. I can't say any more than that at this moment but anybody who is interested should refer to… to the article and I think it is relevant for now, because I think an awful lot of current thinking about architecture and sort of decadent Modernism in architecture in our field does involve the kind of pretentious attitude towards being visionary. I am visionary, I am ahead. Don't try to be ahead. The way to be ahead is to not try to be ahead but try to be appropriately for now and for the immediate future… than being appropriate for the immediate future… will be… will automatically happen.
[DSB] I remember one of the well-known Postmodernist architects faced with a reduction in market for his services, announced that he had gone to India and in India, he said, 'I had an epiphany'.
[RV] Oh my God.
[DSB] And he came back no longer a Postmodernist.
[RV] God.
[DSB] Well, it's just that kind of specious quality that we're reacting to.
[RV] We really don't like – down with epiphanies.
Internationally renowned architects Robert Venturi (1925-2018) and Denise Scott Brown (b.1931) have helped transform contemporary design through their innovative architecture and planning. Winners of numerous prestigious awards, their designs have championed multiculturalism, social activism, symbolism, pop culture, history and evolving technologies.
Title: Visionaries
Listeners: Thomas Hughes
Thomas Hughes is Mellon Professor Emeritus of the History of Science at the University of Pennsylvania and Distinguished Visiting Professor at the Massachusetts Institute of Technology. His most recent books include Human Built World, Rescuing Prometheus and American Genesis. He is a member of the American Philosophical Society, US National Academy of Engineering, Royal Swedish Academy of Engineering Sciences and the American Academy of Arts and Sciences.
Duration: 2 minutes, 6 seconds
Date story recorded: 22nd to 23rd September 2006
Date story went live: 27 May 2010