NEXT STORY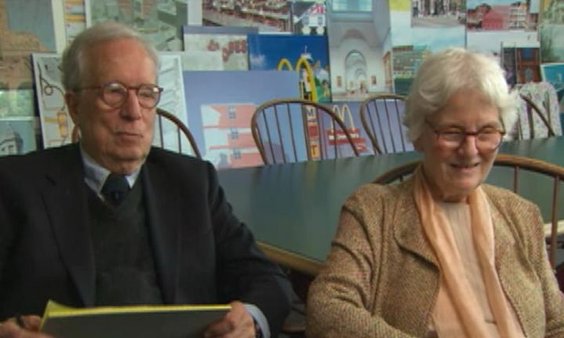 Life as a woman in architecture (Part 2)
Life as a woman in architecture (Part 1)
Robert Venturi and Denise Scott Brown
Architect
1
...
7
8
9
10
11
12
[DSB] Unfortunately, I've written and talked a very great deal on this subject, and I say unfortunately because I'd have to spend the next 10 hours talking about this. Linda [Palmer] Nochlin wrote a book called, Why Are There No Great Women Artists? [sic]. And she asked the question why are there no great Lithuanian jazz musicians? Now, there's several ironies here. First of all some artists who were great people did not know they were women. And we know that in our times, and 19th century, it was very difficult for women because in arts schools they were not allow to go to life drawing classes. Now you couldn't really get to be a great artist without drawing nudes and they were denied this experience. So, that's one of the ironies. Of course, the Lithuanian jazz player irony is that Al Jolson was the original jazz player and he was a Lithuanian, so there's the second irony there. But what she meant is, situation and opportunity condition what you can do. And so, that is part of the story.
Another part of the story is that there have indeed been famous, or rather great women architects, but who did not become famous or who were lost and… and not very many, we have to admit, but there were. And then we went through a very quiescent period in the 1950s here where Rosie the Riveter was knocked back out of the factory into the kitchen and women are also… lost ground in the professions in general.
[RV] It is interesting… it is interesting though that… there were… have been historically, not a lot, but more women writers for instance, than women architects. There are some things of that sort.
[DSB] Well, I'm coming to that. I'm coming to that. My mother studied architecture and this was not looked upon as unusual in the '20s, at least, not as unusual as it would have been in the '50s in America. So, you know… I didn't think it was unusual for a woman to study architecture. But now when I got into the field as a young woman at the Architectural Association and then South Africa, you were of interest because you were a woman. And what woman wouldn't take advantage of that? The first time I hit the notion of discrimination was when I went with my other friends – we all idealistic young architects – up to Scotland to interview a certain Egon Riss, Head of the Scottish Coal Board, who was doing wonderful Brutalist architecture. And we loved the work he was doing and he was interviewing us for jobs. And he said to me, 'Well, of course, you would be paid less than the men. I can't pay you more because I would make the secretaries jealous'. And the joy went out of it for me, there's no way I was ever going to work for him. Anyway, I have a feeling he wasn't a very nice guy either but that's another matter. But so, that was the first time I met that and that was 1953, '54 something like that.
Internationally renowned architects Robert Venturi (1925-2018) and Denise Scott Brown (b.1931) have helped transform contemporary design through their innovative architecture and planning. Winners of numerous prestigious awards, their designs have championed multiculturalism, social activism, symbolism, pop culture, history and evolving technologies.
Title: Life as a woman in architecture (Part 1)
Listeners: Thomas Hughes
Thomas Hughes is Mellon Professor Emeritus of the History of Science at the University of Pennsylvania and Distinguished Visiting Professor at the Massachusetts Institute of Technology. His most recent books include Human Built World, Rescuing Prometheus and American Genesis. He is a member of the American Philosophical Society, US National Academy of Engineering, Royal Swedish Academy of Engineering Sciences and the American Academy of Arts and Sciences.
Duration: 3 minutes, 45 seconds
Date story recorded: 22nd to 23rd September 2006
Date story went live: 27 May 2010