NEXT STORY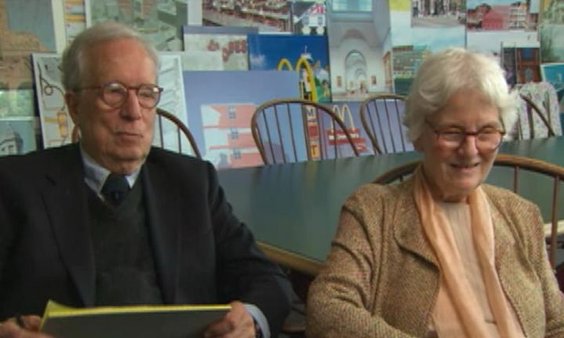 Mistakes
Do women do architecture differently from men?
Robert Venturi and Denise Scott Brown
Architect
1
...
8
9
10
11
12
[DSB] The first thing that I say is, 'It's a question that really means, is it nature or nurture?'
That's right.
[DSB] And that's a question we can't answer for, I say, 30 years, and then other people say, 'You mean 60 years', because there has been a history of nurture which has differentiated between men and women. And as the differences change or breakdown, maybe become less or at least become different, will these roles change.
I see.
[DSB] And now, having said that, I noticed… you see, people say little boys and little girls before they meet any nurturing or much nurturing, the boys gravitate to playing with trucks and engines, and the girls… well, I think, the nurturing starts from so early that I don't know whether you can really say that. But I… when I was teaching I certainly did notice that the men I had to, sort of, say… organise.
Now, I think, this is another problem in architecture. I think, if you're a man and you're not very good at english or arithmetic, you go to architecture. It's horrible to say that. People with dyslexia have a huge problem. I think, dyslexia is a difference not a disability and it is very much creative people who tend to have it and people with… who think visually. Well, if there's no educational system that deals with their needs, like Bob at Episcopal, they go under. But they will gravitate to where that kind of mind is welcomed and that's in things which have to do with creativity, with making and so on. So, I think, there's an inordinate number of men who have dyslexia. You can see it in their handwriting in this office, you can see the difference and you can say, 'I'm sure that one had reading problems as a child', and so on. And they can be very creative people and they can deal with it, and they can read a lot too. So, they have to learn. The wisest thing the school said… a school said to me once is 'We put pressure on the children and they find their own way to compensate'. And that's what much of the teaching of dyslexia is. You demand of them and they must find the way for their own brain to deal with it. And that's what architecture helps architects do. But, for all that, I think, I had to say to the men in the class, 'You must get organised'. And I had to say to the women, 'You must risk it'.
You must risk it?
[DSB] Yes, don't just try to be a good little girl who will please teacher. Now, we know that from the very earliest stage mothers man-handle little boys and talk to little girls. And all of these are the sort of nurturing questions that come up. But, having said that, I know that I'm the person in the office they need to psyche out the client. Bob gets pretty good at it. He once said to me, 'When I asked her a certain question, she didn't answer but she did move her foot'. Well, you have to spot all of those things. It seems women spot them better than men. It's seems the kind of things I've talked about, growing a system, nurturing a campus, dealing with rain water management as a system that will make form, forming from within, you could say those are feminine precepts – but Lou Kahn did a lot of that too. So, and every time I've talked that way that there's a woman's way of teaching and a man's way of teaching, I've found significant men who teach the way I like to teach. So, it's confusing and it's temporary and we hope that men don't have to suffer from being success objects, any more than that women have to suffer from being sex objects and that these patterns will change. And, I think, another interesting thing is when men took up cooking in the household, women suddenly found it was honourable work. So, I watch for all those inversions and I can't tell you where it's going.
Internationally renowned architects Robert Venturi (1925-2018) and Denise Scott Brown (b.1931) have helped transform contemporary design through their innovative architecture and planning. Winners of numerous prestigious awards, their designs have championed multiculturalism, social activism, symbolism, pop culture, history and evolving technologies.
Title: Do women do architecture differently from men?
Listeners: Thomas Hughes
Thomas Hughes is Mellon Professor Emeritus of the History of Science at the University of Pennsylvania and Distinguished Visiting Professor at the Massachusetts Institute of Technology. His most recent books include Human Built World, Rescuing Prometheus and American Genesis. He is a member of the American Philosophical Society, US National Academy of Engineering, Royal Swedish Academy of Engineering Sciences and the American Academy of Arts and Sciences.
Duration: 4 minutes, 33 seconds
Date story recorded: 22nd to 23rd September 2006
Date story went live: 27 May 2010