NEXT STORY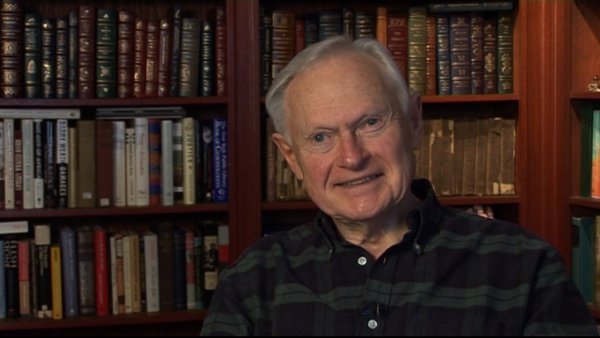 'Shhh, those are the Protestants!'
'This is where I belong': Yale School of Medicine
1
2
3
4
5
...
7
So here I am, on the one hand thinking of myself as this sophisticated intellect, and on the other hand, not knowing a damned thing about anything except that I read and… read and knew a lot of stuff from that.
So, I get into Hopkins, and Hopkins sends me, with the acceptance form, they send me a piece of paper, not asking for a down payment on my tuition, which a lot of schools did at that time, but to sign… not in so many words… I remember… I just don't recall how they phrased it, but that I was promising that I would go to Hopkins, and I wasn't going to go to any other school. Well, I looked at that, and I thought, oh my, this is serious stuff. This is a moral issue. If I sign this, I've really got to go to Hopkins. And it was a Friday night, and I was talking on the telephone to my friend, Lenny Leibowitz, and we were… I was telling him what a dilemma I was in. You know, it was a great school and I wanted to go there, but there were other schools that I didn't know much about, and wouldn't I like to have a bunch of interviews? And I only had these 10 days to decide. And Lenny said to me, did you apply to Yale? And I had to scratch my head a little bit and think, was Yale one of those 25? Yes, it was. He said, well, you know, Yale has no exams. No exams. For two years, then you have to take the National Board of Medical Examiners, and you do that at four years, too, but otherwise, there's no exams. No exams? I'd been batting my head against the wall for four years at NYU, which was a very tight place, and especially with me as a gung-ho premedical student.
The thought of no exams was too much. This was the Friday evening. Monday morning, I phoned the Yale admissions office. In those days, you could do this kind of thing. And I said, you know, I said to the registrar, her name was Adele Bellerad, and later she and I got, you know, really close. I really liked her an awful lot. And I said, 'Miss Bellerad, I have been accepted to Hopkins, but I've really wanted to go to Yale'. I just sort of made this up out of whole cloth, but I had to know before the 10 days were up. So, she said, 'Oh, come up on Wednesday'. This was Monday morning.
So, on Wednesday, I put on my suit, the one suit I owned, and I got on the… what's now called the Metro North Railroad, it was then just the Newhaven Railroad, $4.30 for a round trip, and I got on the train and I walked from the train to the medical school, and I had two wonderful interviews. One was with Henry Bunting, a Professor of Pathology, and one was with Tom Forbes, who was a Professor of Anatomy and the Director of Admissions. And I finished my interview with Tom Forbes at about four, and when it was over, he said, you know, we serve tea here. Every day, we serve tea. Tea at a medical school. He said, would you like to come? So, I said sure.
So, he took me down to this beautiful, gigantic, carpeted room. It was a room that the students would use for dances, you know, they'd take up the carpet.
And the place was filled with handsome young men and beautiful young women, because they were the Yale student nurses and the Yale medical students.
Again… what a wonder. I said earlier I didn't know any Protestants till medical school, and here were all these really good-looking guys, sort of guys you see in the movies and good looking, wholesome, clean-cut women. And I… and they probably weren't blue-haired, but I remember them as blue-haired faculty wives serving tea. And I thought to myself: this is where I belong. Of course, because it wasn't where I belonged, it became for me the place that I had to go. So, I got an acceptance 48 hours later. Yale had a quota, too, but in any event, I was accepted. I'm sure their quota… I know their quota was much more generous than the Hopkins quota. So, I went to Yale.
Sherwin Nuland (1930-2014) was an American surgeon and author who taught bioethics, the history of medicine, and medicine at the Yale University School of Medicine. He wrote the book How We Die which made The New York Times bestseller list and won the National Book Award. He also wrote about his own painful coming of age as a son of immigrants in Lost in America: A Journey with My Father. He used to write for The New Yorker, The New York Times, Time, and the New York Review of Books.
Title: 'This is where I belong': Yale School of Medicine
Listeners: Christopher Sykes
Christopher Sykes is a London-based television producer and director who has made a number of documentary films for BBC TV, Channel 4 and PBS.
Tags: Johns Hopkins School, New York University, Yale School of Medicine, Lenny Leibowitz, Henry Bunting, Thomas R Forbes
Duration: 4 minutes, 38 seconds
Date story recorded: January 2011
Date story went live: 13 September 2011