NEXT STORY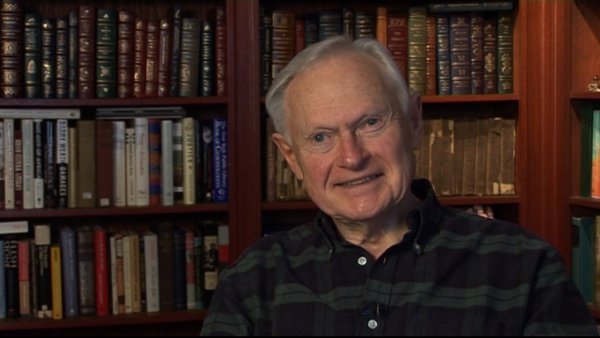 Breaking up with Sarah
'Next time get a better room!'
1
2
3
4
5
...
7
So here she is, she's just a year out of graduate school, drama graduate school, and I saw that the American Shakespeare Theater was putting on Romeo and Juliet, so one day, I said, 'I'd like some tickets, because I have these two kids, one of whom was 13 and one of whom was 11. I'd like to take them'. And she said, 'Fine, I'll get tickets for you. You don't have to pay for them'. So, we went and saw Romeo and Juliet, and I fell deeply, sincerely, eternally in love with Juliet, with the girl who was playing Juliet, and I had to meet her. And I figured this kid that I'd been treating was my entrée. So, I said, 'Do you folks ever have parties at the theatre?' She said, 'Oh, we have a party after the Saturday evening show'. And I thought, well. She said, 'Would you like to go?' And I said, sure I would, figuring this was my way to get close to Juliet, who was a beautiful young woman, perhaps about 30 at that time. So, I go to the party with her, actually, with the young… with my young patient who's now become my friend.
And it's about 11 o'clock, and I am making all the right moves with Juliet. We're at the bar together, and I'm sort of, you know, playing this wise fellow, and everything's going smooth as silk, and suddenly there's an announcement that the fellow… one of the young men in the cast – I'm trying to remember the part he was playing – but in any event, his mother was a librarian at a penitentiary in Brownsville, Texas. And there was a breakout. She was taken hostage, and in the shooting, she was killed. And we heard that, and that was the end of the party. I thought, oh my God, I've got to take this kid home now. And it was… I figured I'd come back to Juliet in time, but I had to take her home, so it was… about 11:00, 11:30. And I walked her to the boarding house that… all the actors stayed in the boarding houses around there. I took her home. And she said, 'Come on in'. And we started to talk, and I had a tennis date at 9:00, and we talked all night long. At about 8:30, I said, 'You know, I really, really got to leave', and she said, 'Fine', and there was a sort of a three-step walk-up to the room she was in. She stood on the top step as I walked toward my car, which was about half a block down the street, and people were streaming to the local Congregational Church, to get to the… I guess the 9:00 service. So, she stands on this top step and calls out to me. I'm right in the stream of these people, going to church, and she calls out to me, 'And next time, get a better room!'
Well, I just burst out laughing, and I thought, I've got to see more of this kid than I have before. And to make a long story short, we became lovers. I mean, here I was, 17 years older than she was.
Sherwin Nuland (1930-2014) was an American surgeon and author who taught bioethics, the history of medicine, and medicine at the Yale University School of Medicine. He wrote the book How We Die which made The New York Times bestseller list and won the National Book Award. He also wrote about his own painful coming of age as a son of immigrants in Lost in America: A Journey with My Father. He used to write for The New Yorker, The New York Times, Time, and the New York Review of Books.
Title: 'Next time get a better room!'
Listeners: Christopher Sykes
Christopher Sykes is a London-based television producer and director who has made a number of documentary films for BBC TV, Channel 4 and PBS.
Tags: The American Shakespeare Theater, Romeo and Juliet, Sarah Peterson
Duration: 3 minutes, 26 seconds
Date story recorded: January 2011
Date story went live: 13 September 2011