NEXT STORY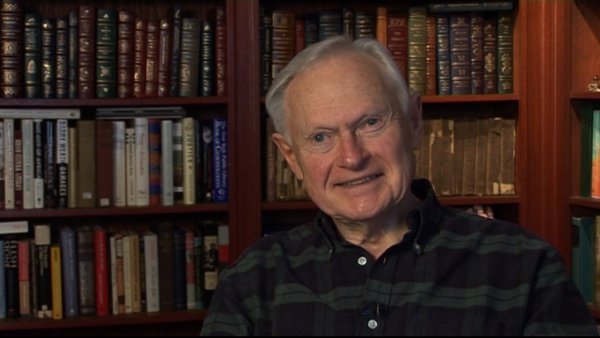 An original marriage proposal
1
2
3
4
5
...
7
When she said that, when she said, next time get a better room, I saw an aspect of her I hadn't really appreciated before, which was this great sense of humour.
And I just started spending more time with her. And one thing led to another, and we did indeed… become lovers, but I had no intention of getting married. I thought that I was pretty bad at that game of marriage. I blamed myself for the destruction of my first marriage. I didn't think I could be a good husband. I knew I could be a good father, and I adored my children, and when the divorce came, which was just before… a few months before I was discharged from the hospital, the arrangement was I could see the kids as much as I wanted to. We didn't have any specific geometric or arithmetic division of time. And the kids wanted to be with me, so I'd spend a ton of time. Every weekend, we were together all weekend. When I was off, which was every other weekend, I'd have dinner with them at least one night a week, and we had this group of three. And when Sarah came along, the kids just fell in love with her, and she was like a big sister to them.
And there we were, like a family, but I wasn't going to make it a family, because I wasn't going to get married. So, this went on. It was a total of three years. When she wasn't working, she, on Thursday afternoon, would take a train to Milford and I'd meet her at the Milford station, and we'd be together all weekend, and Monday morning, she'd go back, you know, at her agent's behest, and start looking for jobs, like actors always do. And I remember one Friday, I had a very complex emergency case and I came out of the operating room still in my greens. It was late at night, at least 9:00 or 10:00… late in the evening, I should say. And she was in the locker room. It was okay for her to be there, because there was nobody else there. And she said to me that this is over, I can't do this. You know, I'm 28 years old now. I want to get married. I want to have a family. I just can't… You know, I love you, but I can't keep doing this. And I thought, what's going on here? She's throwing me over? I still had that kind of sense of myself. And she left.
I said I'll take her to the train station. I took her right to the train. There was still a train, a Friday night train to take her back to New York, and she went back, and bingo, my friends started jumping on me. Are you out of your mind, letting that girl get away? And during that two-week time, I made a date with Juliet. I went to New York and took Juliet out. I went to have dinner with a friend I had met through Sarah, this now-28-year-old girl, who knew her very well. He later became a very prominent director in New York, Joey Tillinger. And he said, 'You're never going to meet another woman like that. You're just going to let her go?' Well, I thought, I know they're right, I'm never going to meet another woman like that, but I just don't want to get married. And we were never going to see each other again, that was the deal when she left on Friday.
Sherwin Nuland (1930-2014) was an American surgeon and author who taught bioethics, the history of medicine, and medicine at the Yale University School of Medicine. He wrote the book How We Die which made The New York Times bestseller list and won the National Book Award. He also wrote about his own painful coming of age as a son of immigrants in Lost in America: A Journey with My Father. He used to write for The New Yorker, The New York Times, Time, and the New York Review of Books.
Title: Breaking up with Sarah
Listeners: Christopher Sykes
Christopher Sykes is a London-based television producer and director who has made a number of documentary films for BBC TV, Channel 4 and PBS.
Tags: Milford, Connecticut, New York, Sarah Peterson, John Tillinger
Duration: 3 minutes, 56 seconds
Date story recorded: January 2011
Date story went live: 13 September 2011