NEXT STORY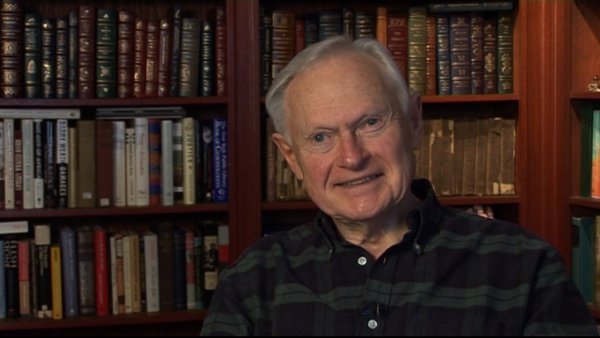 A Jew without belief
An original marriage proposal
1
2
3
4
5
...
7
Well, this all happened in the winter, and two, three weeks later was her birthday, and I phoned her. She was surprised to hear from me. And I said, you know, you left some stuff at the house and I have to be in New York tomorrow, which was her birthday, and I'll bring it down, bring the stuff down to you. She said, well, she wasn't very keen on that, but she wanted me to bring it. So, I got on the train, I got a… Milford flower shop, at that time, was not very good. I got some sort of… not really wilted, they didn't look very good… flowers, and I got into my little Pinto and I drove down to New York.
And she was living in a brownstone. She had the basement apartment. And two of her really wonderful friends, who were partners, lived together. One of them owned the house. And I rang the doorbell, and as I rang the doorbell, a florist's little delivery truck came up. And she had this guy who'd been crazy about her for quite some time, and lo and behold the delivery truck had a dozen long-stemmed, magnificent roses from this guy, and here I was with my little bouquet. And she asked me in, and within minutes of my coming there… Sarah's a Quaker, I've got to point that out, was a Quaker at that time, been brought up a Quaker, parents were Quakers. And I said to her something about I have a birthday present for you, not the flowers. And she said, 'What is it'? I said, 'It's me'. And she didn't know what I was talking about, because, you know, we had decided this was the end of it. She said, 'What do you mean?' And I said - these were really my very words - I said, 'Don't you recognise a proposal of marriage when you hear one, you dumb Quake?'
And we've lived happily ever after. It's been 33 years. We've been together for 36 years, you know, including the previous three. And we've had two kids. She brought up… you know, as soon as we got married and the younger kids found out, my previous kids, that they could live with us, they came and lived with us. And they were brought up by Sarah. And, you know, Sarah was a Quaker, and a devout Quaker, a true person of faith and although I had been steeped in Orthodox Judaism and knew a great deal about it, and actually continued to practice. I just… I know it sounds paradoxical, but I'm sure I'm not the only one, I just had no belief. I realised when I was getting out of being sick that my previous orthodoxy was just obsessional thinking, that I really didn't believe in anything supernatural.
Sherwin Nuland (1930-2014) was an American surgeon and author who taught bioethics, the history of medicine, and medicine at the Yale University School of Medicine. He wrote the book How We Die which made The New York Times bestseller list and won the National Book Award. He also wrote about his own painful coming of age as a son of immigrants in Lost in America: A Journey with My Father. He used to write for The New Yorker, The New York Times, Time, and the New York Review of Books.
Title: An original marriage proposal
Listeners: Christopher Sykes
Christopher Sykes is a London-based television producer and director who has made a number of documentary films for BBC TV, Channel 4 and PBS.
Tags: New York, Sarah Peterson
Duration: 3 minutes, 20 seconds
Date story recorded: January 2011
Date story went live: 13 September 2011