NEXT STORY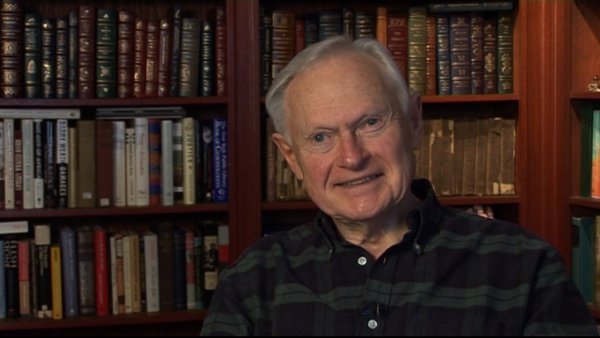 The unconscious mind
Percy Shelley's moral imagination
1
...
3
4
5
6
7
Empathy, of course, is a great aid to kindness, but there's something else that I discovered as part of my reading of English literature. Percy Shelley, probably in the 1820s, I'm not sure exactly when, but probably in the 1820s, wrote… a wonderful essay – it's a long essay – called a Defence of Poetry. I'm fascinated by poetry for lots of reasons. Some of it has to do with this notion of cadence and beauty and what it means to one's unconscious… unconscious.
And in that essay, he talks about something he calls moral imagination. Now empathy implies that we can put ourselves in the position of someone else. We can feel someone's aching discomfort, we can feel someone's suffering, we can feel someone's excitement about something that might not excite yourself. Moral imagination, as Shelley defines it… here he is in his late 20s. Talk about wisdom. Why are some people gifted with wisdom? Why can they soak up things from the atmosphere and from reading that the rest of us take 50 years to get to? But here's… here's wisdom. His contemporary, Keats, had it too. Byron much… much less. But moral imagination is the ability to see the world through the eyes of others. Obviously there's that Weltanschauungen thing. Each person has his or her own way of looking at the world. But it takes a kind of extraordinary imagination to visualise how somebody else sees the world. Imagine if international diplomats were gifted with moral imagination, to be able to recognize why the other side is thinking the way it is, and what cultural background or intellectual background brought on that worldview, and thereby to recognize that there ain't no right and wrong in international relations, any more than there is in virtually anything. That as long as someone has good intentions, which we assume people we get to know well will have, there's always room to look with moral imagination, with empathy, at the other person's viewpoint and come to some decision or some conclusion that makes as much sense as is possible in that situation for everyone.
You know, so often when people are divided, there is no endpoint. You just have to make the endpoint that makes sense. Which reminds me… I'm sorry for jumping around so much, but as part of my reading, I discovered an essay written by Václav Havel when he was in jail. After I'd written How We Die, I started thinking more and more about hope. I had written some things about hope in How We Die. You know, how do you give hope to someone when both he and you, as the physician, know that they're not going to survive this thing? But you must never let anybody lose hope, and how do you provide that kind of hope. And I had written several paragraphs about the way one must deal with this problem.
Sherwin Nuland (1930-2014) was an American surgeon and author who taught bioethics, the history of medicine, and medicine at the Yale University School of Medicine. He wrote the book How We Die which made The New York Times bestseller list and won the National Book Award. He also wrote about his own painful coming of age as a son of immigrants in Lost in America: A Journey with My Father. He used to write for The New Yorker, The New York Times, Time, and the New York Review of Books.
Title: Percy Shelley's moral imagination
Listeners: Christopher Sykes
Christopher Sykes is a London-based television producer and director who has made a number of documentary films for BBC TV, Channel 4 and PBS.
Tags: 1820s, A Defence of Poetry, How We Die, Percy Shelley, John Keats, George Byron, Vaclav Havel
Duration: 4 minutes, 34 seconds
Date story recorded: January 2011
Date story went live: 04 November 2011