NEXT STORY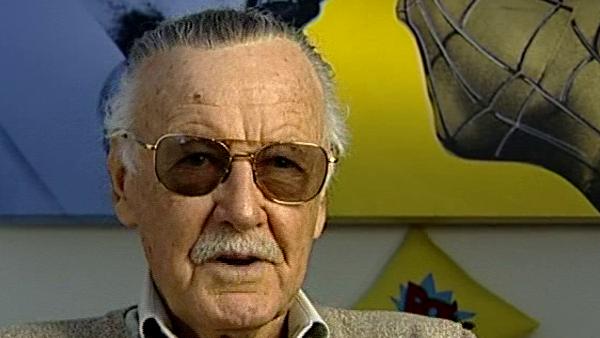 Peter Paul's American Spirit Foundation
1
2
3
4
5
I was lucky with Peter Parker when I came up with that character because he seems to have struck a chord with… with so many readers, and I think it's because… he's probably more like a regular person, a normal person, than any other character. And I try to make him that way because I guess, until Peter Parker, no superhero — or no superhero's alter-ego — had ever had to worry about making a living, getting along well with girls, being popular, or… or have all the problems that… I tried to heap as many problems as I could on poor Peter because I feel most people — even people who seem to be happy — have problems and they have worries. One thing I loved from the point of view of writing the stories, it made it easy for me to come up… see, you have to come up with situations that interest a reader, where the reader is going to say: 'How the hell is he going to get out of this?'. Now, I was always… I always enjoy doing things where Peter Parker had to become Spider-Man and go over there in order to save the world, or the city, or Mary Jane, or somebody, but at the same time Aunt May needed her medicine or she might die and the only place to get the medicine was in the drug store over there. But Peter had to do either the one of those in the next five minutes, and there wasn't time to do them both. And what would he do? And I tried to come up with as many situations of that type as possible. Because of the fact that he had… a regular life away from his superhero life that had all sorts of problems, I think people could relate to it. Even the idea of not being able to… well, for example, I had not read any other superheroes who very often felt they wished they could quit being a superhero because, it's not a normal life, and he's miserable, and maybe he's not doing the right thing. I made him a guy who is very introspective, he questions, why am I doing this? I gave him a guilt-complex; he felt his uncle had died because he hadn't captured this original burglar who ended up killing his uncle. So he was riddled with neuroses, and riddled with worries and doubts, and… there were quite a few stories I wrote where he wanted… In fact there was one story I know I wrote where he did, he threw his costume in a trash can and he walked away said: 'I'm giving it up'. And John Romida drew the greatest cover of him walking away into the distance, and the trash can over here with the costume kind of hanging over the side. And… you hadn't seen that in Superman or Batman or anyone so… I… I'm rather proud of that. The fact that Peter — like any normal human being — had self-doubts and concerns, and he was just never sure. Am I doing…? Just like me now, I'm not sure. Am I talking too much? Am I talking too little? Do I look okay in the camera? Should I be…? My wife will say, 'You should have sat straight, why were you hunched over this way?' We all have these problems.
The creative genius of American writer, Stan Lee (1922-2018) brought us 'Spider Man', 'X-Men' and 'The Hulk'. They climbed tall buildings and fought the bad guys, but had normal worries too, about love, acceptance and family. Readers loved them and Marvel Comics, with Lee at the helm, went on to become hugely successful. In 2010 the Stan Lee Foundation was founded to focus on literacy, education and the arts. On January 4, 2011 Lee received the 2428th star on the Hollywood Walk of Fame.
Title: Peter Parker
Listeners: Leo Bear
Leo Bear is a Hollywood-based features writer. Her background is in news and features writing. Leo spent five years on the entertainment newsdesk at BBC Worldwide before going freelance and moving out to Los Angeles. She specialises in writing lifestyle features, celebrity interviews, health stories and travel features for publications including Eve Magazine, OK! Magazine, Total Film, TV Hits and Conde Nast Gourmet Travel Guide.
Tags: Peter Parker, Spider-Man, Mary Jane Watson, Superman, Batman, John Romida
Duration: 3 minutes, 46 seconds
Date story recorded: April 2006
Date story went live: 24 January 2008