NEXT STORY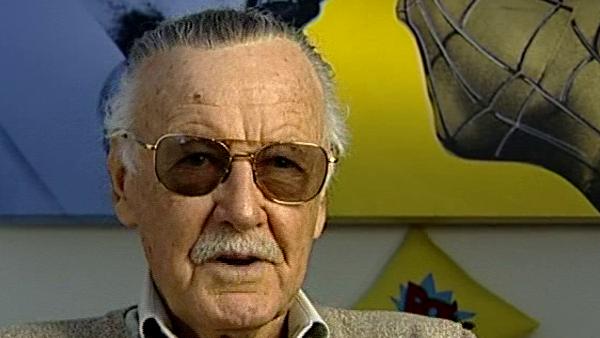 My companies: Stan Lee Media and POW! Entertainment
Peter Paul's American Spirit Foundation
1
2
3
4
5
So that was our life for quite a while, and then the company was sold. And one thing led to another there were a number of changes of management and the next thing I knew… Oh, and by this time — let's see — I had been there many years. I was now… when was it? — again, I have no memory — maybe 1980 or '90 or something, but I had had a lifetime job and they were paying me… I think $1 million a year, which was very nice and I was damn well worth it because I had been travelling all over the country promoting Marvel and… anyway, when the company was sold the people who took over… one of the men said to me — one of the owners of the new company — he said: 'Stan, don't worry. You're going to be better than ever. You'll make more money than ever'. And he… he negated all the, I… there's a technical word for it, I don't know what it is but he abolished, like, all the contracts and he was going to give everyone new contracts. So the new contract I was offered was a half a million dollars a year, and instead of a lifetime contract, a two year contract. Which made me very unhappy. There wasn't much I could do about it, but I… I formed another company called Stan Lee Media, and a friend of mine, a fellow named Peter Paul who was a business man and I thought a great guy… he had… he was a guy who… I met him through… he had an organization, a foundation called the Spirit of America Foundation or the American Spirit Foundation. And they gave out Spirit of America Awards — something like that — every year to somebody. Now Jimmy Stewart, the actor who was one of the most respected people in Hollywood, he was the chairman of this organization — people like that. So the reason I met Peter, he came to see me one day and asked if I would be a recipient, if I would accept an award for the work I had done. I don't know what work he was referring to but it was hard to say no to something that Jimmy Stewart was the chairman of.
So I will never forget that evening at the awards. They had it at the Century Plaza Hotel here in Beverley Hills, and Ronald Reagan was one of the recipients of the awards. He had just left the Presidency; he was now a civilian — a short time after he had been President. And Helen Hayes, the actress, the stage star was another recipient. And me! I was with Ronald Reagan and Helen Hayes. And every star in Hollywood it seems was there. Gregory Peck made a speech and… everybody was… I don't want to throw all the names but it was a big event, as you can imagine. And I'll never forget, when everybody walked in to the main dining room, my wife and I were told to stay behind with the President and Helen Hayes, and when everybody was seated somebody made an announcement: 'Would you all rise for our guests of honor'. And then Mr and Mrs Ronald Reagan, Mrs Helen Hayes — and I think her son Charles [sic] McArthur or someone like that — and Mr and Mrs Stan Lee. I couldn't believe it, everybody in Hollywood was standing up and applauding, you know, and I'm walking in with Joan right after the President and Helen Hayes. Another thing I'll never forget, we sat down at this table… and it was a long, narrow table, and I was sitting here, and President Reagan was sitting here. We were facing each other, and the table was only about that wide, I almost had my nose in… touching his. And all through the dinner I'm sitting opposite Ronald Reagan, and I wondered, what am I going to say to him? So the only thing I could think of in the beginning, I said: 'What does it feel like Mr President, now that you're a civilian? You must be so relieved to have the weight of the world off your shoulders'. And I'll never forget his answer. He looked at me like an enthusiastic kid. His eyes were wide, and he said: 'No. I loved being President'. But he said it with that much emotion… I loved being President I mean, I can't… I'll never forget that. And we had a great time, it was a great evening. And after that this fellow Peter Paul, he had another ceremony for the President of Poland who came to America. He had me come there and he introduced me to him, and Richard Gere was there and a lot of other people, and he… he knew everybody and he was taking me everywhere, and we got very friendly. And I thought the luckiest thing in my life is that I met Peter Paul. He's making me a celebrity; I'm meeting all these people.
The creative genius of American writer, Stan Lee (1922-2018) brought us 'Spider Man', 'X-Men' and 'The Hulk'. They climbed tall buildings and fought the bad guys, but had normal worries too, about love, acceptance and family. Readers loved them and Marvel Comics, with Lee at the helm, went on to become hugely successful. In 2010 the Stan Lee Foundation was founded to focus on literacy, education and the arts. On January 4, 2011 Lee received the 2428th star on the Hollywood Walk of Fame.
Title: Peter Paul's American Spirit Foundation
Listeners: Leo Bear
Leo Bear is a Hollywood-based features writer. Her background is in news and features writing. Leo spent five years on the entertainment newsdesk at BBC Worldwide before going freelance and moving out to Los Angeles. She specialises in writing lifestyle features, celebrity interviews, health stories and travel features for publications including Eve Magazine, OK! Magazine, Total Film, TV Hits and Conde Nast Gourmet Travel Guide.
Tags: Marvel Comics, Stan Lee Media, American Spirit Foundation, Century Plaza Hotel, Beverly Hills, Ronald Reagan, Helen Hayes, Gregory Peck, Nancy Reagen, James MacArthur, Richard Gere, Lech Wałęsa, Peter Paul, James Stewart
Duration: 5 minutes, 18 seconds
Date story recorded: April 2006
Date story went live: 24 January 2008