NEXT STORY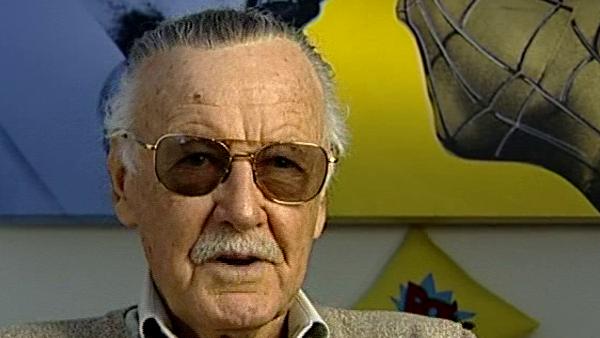 My love of reading and writing
The appeal of comic books
1
2
3
4
5
I think probably the appeal of comics is A, you're reading a story, and if it's a story you like — the type of story you like — you're half way home; but B, you can also look at the pictures while you're reading the story. Now, a lot of people say: 'Well, that's no good. It… it doesn't give your imagination a reason to grow and develop'. I think that's nonsense, for this reason: Shakespeare wrote plays. Should you never see one on the stage, because then you're seeing what he wrote and your imagination isn't visualizing it? Maybe we shouldn't have staged plays. Maybe we should just read his scripts. You go to see a movie. Maybe you shouldn't go to the movie. Maybe you should just buy the screenplay. I mean obviously, on the face of it, that's nonsense. Well, it's the same with a comic strip. A comic strip, in its own way, is like theater. You have the story, you have the illustrations. Steven Spielberg said to me once — incidentally, you may have realized by now I'm the world's biggest name-dropper — but he said to me once: 'You know Stan, you and I do essentially the same thing, except my pictures move'. There is nothing wrong with reading a story and looking at the pictures. It's a great way to be entertained, and it's a simple way if you don't want to wade through a 300 page book. If you just don't have the time. It doesn't mean… I don't know anybody who reads comics who doesn't read books, because if you develop a facility at reading, you'll read anything. And speaking of that — this is another thing I've lectured about a lot when I've gone to high schools and reading classes — there is nothing better than a comic book to help students learn to read, because today we're living in an age where kids… don't read as much, and don't want to read as much, and feel they don't have to read as much, because they get it all on the screen, whether it's a computer screen, or a movie screen, or a TV screen, or a… a cell phone screen. But a comic book is the one thing they will read. And I've… I've done this experiment with teachers. You put a TV show on, and put a youngster in a chair, and put a coffee table between the TV and the chair, and put a comic on the table — preferably a Marvel comic — and, no matter what the show is, after a few minutes the kid'll reach, and take the comic, start flipping through it, and after a while will disregard that and start reading this. Now what happens is, children learn to equate pleasure with reading, when they read comics. The more comics they read, the more they develop a facility at reading, and the more you become a reader, the more certain it is that you will go on to read other things. A person who's a good reader isn't going to limit himself to comics.
So comics are really a hell of a good educational tool, and I have no selfish reason for saying that. I'm not doing comics any more, but I've spoken to so many teachers… In fact, one last point. I may have mentioned, I used to get a ton of mail, all the time, from everybody. I received so many letters from parents who said, essentially… which said essentially the same things: 'Stan, I can't understand it. Little Johnny, I could never get him to pick up a book or anything, and I'd see him reading a comic and I'd yell at him, but finally I let him read them, they were the only things he'd read. And now I'm amazed. His… his grades in school in English were poor. He's now getting good grades in vocabulary and writing and composition, and for some reason it's since he's been reading the comics'. I received more letters like that, that the kids were doing better in composition and in English after reading comics. And of course, the ones I wrote — I think I was the first one to do this — I didn't limit the vocabulary to young people. I tried to use a college-level or above vocabulary. If I wanted to use a word like cataclysmic, or misanthropic, or whatever, I would use it. And I'd figure three things could happen: the kid would either go do a dictionary and look it up – and that's not the worst thing in the world – or he'd get it by osmosis, by the use in the sentence, or… I forget what the third one was. But either one of those two isn't bad.
The creative genius of American writer, Stan Lee (1922-2018) brought us 'Spider Man', 'X-Men' and 'The Hulk'. They climbed tall buildings and fought the bad guys, but had normal worries too, about love, acceptance and family. Readers loved them and Marvel Comics, with Lee at the helm, went on to become hugely successful. In 2010 the Stan Lee Foundation was founded to focus on literacy, education and the arts. On January 4, 2011 Lee received the 2428th star on the Hollywood Walk of Fame.
Title: The appeal of comic books
Listeners: Leo Bear
Leo Bear is a Hollywood-based features writer. Her background is in news and features writing. Leo spent five years on the entertainment newsdesk at BBC Worldwide before going freelance and moving out to Los Angeles. She specialises in writing lifestyle features, celebrity interviews, health stories and travel features for publications including Eve Magazine, OK! Magazine, Total Film, TV Hits and Conde Nast Gourmet Travel Guide.
Tags: William Shakespeare, Steven Spielberg
Duration: 5 minutes, 14 seconds
Date story recorded: April 2006
Date story went live: 24 January 2008